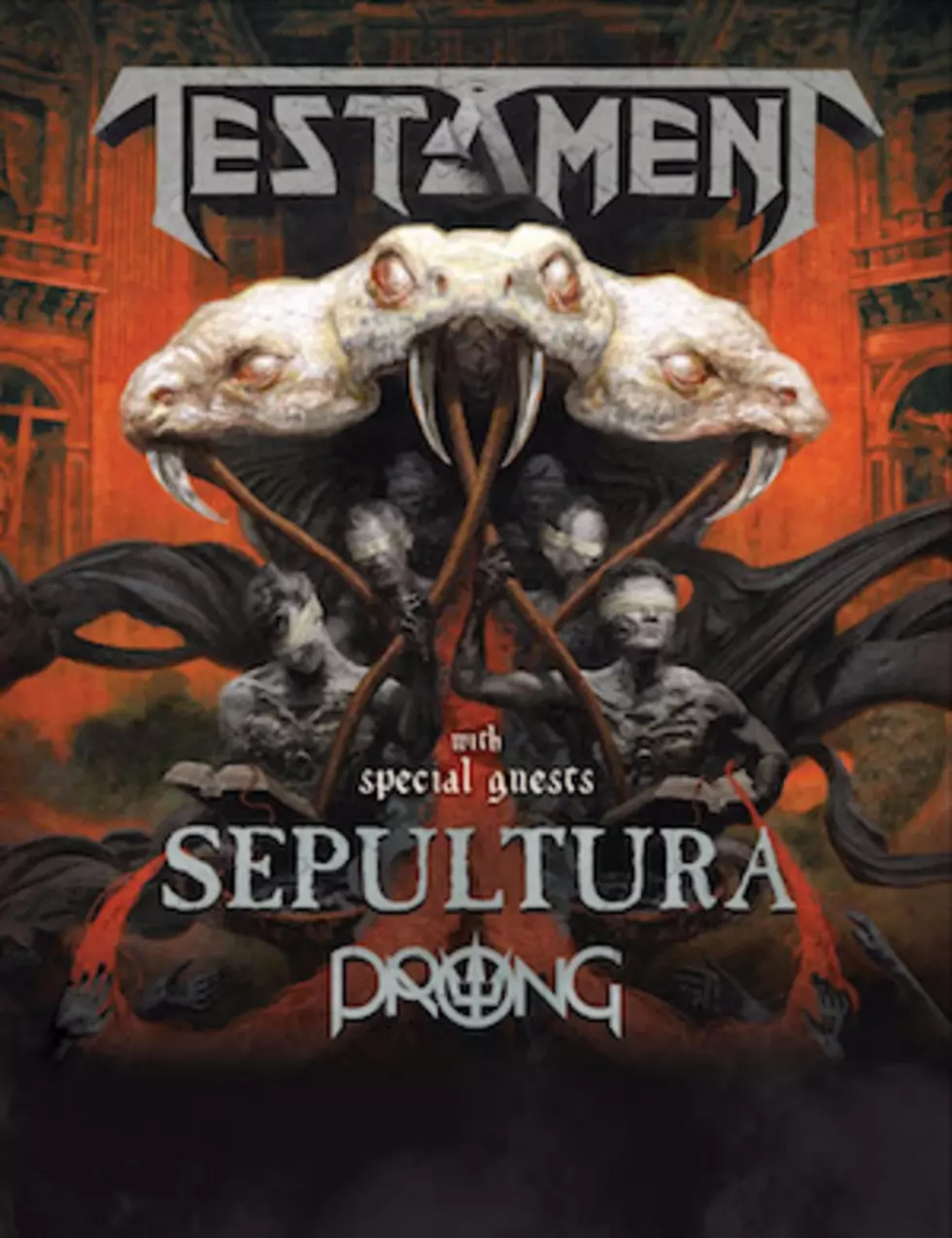 Testament Announce 2017 North American Tour With Sepultura + Prong
Nuclear Blast
Testament are gearing up for a massive North American tour next year as they support their latest record, The Brotherhood of the Snake. The thrash vets will be joined by the legendary Sepultura as well as the groovehounds in Prong.
The tour kicks off on April 6 in Albuquerque, N.M. before a series of three dates spread throughout Texas. Making its way eastward to Florida and then along the East Coast and upward into Canada. The back half of the jaunt will go through the Midwest and drop down the West Coast before finishing up in Las Vegas, Nev. on May 20.
"After four successful tours through Europe over the last six months, we are looking forward to touring across North America," said frontman Chuck Billy. "We'll have a new headlining set list with tracks from The Brotherhood of the Snake and how cool is it that we will be sharing the stage with our brothers in metal Sepultura and Prong?! See ya' in the PIT!"
By the time the tour rolls around, Sepultura will have released their latest record, Machine Messiah, which will be out on Jan. 13 through Nuclear Blast. Prong will be touting new music as well with X - No Absolutes being their most recent record.
The tour package is stellar for thrash fans and also of interest as Chuck Billy recently reflected on auditioning for Sepultura back in 1998. The singer recalled Testament not having a record contract and he decided to audition at the last minute, running through Sepultura classics "Refuse/Resist," "Territory" and, at the time, their new song "Choke."
Testament / Sepultura / Prong 2017 North American Tour Dates
4/06 — Albuquerque, N.M. @ Sunshine Theater
4/07 — Dallas, Texas @ Gas Monkey Live
4/08 — San Antonio, Texas @ Aztec Theater
4/09 — Houston, Texas @ House Of Blues
4/10 — New Orleans, La. @ House Of Blues
4/12 — Tampa, Fla. @ The Ritz Ybor
4/13 — Ft. Lauderdale, Fla. @ Culture Room
4/14 — Lake Buena Vista, Fla. @ House of Blues
4/15 — Atlanta, Ga. @ Center Stage
4/16 — Charlotte, N.C. @ The Fillmore
4/19 — Richmond, Va. @ The National
4/20 — Sayreville, N.J. @ Starland Ballroom
4/21 — Worcester, Mass. @ The Palladium (New England Metal & Hardcore Festival)
4/22 — Huntington, N.Y. @ The Paramount
4/23 — Philadelphia, Pa. @ Electric Factory
4/24 — Baltimore, Md. @ Ram's Head Live
4/26 — Montreal, Quebec @ Metropolis
4/27 — Toronto, Ontario @ Phoenix Concert Theatre
4/28 — Detroit, Mich. @ Majestic Theatre
4/29 — Cincinnati, Ohio @ Bogarts
4/30 — Cleveland, Ohio @ Agora Theatre
5/02 — Chicago, Ill. @ Concord Music Hall
5/03 — Minneapolis, Minn. @ First Avenue
5/04 — Sioux Falls, S.D. @ The District
5/06 — Denver, Colo. @ Summit Music Hall
5/07 — Salt Lake City, Utah @ The Depot
5/09 — Portland, Ore. @ Roseland Theater
5/10 — Vancouver, British Columbia @ Commodore Ballroom
5/11 — Seattle, Wash. @ Showbox Market
5/12 — Boise, Idaho @ The Revolution Concert House
5/15 — Flagstaff, Ariz. @ Orpheum Theater
5/16 — San Diego, Calif. @ House Of Blues
5/17 — Scottsdale, Ariz. @ Livewire
5/18 — Anaheim, Calif. @ House Of Blues
5/19 — San Francisco, Calif. @ Regency Ballroom
5/20 — Las Vegas, Nev. @ Brooklyn Bowl
See Where Testament + Sepultura Rank Among the Top 50 Metal Bands of All Time
Testament's Alex Skolnick Plays 'Wikipedia: Fact or Fiction?'