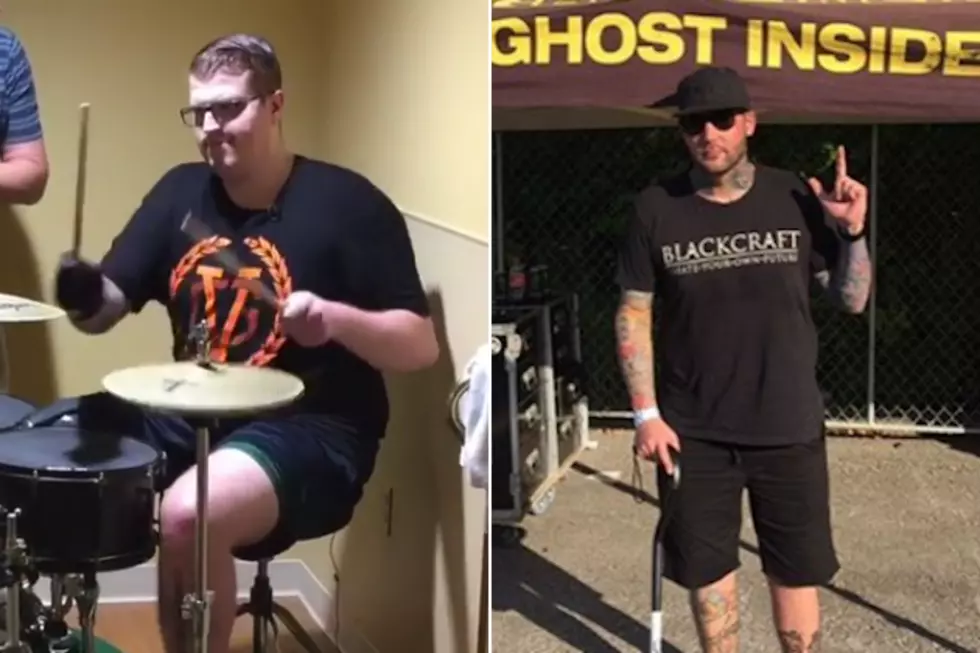 The Ghost Inside Drummer Begins Practicing With Prosthetic Leg, Guitarist Provides Surgery Update
Instagram: mtndrew / Instagram: zachjaydtd
In November of 2015, the Ghost Inside endured a horrific bus crash that left the band's members in serious condition. We've kept a watchful eye over their progress and perseverance the last few months and now there's finally some good news to share! Drummer Andrew Tkaczyk has uploaded a video of himself behind the kit with his prosthetic leg and guitarist Zach Johnson's road to recovery may have just ducked another obstacle.
Tkaczyk has been steadily overcoming the loss of his right leg and nerve damage in his right shoulder and this footage looks to be the best yet. The stickman took to Instagram to give an update and a clip of him getting back in action can be viewed directly below. Commenting on his progress, Tkaczyk stated, "Working on finding ways to play with a prosthetic. It's a slow process but we have some great ideas and some cool things that I can't wait to share with you all."
As for Johnson and his broken femur, things are looking up as well. The axeman also lost two toes on his left foot as a result of the accident and had eight surgeries performed on his leg in just a matter of two months following the tragic crash. Also providing an update through his own Instagram page, Johnson began explaining how he met with his doctor to map out future surgeries, but came away with quite the surprise.
"After speaking to other surgeons / reviewing my case, he came up with an alternative. This wasn't even presented as an option last time! I'll be going in for a smaller surgery, taking the screws out of my knee, with walking on it, that should put pressure and signals to help it mend. I'll be seeing a bone specialist to be put on an array of meds / injections and will use a machine that stimulates bone growth daily," Johnson wrote. "There is NO guarantee this will work, but with my history he recommends this before the last resort. I'll be having surgery as soon as he can and three months after I'll have an idea of where I'm at with it. The dark clouds looming over me have brightened up a bit. Today was a good day." See the full post below.
The Ghost Inside have had plenty of support as they work on their return to the stage. After learning of the accident, Warped Tour founder Kevin Lyman spoke with the band, guaranteeing them a spot on the coveted tour in 2017 if they're able to perform. The announcement came a year and a half before the annual tour was expected to launch.
A GoFundMe page was established to help support the band's medical expenses. With over $150,000 raised and the goal met, fans can still make a donation here if they wish.
14 Rock Acts Who've Had Brushes With Death
10 Insane Onstage Accidents