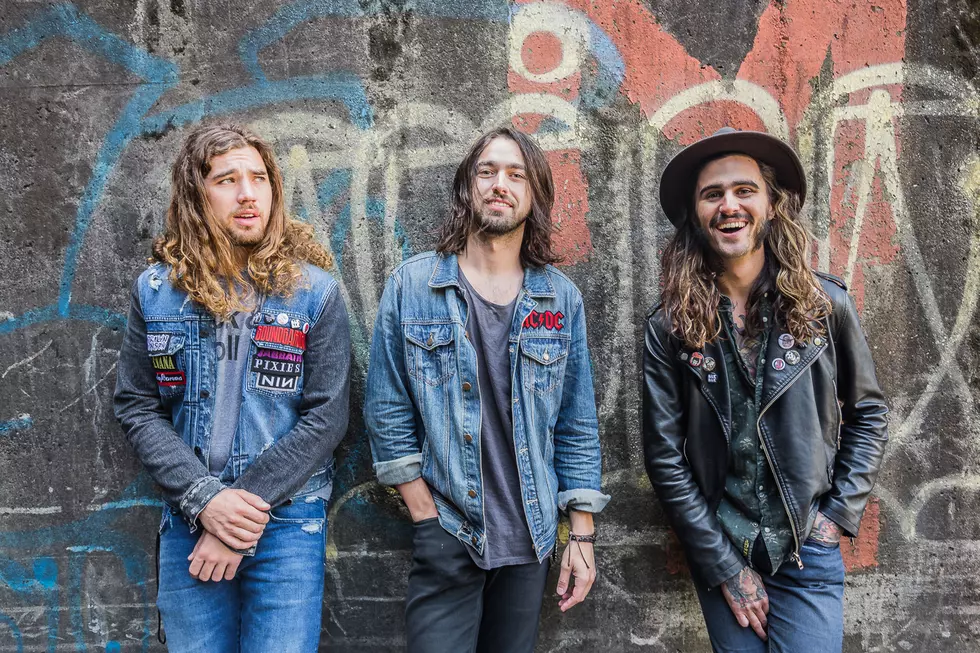 Them Evils on Working With Late Producer Kato Khandwala on New EP
Burning Records
Them Evils are a new trio delivering blistering straight-up rock and roll, and they're hitting a number of festivals this spring. Their new EP, Rollin' Stoned and Livin' Free, is out this Friday (May 4).
We spoke with bassist Jake Massanari and he discussed their music, and reflected on their connection with producer Kato Khandwala (who tragically passed away days before the interview), whom they worked with on the EP.
Rollin' Stoned and Livin' Free lives up to the lead single "Got Me Rockin'." It's just a straight up great rock record. Did you have an idea of what you wanted from this collection going in?
We're always pretty well aware of where we want to be heading musically, but it's always something that just happens organically. We weren't trying to target a specific sound, it's just what came naturally. We just knew we wanted it to hit a little harder, considering it's been a while since we've released new music. We wanted to come out swinging.
Talk about working on the album with producer Kato Khandwala.
Honestly, it was great – and that's what makes his untimely death so tragic... It really hurts and we're still trying to process his loss. Kato was such a down to earth and talented dude. We've worked with him on and off throughout the past two years, and he's the guy we truly wanted to have produce us and learn from. He was really easy to get along with, but at the same time didn't hesitate to call you on your shit. Going forward we're going to try to honor him by taking the lessons we learned from him and being the best we can be. He challenged us to go farther than we ever thought we could, and we will be forever grateful for that.
What is one of your best stories of living up to the Them Evils name?
Ha-ha man, where to even start. It's been something we've all kind of dealt with since we started pursuing this lifestyle. One instance, in particular, was when I had decided to turn a dressing room table into a personal slip n' slide after a show, but using whiskey instead of water. Long story short, a few people weren't too happy about it, and it didn't end well for me.
What is your favorite song to play live and why?
My personal favorite to play right now is "Got Me Rockin." It's a really hard hitting song but has an addictively catchy chorus. I think it translates very well live. We tried a lot of new things out in the writing process with that particular song, so it's rewarding to see it go over so well live. Fans on this tour have responded to it, immediately.
You just finished a tour with Red Sun Rising, a band who has seen their star rise over the last couple of years. What do you learn from the more experienced bands that you tour with?
The Red Sun Rising tour was great! We were able to get pretty close with those guys in a short time, and I feel it's the start of a long term friendship. We absolutely learned from them – we try to grow as much out of these tours as we possibly can, to ensure that we have the most productive and profitable touring career that we can. Being able to see how bands like The Pretty Reckless, and Zakk Sabbath run their operations is the best kind of learning experience we could ask for. Those two bands and crew in particular we feel we were able to build really strong relationships with, and feel like they've been the most influential on us thus far.
You're on a number of festival bills this year. What do these festivals mean to you and what are you looking forward to doing while there?
They mean a lot to us, and for all bands our size I'd imagine. You just never know who's gonna be there, and you want to be able to walk away from it feeling like you won over every single person in that crowd... and then some. It's our time to make ourselves known, so we're going into it these opportunities with the attitude that we're there to take over. I'm most looking forward to making new fans, catching some bands, and meeting up with some friends. Definitely looking forward to catching Billy Idol, Queens of the Stone Age, The Bronx, there's too many to name ... I'm psyched!
I saw the PledgeMusic page, and you've got some sweet merch for incentives. What's your favorite amongst the items … the Converse Them Evils shoes, the Them Evils satin jacket or the denim jacket? Did you snag any for yourself and what would you bid on if you were a Them Evils fan?
My personal favorites is the satin old school baseball style jacket. That thing rules. I snagged one of those for myself, pretty much immediately. I'd probably bid on one of the stage played guitars we're selling from Zemaitis and Greco. [Get a closer look here]
What's on the horizon for Them Evils beyond the Rollin' Stoned and Livin' Free EP?
Tour, write, record, repeat. We feel like this EP is going to help push us further than we've ever gone before, so now is the time to start busting ass and working even harder and more strategically. We plan on taking over in the next year. Them Evils comin' in hot. Keep an eye on our socials and Bands In Town for more tour dates soon!
Speaking of tour dates, you can see where Them Evils will be playing in the tour dates section listed below. Check out their PledgeMusic pre-order site here and look for the EP coming this Friday via iTunes and other platforms. Stay up to date with the band via their website, Facebook, Instagram and Twitter accounts.
Them Evils 2018 Tour Dates
May 3 - Nashville, Tenn. @ The High Watt
May 5 - Concord, N.C. @ Carolina Rebellion
May 8 - Richmond, Va. @ The Camel
May 9 - Washington, D.C. @ Songbyrd
May 10 - Philadelphia, Pa. @ Ortlieb's
May 11 - Brooklyn, N.Y. @ Saint Vitus
May 12 - Hartford, Ct. @ The Webster (Underground)
May 16 - Lancaster, Pa. @ Chameleon Club (Lizard Lounge)
May 19 - Columbus, Ohio @ Rock on the Range
May 20 - Cleveland, Ohio @ Grog Shop
May 22 - Pittsburgh, Pa. @ The Smiling Moose
May 23 - Detroit, Mich. @ PJ's Lager House
May 24 - Chicago, Ill. @ Beat Kitchen
May 25 - St. Paul, Minn. @ Turf Club
May 26 - Omaha, Neb. @ Lookout Lounge
May 27 - Fort Collins, Colo. @ Hodi's Half Note
May 29 - Salt Lake City, Utah @ Metro Bar
Them Evils, "Got Me Rockin'"