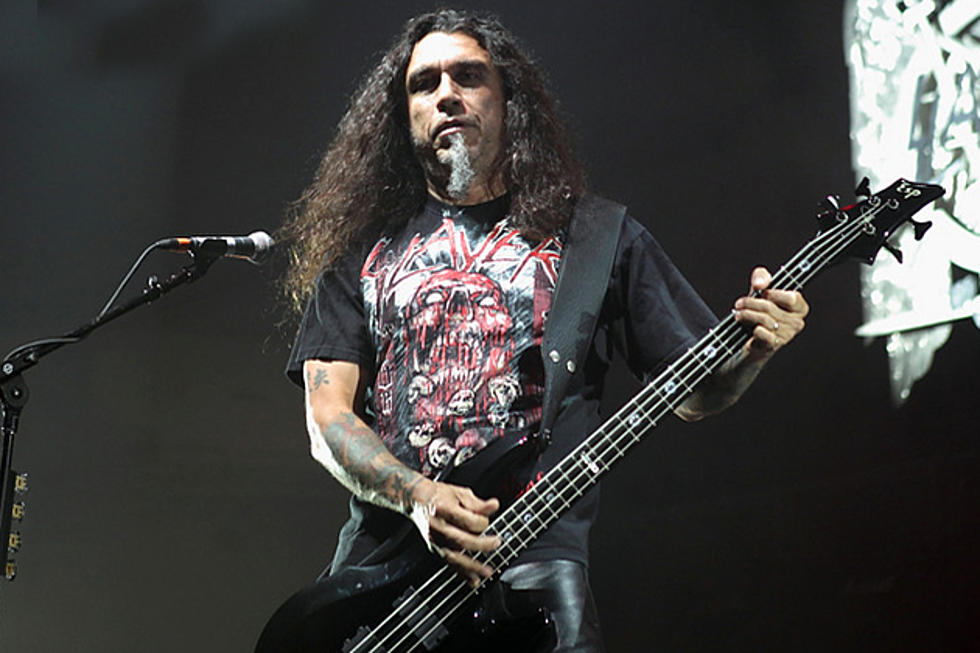 Tom Araya + Wife Sandra Speak Out Against Slayer Fan Page
Mary Ouellette, SheWillShootYou.com
Both Tom Araya and his wife posed for F---in Slayer Gang (FSG), holding up the group's official 'Slayer sign.' The sign uses both hands to create the letter 'S' with both middle fingers prominently raised. However, it seems that Tom and Sandra now regret showing support for the Slayer fan group.
Tom Araya reportedly posted an audio message on his wife's Facebook page denouncing the FSG. In the recording, Tom reveals his wife encouraged him to keep a distance from FSG, as they would apparently "attack anyone who questioned their motives" and even attacked Sandra Araya on various Slayer fan pages and metal fan pages.
I hate to blame an entire group for the actions of a few.

There is a group on Facebook that associate themselves with my band, SLAYER, Claiming to be fans, they made up a sign that they use to represent themselves as SLAYER fans. They call themselves F--king Slayer Gang, [or] FSG. They came into existence about eight months ago and had approached my wife, Sandra, under the guise of a family asking for support and if she would ask me if I would also show support by throwing the SLAYER hand sign that they had come up with.

After a few months had passed, my wife did not like how this group was managing their Facebook page and decided it was best to leave their group and all other groups she was part of. The conduct that this group was showing, and has shown, is distasteful, rude and disrespectful to all SLAYER and metal fans.

Now, I [flashed] this sign [for a photo] in support for my wife, who later told me that it was not a good idea to associate with this group or sign, that they were cyberbullies and that they would attack anyone who questioned their motives, and have even gone as far as attacking my wife publicly on SLAYER fan pages and metal fan pages.

It has come to our attention that they have taken liberties with the photo of myself and my wife [throwing] the so-called 'SLAYER sign' by posting these pictures and claiming our support. Well, I'm here to say that it's not true. We do not support this gang or such behavior.

The metal community is a growing community of loyal fans, not only to the bands that they support, but to each other.

Thank you. [via Blabbermouth]
Yesterday (Feb. 1), the FSG Facebook page responded to Araya's message:
It's sad to hear that the arayas have come out against fsg my only intentions were to honor my favorite metal band nothing more. The sign only means we love slayer but now I guess I'm being accused of being a cyberbully but I always try to stay away from the drama and keep it about the sign I don't go around hating on people who throw horns or disagree with the sign or threaten people over it. That's just stupid. My love for slayer has been tarnished by haters who work behind the scenes to discredit fsg. But I'm not here to clash with fans or slayer and if you look at my cover pic I'm throwing the horns at jeffs memorial it's just a bunch of haters talking to sandra and turning her against fsg and it sucks
Slayer are expected to release a new full-length album in 2015, so stay tuned to Loudwire for all your Slayer updates.
Check out Slayer in 'The Big Four' 8-Bit Video Game
See Yearbook Photos of Tom Araya + Many Others