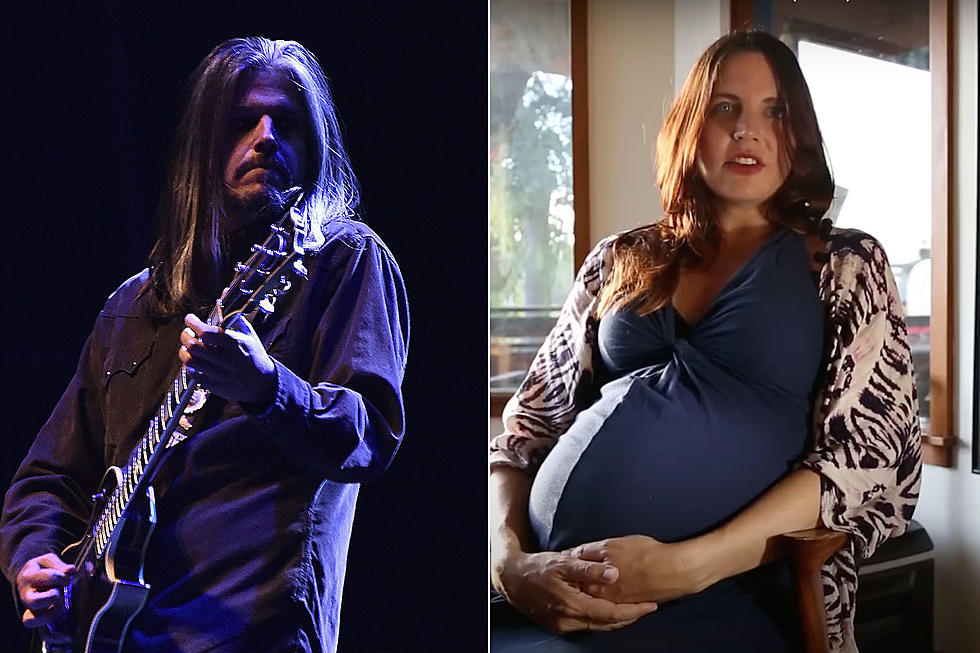 Tool's Adam Jones Welcomes Baby Girl With Wife Korin Faught
Steven Ferdman, Getty Images / YouTube - ToolArchive
Congratulations to Tool guitarist Adam Jones, who's welcomed a baby girl with his wife Korin Faught. The baby is the couple's third child together.
Jones and Faught, a painter, met through a mutual friend's art project and connected over their love of horror movies, according to L.A. Weekly. Jones proposed to Faught at the 2013 WWE Royal Rumble and the couple married in July of 2013.
"We really love art," Jones told L.A. Weekly back in 2016. "There's a work ethic. We get very inspired off each other. It's like two magnets coming together and becoming a strong force. I can't think of anything I do now where I don't go to her and go, 'What do you think of this? What would you do?'"
Jones and Faught had two sons before their new little daughter joined the family. Faught shared a few photos of the baby girl on her Instagram story, and Jones uploaded a Reel on his own profile.
"The full moon's light glows within my family. Love you and happy 1st day birthday Baby Jones #3," the guitarist wrote as the caption for the reel, which features clips of Faught holding their newborn baby.
The couple have not yet revealed the baby's name, as "Baby Girl Jones" can be seen written in the background of one of the photos on Faught's Instagram story. Fellow rocker Wolfgang Van Halen congratulated Jones and his family on the new addition in the comments section of the Reel. See the video and photos below.
READ MORE: Tool Fan Admits They May Have Ruined Their Own Wedding Day Over a Tool Concert
The guitarist will fortunately be able to have some quality time with his family before Tool hit the road for a tour this fall. The trek kicks off with a performance at the Louder Than Life festival in late September, and wraps up in late November in Ontario, Canada. Check out the rest of the dates here.
Rock Star Kids Then and Now
Photos of famous children of musicians. What are they doing now?