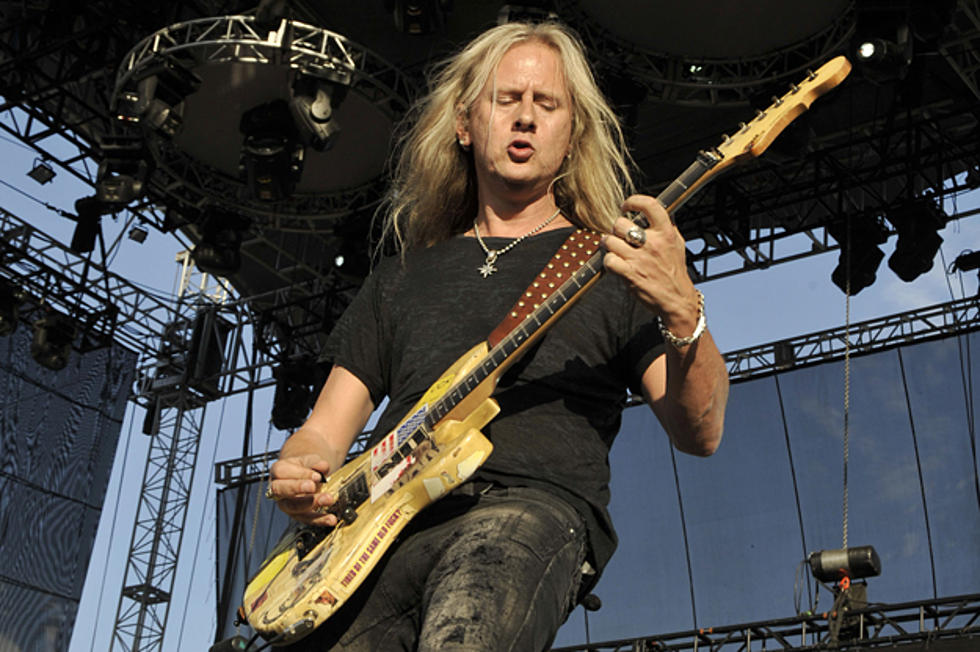 Top 10 Jerry Cantrell Alice in Chains Riffs
Kevin Winter, Getty Images
The guitar playing of Alice in Chains axeman Jerry Cantrell has helped shape the face of modern hard rock. After more than 20 years and the tragic deaths of singer Layne Staley and former bassist Mike Starr, AIC are still going strong. The band is currently working on a new album that is slated to be released later this year. Throughout the ups and the downs of AIC, it has been Cantrell's signature guitar playing and songwriting that has established the band as hard-rock legends. In honor of the influential guitarist's 46th birthday (March 18), we offer the following list of the Top 10 Jerry Cantrell Alice in Chains Riffs.
10

'Heaven Beside You'

From: 'Alice in Chains' (1995)

One of the biggest parts of Jerry Cantrell's signature sound is his knack for finding the perfect way to blend acoustic and electric guitar, which he does so effectively on the memorable tracks 'Heaven Beside You.'

9

'Them Bones'

From: 'Dirt' (1992)

This grinding death march opens the track to an all out riff-down once it comes time for the guitar solo. The song, written entirely by Cantrell, is one of AIC's most popular tunes.

8

'A Looking in View'

From: 'Black Gives Way to Blue' (2009)

This track officially marked the return of Alice in Chains and reminded fans what had they'd been missing for nearly 13 years -- heavy, riffed-out, melodic hard rock played the way that only Cantrell can.

7

'Bleed the Freak'

From: 'Facelift' (1990)

As is the case with most Cantrell arrangements, this song sets that mood that danger may be lurking right around the corner. 'Bleed the Freak' also features one of Jerry's most memorable guitar solos.

6

'Again'

From: 'Alice in Chains' (1995)

This choppy little number from AIC's self-titled LP might be half power chord and half riff, but it's all kick-ass.

5

'Rain When I Die'

From: 'Dirt' (1992)

From the opening guitar swells to the wah-wah driven main riff, Cantrell brings it full force as he matches the grooved out Mike Starr bass line.

4

'Man in the Box'

From: 'Facelift' (1990)

Maybe not the most difficult riff in Cantrell's pocket, but the talk-box heavy lead is easily one of the most identifiable and beloved in Alice in Chains catalog.

3

'Dirt'

From: 'Dirt' (1992)

This wah-drenched track from the band's revered album of the same name offers one of their heaviest riffs as companion to a heavy subject matter.

2

'What the Hell Have I'

From: 'Last Action Hero' Soundtrack (1993)

Jerry Cantrell's slithery intro riff perfectly accents the unusual middle-eastern vibe provided by the sitar playing on the rhythm track. It's also a noteworthy song in the respect that it is Alice in Chains' first recording with bassist Mike Inez.

1

'Dam that River'

From: 'Dirt' (1992)

From the crushing Drop-D groove to its accompanying lead riff, you'd be hard pressed to find a better (or heavier) example of Cantrell's uncanny ability to find the perfect riff to accent his rhythm.