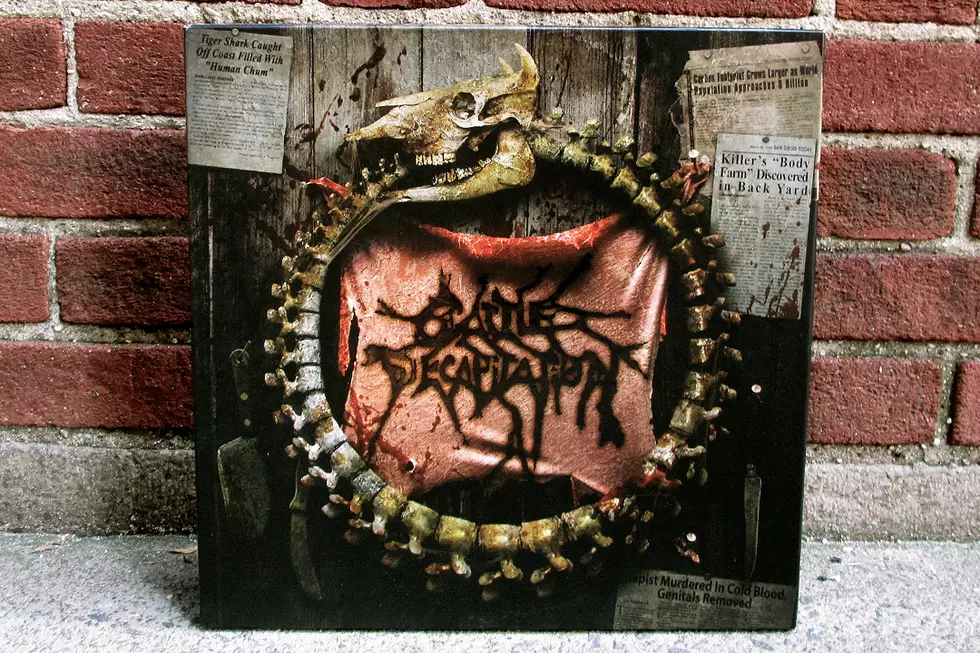 Vital Vinyl: Cattle Decapitation's Travis Ryan Discusses 'Decade of Decapitation' Box Set
Metal Blade Records
San Diego's premier extreme metal outfit, Cattle Decapitation, have been spreading their intense gospel for nearly 20 years. Since signing with Metal Blade Records in the early 2000s, the quartet has released five full-length albums: 2002's 'To Serve Man,' 2004's 'Humanure,' 2006's 'Karma.Bloody.Karma,' 2009's 'The Harvest Floor' and 2012's 'Monolith of Inhumanity.'
Besides their brutal music, throughout their career, Cattle Decapitation have been known for their albums' elaborate artwork. So, needless to say, the vinyl editions of the records are must-haves for fans.
Fortunately for fans, Metal Blade Records is celebrating the band with a massive box set, appropriately titled, 'Decade of Decapitation.' Featuring all five LPs in gatefold jackets and pressed on specially colored (and limited) wax, the set also highlights the artwork of Wes Benscoter. You can see photos of the unboxing of 'Decade of Decapitation' in the gallery above.
We caught up with frontman Travis Ryan to chat about all the box set -- which is exclusive to indie record stores for Black Friday -- and all things vinyl, from the band's relationship with Benscoter and Ryan's impressive personal record collection. Check out our exclusive interview below:
Vinyl is nothing new for Cattle Decapitation. Why is pressing your music important to you and the band?
Our album covers have always been an important part of the band and so naturally, with vinyl being 12-inches by 12-inches, that's the best way to present your music -- as long as it's on tangible, physical media. It almost doubles as an art piece, and that's evident as well by the fact that they even make picture frames specifically designed for displaying your records in them. Its also a connection to what got us into actually making music on this level in the first place -- seeing the bands you grew up on and what they did. I'm pretty much a child of the '80s. I turn 40 next month, and so I got in when LPs were still relevant but cassettes had taken over. So nostalgia plays a big part as well.
So vinyl is pretty important to you on a personal level?
I'm a collector but I'm also a reseller, so I have a weird relationship with it. I've always considered my collection to be an investment. Problem is, I'm not the kind of person that goes through musical phases, so whatever I bought 15 years ago will probably stay in my collection. But I'm very resale-minded so if I get something, I go for the bigger, better version, just in case.
Speaking of your collection, you once mentioned buying "rare items" that come with empty spots "for other items that had to be hunted down." What's the most prized record in your collection?
That's a hard call. I have a few. One standout is an original 'De-evolution' [Devo] 7-inch that supposedly Mark Mothersbaugh took three copies aside when they released it themselves on Booji Boy Records and signed it, "Booji-Boy Surprise signature #1." I've talked to a guy in direct contact with the fan club president and he was unable to verify. All I have to go off of is my friend's word who gave it to me.
Other notables are a test press of the Crossed Out/Drop Dead split 7-inch with different artwork -- there's only 10 in existence; a very, very early Beck demo cassette; the John Frusciante 'Estrus' 7-inch -- only 175 believed to be in existence; and on the way here I have the new Bethlehem box set personally signed by Bartsch [Jürgen, bassist] himself to me, which I think will rank very highly up there as I'm a huge Bethlehem fan. But I do have a ton more things that I am just not thinking of right now ... Oh, there's also that Jarboe 'Anhedoniac' CD she sent me in a bag that she made by hand! I also own the DAT [digital audio tape] master tape of Boyd Rice's 'Hatesville' which he recorded over with his contribution to a Throbbing Gristle tribute I released in the late '90s ... man, the list goes on and on and on, I could be here all day.
Wow. That's an impressive rundown -- I'm a bit envious! Do you have a white whale that you're still on the hunt for?
Lee Ranaldo's 'Spoken for Geraldine' lathe-cut 7-inch on Michael Morley's [Gate/The Dead C] label has eluded me for the past 20 years. I almost got it when it came out but dragged my feet for some stupid reason. My friend ended up getting it and I pull it out and salivate over it when I go to his house. That one that sticks out -- there are plenty more, but that one is a f--ker.
How do you feel your albums' covers are connected to the music?
Well, its extreme music so we tend to have covers that sort of fall in line with that, but they aren't the typical gore and slasher stuff. They're usually pretty intense, stark ideas and that's a good way to describe the music, I'd think.
How'd you first get hooked up with Wes Benscoter?
He was first on the list of people we'd like to work with. I basically used Metal Blade's connections and clout to hit him up. We hit it off because when I hit him up, the word "zombie" wasn't the first thing out of my mouth. I think he values the amount of effort I put into the ideas and concepts. Great artists appreciate such things.
And what's the process like with Wes? Are you involved in the conception and design? Do you give him demos during the creation of the cover art?
There have been a couple scenarios. With 'To Serve Man,' 'The Harvest Floor' and 'Monolith of Inhumanity,' he basically heard me out on my ideas and made them happen. 'Humanure' was actually his idea because he didn't like the idea I had in mind, which was totally okay with me. 'Karma.Bloody.Karma' was actually a plan B that was executed while we were mixing the album! The label wasn't too stoked on that. [Laughs] We had a completely different title and album cover idea for that album and Wes just wasn't feeling it at all and was more into my idea for the plan B.
We go back and forth with minor tweaks, giving him ideas of what I'd like to see and his ideas are always way beyond what I would have thought of or expected, even if it's just small details. I've never given him a demo of anything, only the label gets to hear those because we do them the old school way -- one mic in the middle of the room and I go and record the vocals over them. We aren't very DAW [digital audio workstation] savvy. I've used GarageBand to do it on this next record and 'Monolith' -- before that we used my trusty four-track tape recorder!
Each record in this box set has a killer color pressing -- 'longpig slaughter' and 'bloody stool,' for example. What is the significance to the various colors and styles?
They either play off the album cover color palette or are conceptual to the album theme or title.
Why do you think vinyl has had such a resurgence in the last 7-10 years?
The root of the word "hipster." You don't have to have a beard, a PBR -- or oddly enough a very hoppy IPA -- in your hand, a pointy mustache, sleeveless flannel shirt and a fixed gear bike to be attracted to "hip" things. Just kidding ... maybe a lot of people still want to be like their parents, brothers and sisters and be into whatever they were into? I think the majority of it has to do with the art though. Vinyl is just a much cooler presentation. The art is bigger and the process -- the process of having to get up, turn the record over, forced to have that art in your hands at some point, all of that -- I think it just draws you in. I think the late '90s, early '00s, indie rockers helped cement vinyl into households as well.
There's no questioning your passion for the format -- what's your opinion on streaming services like Spotify, Pandora, iTunes Radio?
One thing is for sure ... this world is completely wrapped up in convenience. Technology has made more strides in convenience than it has for cures for diseases, homelessness and education. Television is practically one gigantic infomercial. With that said, I'm no stranger to convenience either. I use Spotify because I work at a desk and computer a lot of the day and so it's just easier and also is a way to learn about other new bands. I worked at record stores for over a decade and so I'm completely out of touch with new artists. These services help keep a person up to date, but they also overwhelm us. Being overwhelmed by music is never a bad thing ... as long as it's good music.
Cattle Decapitation's 'Decade of Decapitation' boxset will be available at indie record stores for Record Store Day Black Friday on Nov. 28. For more details on the release, visit Metal Blade Record's website here.