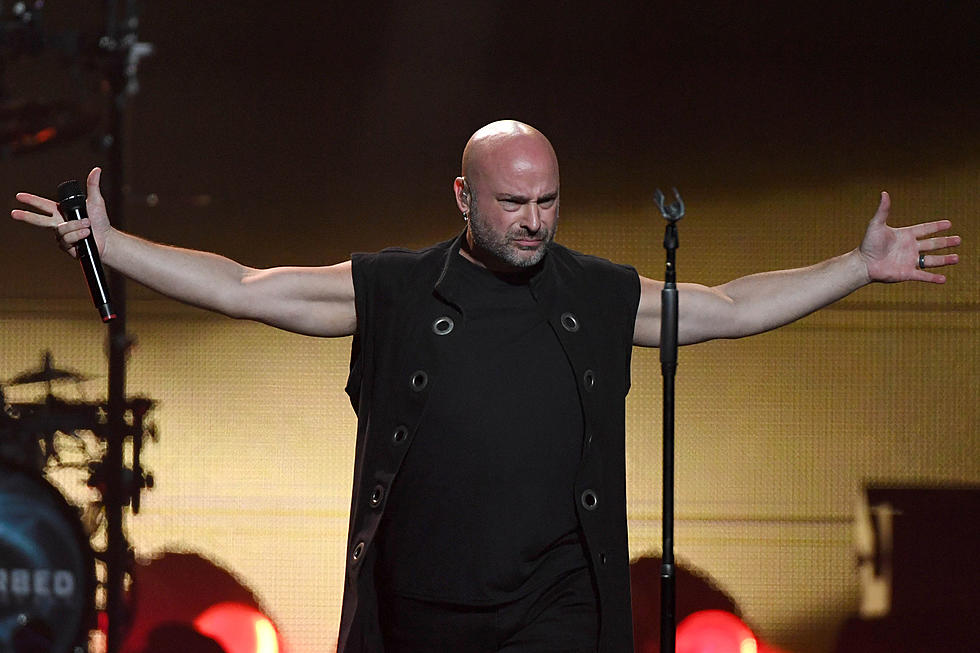 WATCH: Disturbed Doused by Sprinklers Again After Impressive Pyro Brings Too Much Heat
Ethan Miller, Getty Images
As pyro lit up the venue, all of a sudden Disturbed found themselves in the midst of an unexpected shower during their performance Monday night (Aug. 21) at the Freedom Mortgage Pavilion in Camden, New Jersey. For the second time this year, the band's pyro tripped the sprinkler system giving the group a dramatic dousing to end their evening.
So what brought on the unexpected ooh-wa-ah-ahter from above? During the band's final song of the night, "Into the Fire," the group had three levels of pyro going onstage with fire shooting in a variety of directions. While that's an impressive visual for certain, the heat generated eventually tripped the sprinklers at around the 3:10 mark of the fan-shot video below.
To their credit, Disturbed played right on through without missing a beat, though David Draiman looked a little amused initially and drummer Mike Wengren rose to his feet while still playing. Even as the band said their goodnight's the crowd, Draiman only acknowledged, "Well, looks like we did it again."
That is in reference to a show just last month when Disturbed's pyro set off the fire suppression system at Houston's Cynthia Woods Mitchell Pavilion outside of Houston, Texas on July 27.
Luckily, "Into the Fire" has been coming at the end of the band's sets, with the impressive pyro display (and subsequent sprinkler dousing) only impacting one song.
READ MORE: David Draiman Names Two Reality Singing Competitions He'd Be Interested in Joining
Watch the fan-shot footage below and see some fan reactions below. Disturbed's tour continues tomorrow night (Aug. 23) in Gilford, New Hampshire, with dates currently scheduled through Sept. 6 in Raleigh, North Carolina. See what shows are left and get ticketing info here.
Disturbed Set Off Sprinklers at Camden, New Jersey Concert
The 43 Songs Disturbed Have Never Played Live
Disturbed have never performed these songs live.