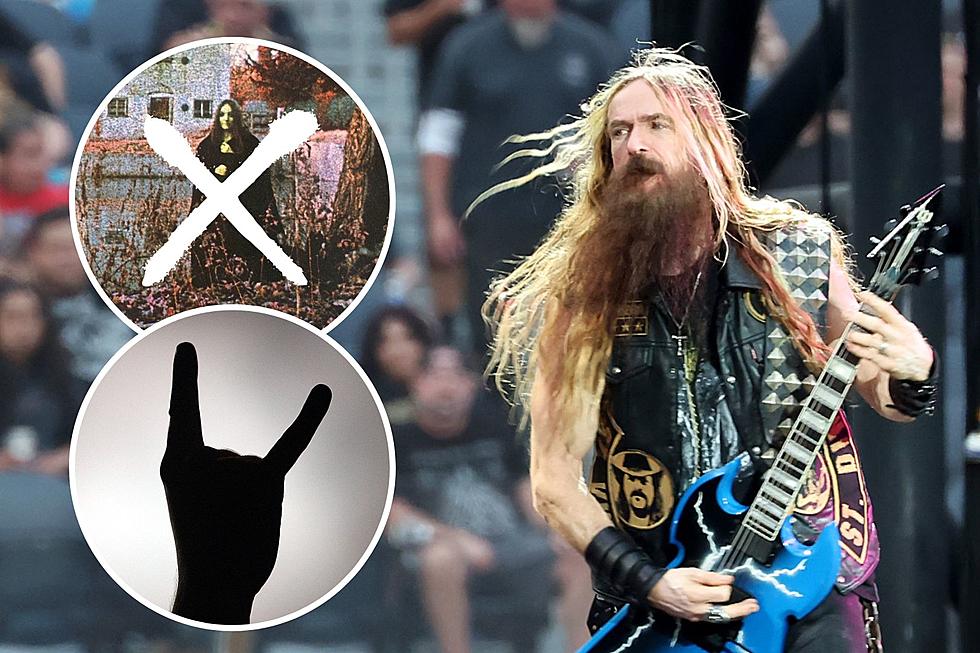 Zakk Wylde Names the First-Ever Heavy Metal Riff (It's Not by Black Sabbath)
Monica Schipper, Getty Images / Warner Bros./Vertigo / Adam Berry, Stringer/Getty Images
What band wrote the first-ever heavy metal riff? According to Zakk Wylde, that honor goes to the legendary English power trio Cream.
The answer came during a wide-ranging interview with multi-instrumentalist, teacher and producer Rick Beato, who sat down with Pantera's Rex Brown, Charlie Benante and Wylde.
Zakk Wylde on the First Metal Riff Ever
Beato asks the three which bands were among the first to create heavy metal music.
Without hesitation, Wylde, whose obsession with Black Sabbath is well-known, actually names a band other than Sabbath!
"I would say that the first metal riff ever, you've got to go with 'Sunshine of Your Love.' Hands down, Cream started the whole thing," the Black Label Society and Ozzy Osbourne guitarist argues, citing the classic sound off Cream's 1967 sophomore record Disraeli Gears.
"I think Cream," Anthrax's Benante agrees.
Cream, "Sunshine of Your Love"
Charlie Benante on Queen's Metal Elements
In addition to Cream, Benante points to Queen for their influence on what would become thrash metal.
"Queen had a lot of metal elements. Brian May's playing is very thrash metal, if you will," the drummer says.
In early 2023, May himself addressed this notion of heaviness in Queen's music, telling Total Guitar, "'Stone Cold Crazy' goes back a long way. It was one of the first songs we ever played together, so it's interesting that it never made it onto a record until the third album. . . . Freddie [Mercury] had written the lyrics with his old band, and the original riff was very different – it sounded like the riff in 'Tear It Up' [from 1984 album The Works]. So that original version of 'Stone Cold Crazy' sounded like a lot of other things which were around at the time, with quite an easygoing riff. It didn't have much pace to it."
"But I thought: these lyrics are kind of frenetic," May continued, "so the music should be frenetic as well. So I put this riff on it, which people are telling me is the birth of thrash metal or something! I don't know about that. But was unusual at the time to play at that pace."
Queen, "Stone Cold Crazy"
READ MORE: Who Really Invented Heavy Metal?
Who Are the Other Bands Who Shaped Metal?
Wylde goes on to state that metal's lineage is comprised of Cream, followed by Led Zeppelin and then Black Sabbath.
The guitar legend even tackled extreme metal, citing Pantera as an architect of that movement within metal and whose standard is the one others are measured against, such as Lamb of God.
What Else Was Discussed in the Interview?
The hour-plus long conversation also touched on MTV and the music business, backing tracks, the guitar/drum/bass songs that changed everything, Pantera's final album, diverse influences, the bands who inspired Pantera's "Texas stomp boogie," the legendary guitarists who wouldn't be as good if Pro Tools recording software was around during their time.
Watch the full interview below.
Pantera's Rex Brown, Zakk Wylde + Charlie Benante — Interview With Rick Beato
The Best Metal Album of Each Year Since 1970
See Loudwire's picks for the Best Metal Album of Each Year Since 1970