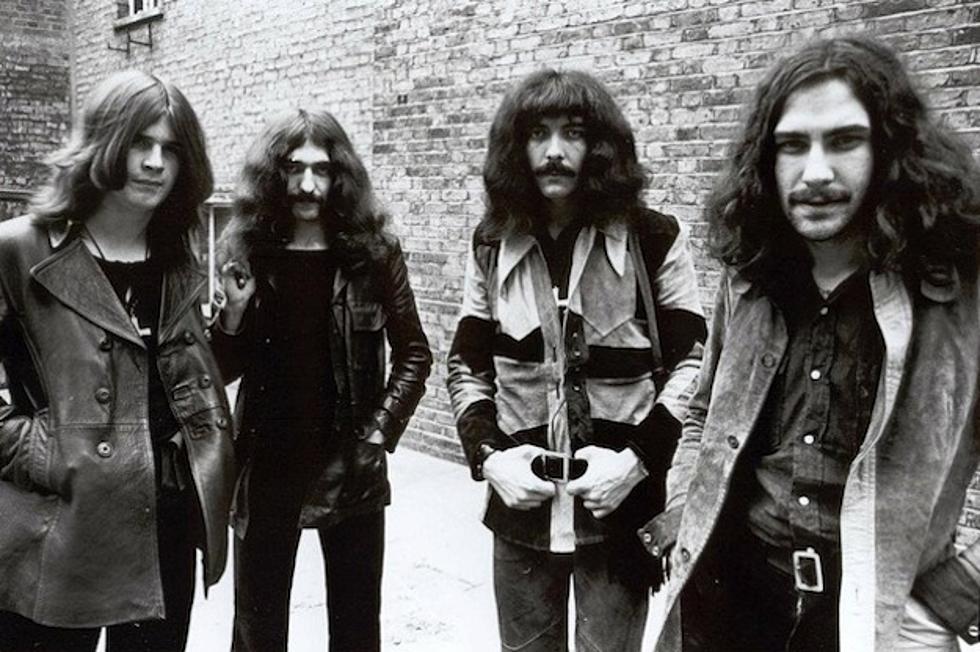 20 Facts You Probably Didn't Know About Black Sabbath
Vertigo
Thanks to a career that now spans nearly five decades, an estimated 70 million albums sold around the world, and more timeless songs than you can shake a crucifix at, Black Sabbath have certainly earned their standing as the godfathers of heavy metal. But even one of rock's most notorious and newsworthy bands has its fair share of little known details in their history, so we set out to compile 20 Facts You Probably Didn't Know About Black Sabbath:
1

Black Sabbath nearly broke up before recording a single song, when guitarist Tony Iommi left to join the more established Jethro Tull in 1969, but he luckily changed his mind.

2

Black Sabbath's name was supposedly inspired by an old horror movie poster, but the debut album by American psych rockers Coven (released months before Sabbath's debut) boasted a song named 'Black Sabbath' and their bassist was named Oz Osborne!

3

No one knows the name or whereabouts of the mysterious woman shown on the cover of Sabbath's debut disc. Even the image's photographer has gone into hermit-like seclusion.

4

The 'Paranoid' album's artwork has also perplexed fans — because the blurred neon warrior depicted referenced the album's originally intended title, 'War Pigs,' before it was renamed at the last minute.

5

The song 'Fairies Wear Boots' was inspired by an encounter with combat boot-wearing skinheads who disrupted one of Sabbath's early concerts.

6

Bill Ward built his reputation on bashing his kit with wild abandon and power, but his primary influences were big band jazz greats like Gene Krupa and Buddy Rich (evident on Sabbath's first LP, in particular).

7

Seeking to finesse their sound for 1973's 'Sabbath Bloody Sabbath,' the band called in a favor from Yes keyboardist Rick Wakeman, whose alcohol consumption was as legendary as his musical talents.

8

Black Sabbath hired respected art designers Hipgnosis to craft a sophisticated cover for 1976's 'Technical Ecstasy,' but Ozzy later dismissed it as "two robots screwing on an escalator."

9

Ozzy Osbourne officially parted ways with Sabbath in 1979, but the singer had actually already quit the group in late '77, forcing them to recruit former Savoy Brown singer Dave Walker for a single TV performance.

10

Who recommended Ronnie James Dio as Ozzy's replacement? Band manager Don Arden's daughter Sharon Arden … later known as Sharon Osbourne!

11

Geoff Nicholls has contributed keyboards to Sabbath's albums since 1979, backing up Ozzy's concert vocals, and allegedly the distinctive bass line of 1980's 'Heaven and Hell,' reminiscent of the song 'Mainline Riders,' by Nicholls' previous band, Quartz.

12

When Deep Purple's Ian Gillan joined Sabbath in 1983, there plan was to start a new band; in addition, 1986's 'Seventh Star' was supposed to be an Iommi solo LP; but both were released under the Black Sabbath name at the behest of record label suits.

13

That 'Seventh Star' lineup is rarely celebrated, but it included Deep Purple alum Glenn Hughes, future Badlands and Kiss drummer Eric Singer, and bassist Dave 'The Beast' Spitz, brother of Anthrax's Dan Spitz.

14

Another future Badlands member, singer Ray Gillen, recorded all of the vocal tracks for Black Sabbath's 1987 LP, 'The Eternal Idol,' but these were replaced after his departure with Tony Martin's vocals.

15

Tony Iommi was briefly engaged to wed metal goddess Lita Ford. But after the album he produced for her was shelved indefinitely, Lita broke off the engagement and was soon singing a duet with Ozzy on the 'Close My Eyes Forever' single. Ouch!

16

Queen guitarist Brian May plays lead guitar on a Black Sabbath song: the particularly heavy and evil-sounding 'When Death Calls' from 1989's 'Headless Cross' album.

17

When Sabbath agreed to support former singer Ozzy Osbourne on his alleged retirement shows, recently returned singer Ronnie James Dio balked — only for another metal god, Judas Priest legend Rob Halford, to fill in at short notice.

18

One of Black Sabbath bassist Geezer Butler's best mates, and a fellow supporter of Birmingham's Aston Villa football club, is Oscar-winning actor Tom Hanks, who frequently joins Geezer at the soccer pitch.

19

The four original members of Black Sabbath almost recorded a comeback album with producer Rick Rubin in 2001, but Ozzy's solo commitments and hit MTV show, 'The Osbournes,' derailed their plans.

20

Tony Iommi, master of countless scary doom riffs, penned a pop song for the 2013 Eurovision Song Contest, which was performed by Armenian rock band Dorians.