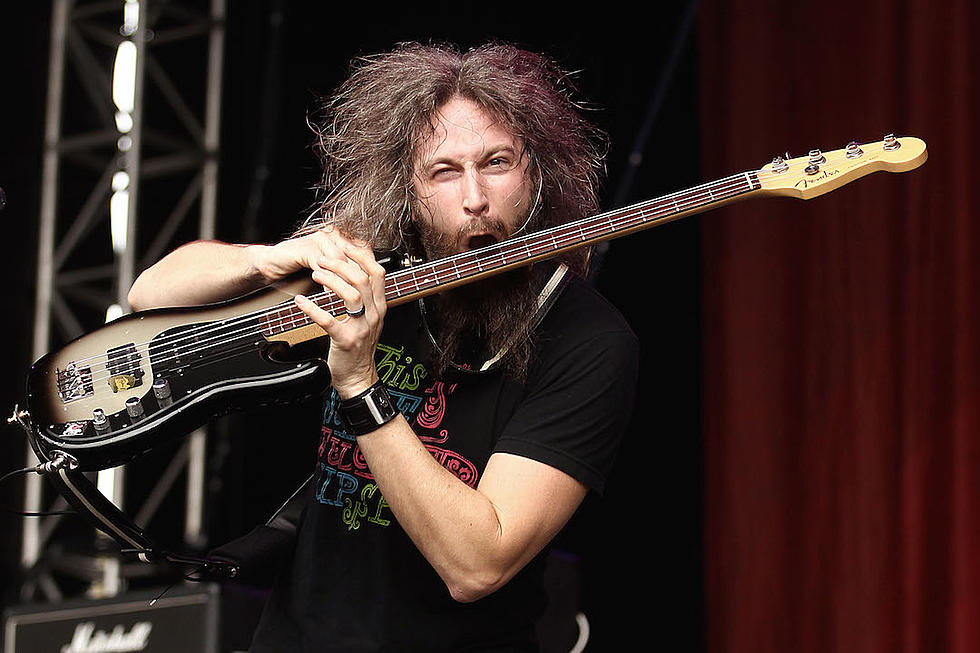 2017 Artist of the Year: Mastodon + Gone Is Gone's Troy Sanders
Mark Metcalfe, Getty Images
"Never did I start playing music or intend on anything in life with the desired goal to receive any type of personal accolades or trophies. I'm extremely humbled and flattered," comments Troy Sanders of Mastodon and Gone Is Gone after learning Loudwire has named him the 2017 Artist of the Year.
He's the bassist and one of three vocalists in the 21st century's most prominent, groundbreaking metal act, Mastodon. They recorded the highest-selling album of the week in all of music upon the debut of their newest desert-psych musical exploration, Emperor of Sand and are also the recipients of two Grammy nominations, one for Best Rock Album and another for Best Metal Performance. "Our band still feels like, after 17 years, we're still ascending the mountain that we've set out to explore when we formed back in January of 2000," he says. "We don't feel like we've hit the peak."
While that remains to be seen, there's no debate that Sanders has hit a personal peak in 2017, delivering his strongest vocal contributions to Mastodon on Emperor of Sand. His sage-esque, from-beyond-the-stars croon rips through the stratosphere with primal wails during the band's most explosive moments, subdued elsewhere as if he's secretly unveiling the mysteries of time at a hushed, wide-eyed glance. He credits his career-best performance to finding more confidence in his voice after tracking with Gone Is Gone, the band he's the sole vocalist of, playing alongside friends and musical heroes Troy Van Leeuwen (Queens of the Stone Age), Tony Hajjar (At the Drive In) and film and video game scorer Mike Zarin.
Echolocation, Gone Is Gone's debut full length, is an ambitious project that finds the four-piece outfit crafting the score to a film that doesn't exist. It's pace, somewhat disjointed initially, gradually reveals itself in time, playing with tempos and energy in the same vein of sequential scenes we're accustomed to experiencing in movies, offering something entirely refreshing in a bit of a bandwagon rock world.
We spoke with Sanders about his musical accomplishments in 2017 and touched on life outside of music (it turns out he loves mowing the lawn), his wife's recent cancer battle as well as some of the events that unfolded throughout the year. Oh, and we got to the bottom of things regarding that elusive Turd Factory album he promised us earlier this year.
Emperor of Sand is a concept album based on the band's experiences with cancer in recent years. Your wife was diagnosed with cancer in 2015. What was her reaction to hearing this album knowing she inspired such an incredible piece of music?
Last night [my wife and I] were talking about [Mastodon's] 2018 plans. I was explaining how we have this tour coming up and how we're going to set [a certain] month aside for writing and so forth. I can envision us churning out a traditional rock album with some good songs on it — we were joking now that nothing horrible has happened over the last nine months and if that continues over the next six months while we're writing new material, we're not going to be able to go into this incredibly deep wormhole of conceptual and thematic stories for the next Mastodon record. So, that would be welcome.
Universal energy is extremely important to both myself and my wife. She was proud to know that her horrific experience of bringing her down to near death before being built back up to a healthy life was able to inspire me and my bandmates to take something so dark and channel it into something so bright.
With Gone Is Gone's Echolocation, which was released in January, you were featured as the sole lead singer, opposed to your role in Mastodon as one of three voices. What was the most personally satisfying aspect of releasing this album with these musicians? 
It's the idea of opportunity. I didn't need any other bands, but I knew that neither did Troy Van Leeuwen or our drummer Tony Hajjar, who was just getting At the Drive-In back together after a long hiatus. So, after the past two years of being with Gone Is Gone, what I've really learned from it is none of us needed that band, but all of us wanted it. That speaks volumes about what that band gives me and gives us that our other bands don't.
Since I recorded two records with Gone Is Gone, I realized that I had been paying so much more attention to my lyrics, my vocal patterns and my melodies, and that's only helped with Mastodon. I was happy with what I had done and my bandmates loved what I had done and I came back into the next Mastodon recording session with no shame of what might sound weak, bad — there were no bad ideas in my mind as far as contributing vocals to and with Mastodon. In Mastodon, writing lyrics and my vocals are the biggest contribution.
What was the biggest moment of 2017 for you outside of music?
Having a cancer free wife was important to me because 2015 and '16 were the two worst years of my life. So, to come out having prevailed and survived, not being a widowed, single father, widowed husband type thing was fantastic and wonderful. It made me a better man. Any time you're faced with extreme adversity and you overcome — it's only changed me for the positive, which I can't believe has happened, but I welcome that and I embrace that.
What has changed? We always hear that people don't let the little things get to them after an experience like that.
Absolutely. If I can sum it up in one word that word would be perspective. How your perception changes and your attitude, for example how you don't sweat the small stuff and you focus on the more meaningful things in life and everything has a deeper focus. Everything I choose to do — all acts of beauty are so much more beautiful. My nightly sunsets at home are amplified. All the good becomes greater. It's unfortunate that it takes those severely dark moments of life to change oneself, but beforehand you just didn't know the difference, you didn't know any better. Having helped beat a horrific, evil disease has made me a much better person in every single facet of my life.
Mastodon performed roughly 100 shows this year alone. What's your home life like? What helps you unwind after getting off the road?
I unwind from tours just by diving head first into the pool of home life. I really enjoy cooking at my house. I pride myself on being a provider as a father and a husband and a friend and I love coming home and buying a gigantic list of groceries and have all my meals I've been craving over the previous weeks and months.
I don't have a signature dish, but I'm a big fan of the slow cooker. If you have all the ingredients in the morning time, it's going to make the rest of your day so much easier. Just throw them in and eight hours later the house smells great, it excites all the taste buds and diving into a crockpot at eating time is simple and it's delicious... and it's a simple clean up.
My family and I are all beach enthusiasts and we enjoy a nightly sunset and that's a beautiful way to cap off the evening, I believe. I even enjoy mowing the grass — it becomes enjoyable if you only get to do it four times a year. You own your little plot of grass and you take pride in cutting it. If you see a weird guy smiling mowing the grass there's probably a reason why.
Everyone always says you miss your own toilet [on tour], but I miss my own kitchen, I miss my own grass.
What are your plans for the holidays? Any cooking?
Again, total beach bum. My family comes down, we convene on a beach somewhere where it's warm and in lieu of gift giving we enjoy hanging out. So there's company, cooking food, just enjoying the outdoors in the sun. Gifts are always welcome, but we choose to just spend the three days of the Christmas holiday all in one big place together and truly catching up and spending time.
The mass shooting at the country festival in Las Vegas rocked the music world this year and violence at music events has increased in recent years. Have Mastodon altered their approach to security in light of these tragedies?
Our security protocol at any Mastodon show has kind of been the same since 2005 when we put [together] our list of things for security. For the past 12 years now, playing a club show when it's our own show, we appreciate the pat downs and we prefer for the bar to pour all beers into cups as opposed to bottles flying because we've all been hit by bottles and that's not good – shattered bottles can become evil weapons in the midst of a pit or a late night skirmish. We were on tour with Slayer the night that [Dimebag] Darrell was murdered and our security protocol was implemented that week and has remained the same now for the last 12-13 years.
As far as festivals, I believe worldwide from the Bataclan incident all the way to the Las Vegas shooting — heightened security all around is only good for everyone.
There's also been some controversy regarding the use of cell phones at shows. A Perfect Circle are against it and the Misfits are implementing a strict no phones policy at their upcoming Las Vegas reunion concert. Glenn Danzig has been vehemently against phones at shows for a while as it is and there's now bags being distributed to attendees that prevent access to the phone. What's Mastodon's take on this?
I can safely answer for my entire band, we're thrilled that people come pay money to see our band. I don't think that we've even entertained the audacity to try to restrict our fans who are paying hard-earned money to see us. I don't think we've even remotely discussed the idea of what our fans can and can't do with their own phones and how they want to experience the Mastodon show.
If they [other bands] want to have those rules in place before people choose to buy a ticket for a show, then I understand that — that's the artist making their rules and regulations for their show, but, I don't see that happening in the future in the Mastodon world.
Of course, President Trump has dominated headlines in 2017. Touring the world affords you the opportunity to gain a wider perspective on how the social and political unrest is perceived outside of the United States. What is the reaction to all of this overseas?
I'll just decline that one. One thing I do enjoy — one of the fortunate things is that I do get to travel the world and I always enjoy rational conversation with people of any age, background, color, everything — that's one thing people don't get the chance to do is converse rationally with other humans. I enjoy those conversations, but I don't want to get into the thick of that.
What was your favorite new artist you heard this year or new album?
I'm pretty terrible – while we're on tour I don't really dive into a whole lot of music because I live that every night. I enjoy catching up on movies and documentaries and such. My favorite comedian that I've discovered this year is Tom Segura, but he's not brand new.
During the month of working on new material and writing and recording I'm completely immersed in my band's world and I go a long time without listening to other artists and that's just the way that I roll. I, unfortunately, do get left behind in a lot of great music just because of how I immerse myself in my own music more often than being exposed to others.
We played a ton of festivals in Europe this summer and I saw a lot of great bands. We took Russian Circles on three full tours this year and getting to listen to those guys every single night never got old. I absolutely love them.
Last question and I must confess that I'm a little upset with you. Earlier this year, you told us that you and Brent Hinds had resurrected Turd Factory and would release an album in 2017. We're at the end of the year and not a peep about the Turd!
One thing I'm really good at is procrastinating so I'm going to say a 2018 release. We've got to dig up the cassettes that all the music we recorded on straight from the rehearsal room to the jam box — I did label all those cassettes Turd Factory — both Brent and I did so they're out there. Those demos are still waiting to be completed 20 years later. Another bright moment to look forward to I suppose.
Thanks to Troy Sanders for the interview. Grab your copy of Mastodon's 'Emperor of Sand' at the band's webstore and Gone Is Gone's 'Echolocation' here.
See Mastodon in the 25 Best Metal Albums of 2017
Mastodon's Troy Sanders - Wikipedia: Fact or Fiction?