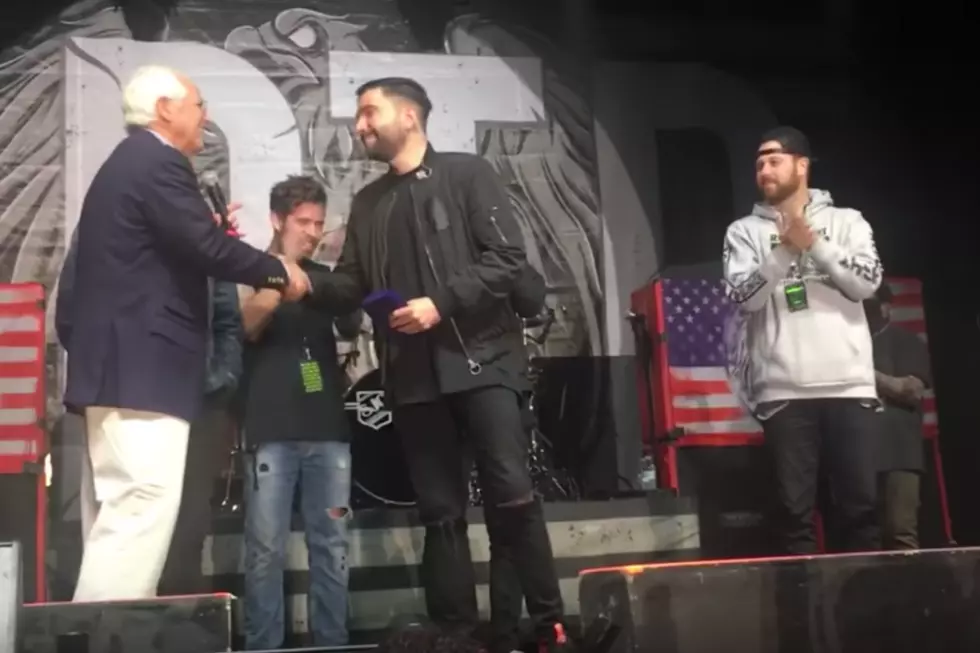 A Day to Remember Presented With Keys to the City of Ocala, Florida
Youtube: Tylerandhislife
A Day to Remember were presented with keys to the city of their home town of Ocala, Fla. The honor was bestowed upon the band on March 18 right before ADTR jammed a full set.
The band was given their individual keys by Ocala Mayor Kent Guinn. "It's a real honor, I'm so proud of these young men and they've made Ocala proud," Mayor Guinn said before the hometown crowd. "I'm proud to have them here tonight. Tonight is truly a day to remember in Ocala."
"We'd just like to say thank you to the city of Ocala for putting this on tonight, this is amazing," said vocalist Jeremy McKinnon. "I'd like to say thank you to every single one of you guys in the fanbase for making it possible for this to even happen."
McKinnon continued, "We used to play in our parents' garages and we'd get the cops called on us all the time because we were making too much noise. Those cops are here somewhere, thanks for letting us keep playing … If you live here or if you're from here, support local music. That's the only reason this band exists."
Guitarist Neil Westfall even ran into a local sign turned into a tribute for the band:
A Day to Remember went on to play a 19-song set for their home town, throwing in the track "City of Ocala" from Common Courtesy. Congratulations to A Day to Remember for making their home proud and receiving such a great honor.
See A Day to Remember in the Best Rock Albums of 2016
A Day to Remember Play 'Wikipedia: Fact or Fiction?'