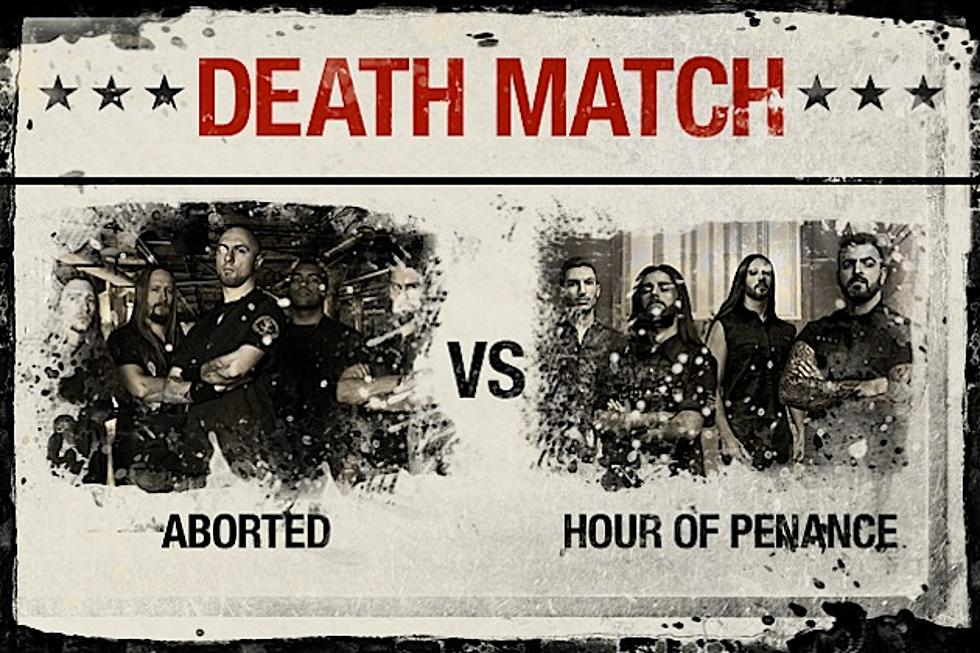 Aborted vs. Hour of Penance – Death Match
Century Media / Prosthetic
In last week's Death Match, Children of Bodom secured a victory over Animals as Leaders. This brought Bodom's streak to four consecutive wins, gaining them entrance in our Death Match Hall of Fame. Now that 'Scream for Silence' has been declared immortal, we've got two fresh tracks going head-to-head for a brutal battle.
First up, we've got 'Necrotic Manifesto,' the newest track from Belgian death metal giants Aborted. The lightning-fast attack of 'Necrotic Manifesto' is arguably one of the band's best works, setting the tone for Aborted's eighth studio album, which will see an April 29 release via Century Media.
Italian death metallers Hour of Penance are one of the most brutal bands on the planet. The pure death metal act will unleash 'Regicide' via Prosthetic Records on May 13, and the first piece of the record, 'Resurgence of the Empire,' is currently crushing all willing to listen.
Can Aborted take their manifesto towards the Death Match Hall of Fame? Or will Hour of Penance begin building their empire upon the ashes of their Belgian foes? Your votes will decide. Choose your favorite track in the poll below!
(This Death Match ends on Wednesday, March 26, at 10AM ET. Fans can vote once per hour! So come back and vote often to make sure your favorite song wins!)
Aborted, 'Necrotic Manifesto'
Hour of Penance, 'Resurgence of the Empire'
Two bands fight to the death each week. Fans can vote once per hour. The triumphant band goes on to compete in the next Death Match. If a band wins four straight Death Matches, its song will be honored as immortal in the Loudwire Death Match Hall of Fame.