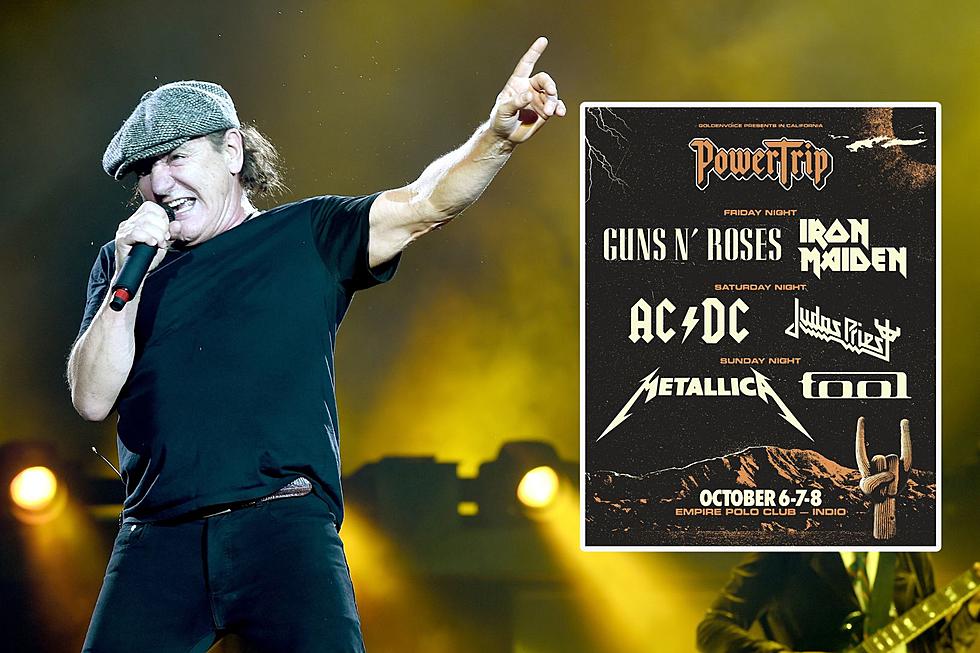 Setlist + Video – AC/DC Play First Show in Seven Years at Power Trip Festival
Kevin Winter, Getty Images
AC/DC's first show since 2016 is officially in the books now that the rock legends have finished their set at this year's Power Trip festival, a three-day event featuring some of the biggest bands in rock and metal.
Night one (Oct. 6) featured performances from Guns N' Roses and Iron Maiden, while Judas Priest (who were added to the bill after Ozzy Osbourne backed out due to health issues) hit the stage before AC/DC on the Saturday installment.
Still to come are sets from Metallica and Tool tonight (Oct. 8).
The last time AC/DC played live was on Sept. 20, 2016, as the group finished out the Rock or Bust Tour after encountering obstacles along the way. Singer Brian Johnson had to step down from his live role in the band as he risked suffering "total hearing loss" if he were to continue. In his place, Guns N' Roses frontman Axl Rose stepped in to help the group finish the run, the last date being Sept. 20, 2016.
READ MORE: How Did AC/DC Get Their Band Name?
While the band hadn't performed live again until now, they did release a new album, Power Up, in 2020 with Johnson.
See AC/DC's Power Trip setlist below and watch fan-filmed footage of the comeback further down the page.
AC/DC Setlist — Oct. 7, 2023 (Power Trip Festival)
via setlist.fm
01. "If You Want Blood (You've Got It)" *(first time as setlist opener; first performance with Brian Johnson since 2003)
02. "Back in Black"
03. "Demon Fire" (Live debut)
04. "Shot Down in Flames"
05. "Thunderstruck"
06. "Have a Drink on Me"
07. "Hells Bells"
08. "Shot in the Dark" (Live debut)
09. "Stiff Upper Lip" (first time since 2003)
10. "Dirty Deeds Done Dirt Cheap"
11. "Shoot to Thrill"
12. "Sin City"
13. "Givin the Dog a Bone"
14. "Rock 'n' Roll Train"
15. "You Shook Me All Night Long"
16. "Dog Eat Dog" (first time with Brian since 2009)
17. "High Voltage"
18. "Hell Ain't a Bad Place to Be"
19. "Riff Raff" (first time with Brian since 1996)
20. "Highway to Hell"
21. "Whole Lotta Rosie"
22. "Let There Be Rock" (with Angus Young guitar solo)
Encore:
23. "T.N.T."
24. "For Those About to Rock (We Salute You)"
AC/DC, Live at Power Trip Festival (Oct. 7, 2023)
The 46 Rock + Metal Songs With Over One Billion Spotify Streams
Recapping the rock and metal songs that have eclipsed one billion streams on Spotify.
NOT INCLUDED: The definition of rock is incredibly broad today and, in this list, we've elected not to include pop/rock acts such as Imagine Dragons, Maroon 5, Twenty One Pilots, 5 Seconds of Summer, Coldplay, Goo Goo Dolls, Gym Class heroes and Train.
Gallery Credit: Joe DiVita