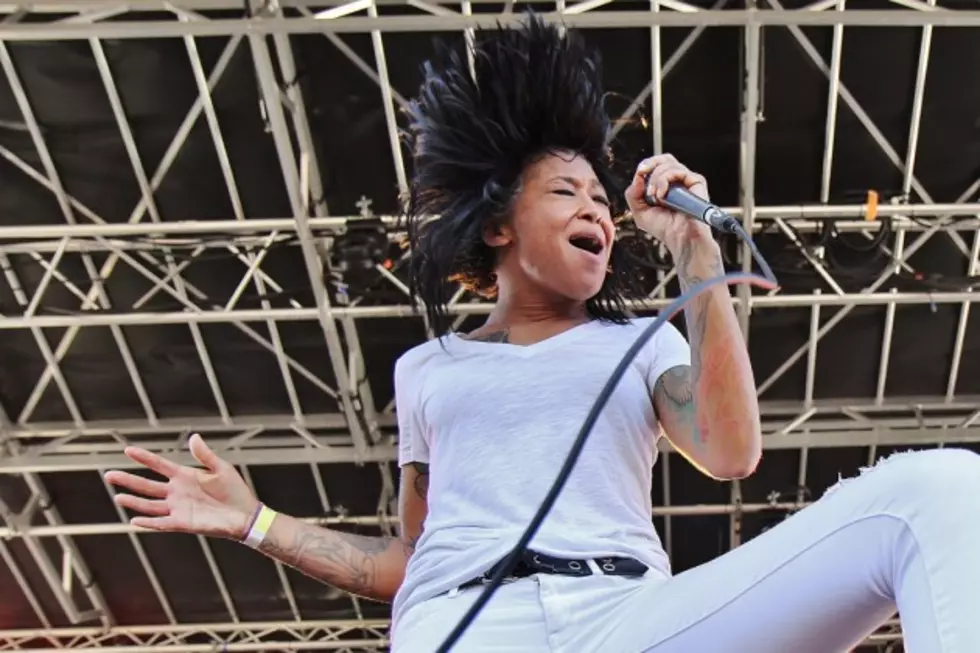 Straight Line Stitch Vocalist Alexis Brown Talks 'Transparency' EP, Persevering as a Band + More
Liz Ramanand, Loudwire
Straight Line Stitch have unleashed their new EP titled Transparency, and we had the opportunity to talk with vocalist Alexis Brown about the new release. Brown also talks honestly about the struggles of being in a band and staying relevant in the music industry. Check out our interview with Straight Line Stitch frontwoman Alexis Brown below:
Talk about the title Transparency and what this means to you personally?
It means triumphing over adversity. We've definitely had our share of the trials and tribulations and drama. Through all of that darkness, writing the album was the light that pulled us through and is pulling us through. We've definitely thought about throwing in the towel a couple of times because there was so much crap going on. Transparency is the light and getting back to the basics of why we started doing this in the first place. It's not about what we imagined success would be or the title of rockstar, it's about music.
I don't think many people understand the work many bands have to continuously put into playing shows every night.
I would never ever discourage anyone from following their dream if this is something they want to pursue but I would tell them outright that it is more than just getting in a van and hitting the road and sex, drugs and rock 'n' roll, it's not that at all. It's paying your dues, it's playing 10 nights in a row in front of the bartender and their dog, it's not being able to shower or eat properly. I'm not trying to put out all the negatives, there are good things but you have to be aware of the negative things. Sometimes people get in a band and they're not aware of the negatives and it consumes them and spits them out.
How was the overall creative and recording process for this EP?
It was intense, I have to be honest, it was super intense.  We hadn't even entered the studio and our guitarist at the time she had lost her father and we were supposed to hit the road soon after. Then while on the road, our drummer at the time, he's not our drummer anymore but, his brother died and we had just wrapped up recording. Anything that could go wrong did. You would think like, "Are we supposed to do this?" We kept our heads up and persevered, I guess. We just wanted to do it and get it out there because we all just put so much into it.
From heavier tracks like "Dark Matter" and "Human Bondage" to the more melodic tune "Out of Body," where do you usually draw your lyrical inspiration?
My life, my past experiences, things that were bottled up that I did not say that I wanted to say. It just came from experiencing life, growing up and trying to pick myself back up. I needed to motivate myself and I needed something that would say, "It's not over, it's not the end." I draw inspiration from so much. I'm not a confrontational person at all so my lyrics are a great outlet for that. I guess it was time for me to say something because the words hit me like a ton of bricks.
When you're writing do you unleash everything, the good the bad and the ugly or do you hold back on some things for yourself and keep it private?
I absolutely have no control over how I write. It's almost as if the music dictates what I write. I'm not the most articulate person in the world so when I write it just comes out. I can't control what I write, I think it's just something that needs to come up and come out and it just does. Regardless, if it's really personal, I'll leave it, I won't take it out.
You can definitely hear the sincerity in the music and lyrics.
That's what we're trying to do. I'm not knocking any other band because that would be ridiculous but we try to be authentic. There are amazing bands out there but I don't want to try to sound like them. We have our own story to tell. It's so hard in this industry to stay relevant because every day there's different bands and artists popping up. We're just doing the best we can to stay true to ourselves and to stay relevant, in an ever-changing music industry.
What made you guys do an EP versus a full-length album?
Well I think it was that we hadn't released any music in four years. Instead of hitting people over the head with a big old album with 12 or 15 tracks, we figured we'd test the water first to see if people were even still interested. It's expensive recording and then you find out that nobody cares. [Laughs] So I think an EP was a smart choice.
You have been at it with Straight Line Stitch for well over a decade. What keeps you going as a musician?
Oh I feel so old! [Laughs] What keeps me at it is my love for the band, my love for music and my love for the supporters of what we do, that keeps me motivated. My faith in God is definitely the ultimate thing that keeps me motivated. This isn't an easy journey and it's more likely that you get discouragement than encouragement. As miniscule as encouragement may come you have to take it and hold on to it with both hands. It's not just musicians, it's people in everyday life, everyone has some type of struggle going on, people lose hope in themselves and in life. I like to hope that our music will help inspire people.
Does it ever irritate you that bands like Straight Line Stitch who have been at it for a while don't have the crowds that they should have and that bands who are somewhat indifferent and less enthusiastic about their fans have these bigger crowds.
It's discouraging because I've seen it. There's some bigger bands that won't even come out of their bus and hang out for a picture or sign anything. I'm not trying to knock anybody, everybody has their reasons, some people are scared of people – I don't know, they have their reasons. It is sad to me because the fans are the reason we're able to do this in the first place. They're the ones that are keeping the dream alive and buying the merchandise and coming out to shows. They're giving as much as we give. You can't really get mad because some fans continue to support bands that treat them like crap. You just have to stay in your lane and concentrate on what you're doing and just be humble and modest and just love people and do you. Things will turn around, hopefully, I like to believe that. [Laughs]
Our thanks to Alexis Brown of Straight Line Stitch for taking time out to talk with us. Pick up the new EP 'Transparency' via iTunes here.
Check Out the Video for Straight Line Stitch's New Track "Human Bondage"