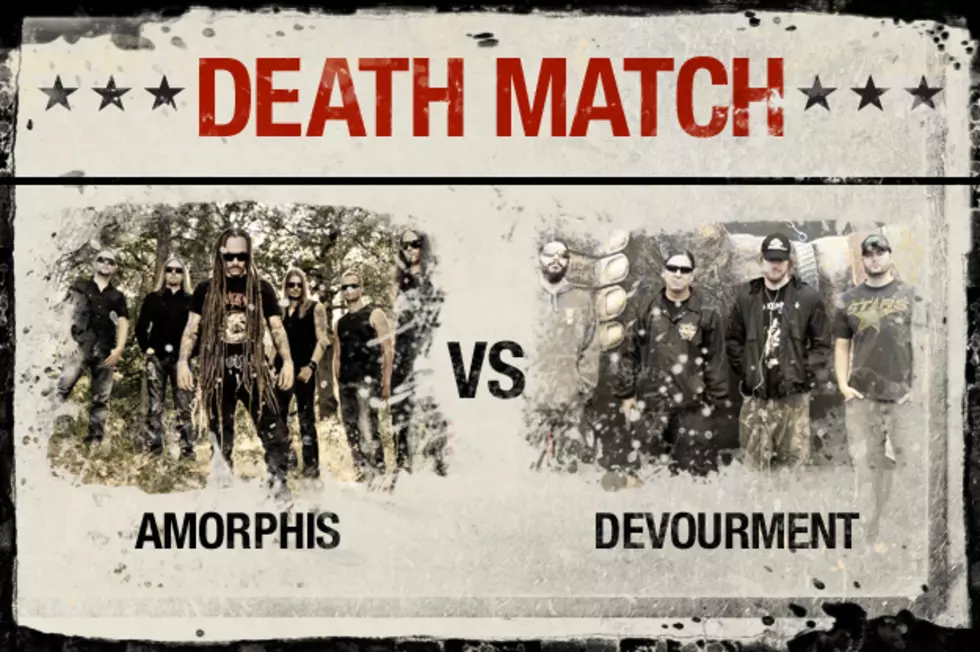 Amorphis vs. Devourment – Death Match
Nuclear Blast / Relapse
A whole-hearted congratulations is due to As I Lay Dying, as they defeated their fourth and final opponent in last week's battle, allowing their song  'No Lungs to Breathe' to be inducted into the Death Match Hall of Fame. As is the case after every Hall of Fame induction, we've got two open spaces to fill, and we've got some extreme metal coming your way this week.
Finnish death doomers Amorphis make their Death Match debut this week with the brutal track 'Shades of Gray.' Amorphis have been peddling heavier-than-hell metal music for over two decades, and 'Shade of Gray' is one of their most bone crushing tracks to date. Turn your speakers up loud for this one -- believe us, it's worth the hearing loss.
Up against Amorphis are the American death metallers of Devourment. From the light-heartedly titled 'Conceived in Sewage,' Devourment are also making their first Death Match appearance with the song 'Fifty Ton War Machine.' The track is pure American death metal, and it may have the chops to vanquish Devourment's Finnish foes.
Does Amorphis boast the muscle to win their Death Match debut? Or can Devourment digest their way to a victory of their own? Vote now and seal their fates!
(This Death Match ends on Tuesday, April 9, at 10AM ET. Fans can vote once per hour! So come back and vote often to make sure your favorite song wins!)
Amorphis, 'Shades of Gray'
Devourment, 'Fifty Ton War Machine'
Rules of Death Match
Two bands fight to the death each week. Fans can vote once per hour. The triumphant band goes on to compete in the next Death Match. If a band wins four straight Death Matches, its song will be honored as immortal in the Loudwire Death Match Hall of Fame.