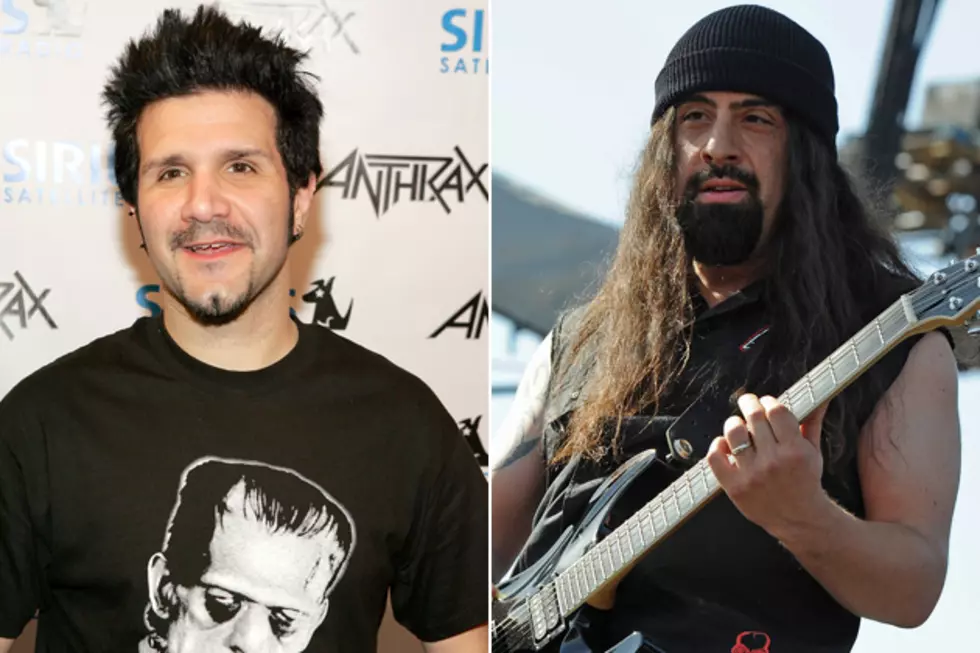 Anthrax Drummer Charlie Benante Calls Guitarist Rob Caggiano's Exit 'Sketchy'
Paul Hawthorne / Kevin Winter, Getty Images
Anthrax are moving forward without guitarist Rob Caggiano, and while they appear to be okay personally with their former axeman, there are a few lingering doubts about the musician's motives for leaving.
Drummer Charlie Benante tells Metal Insider, "It was a bit of a surprise to me. I was bummed. He said that he wanted to pursue more producing options, and that was his reason for leaving. He had other reasons, so I guess it was something he'd been thinking about for a while. He wanted to get back to producing and getting off the road."
But where Benante does a little bit of head-scratching is the point where Caggiano recently turned his producing stint with Volbeat into a new guitarist job with the Danish rockers. "That makes it a bit confusing," says the drummer. "I know a lot of our fans were sad to see him go, but we were like, 'If you want to go produce, we understand that.' But when you read that he went to go join another band, that makes it seem a bit sketchy."
Anthrax moved on quickly, selecting Shadows Fall guitarist Jon Donais to join them for their upcoming touring. Benante says, "Scott [Ian] and Jon have been out in L.A. playing together a lot. We haven't played together as a band yet." With their Metal Alliance tour on the horizon, the drummer says he's preparing for the long haul. He explains, "It's mostly about getting your chops back up and your breathing and stamina."
In related news, Anthrax received their fourth Grammy nomination late last year and will be intently watching to see how things play out on Sunday (Feb. 10). Benante says, "I actually really do care about the Grammys, because it's being recognized for your art. And it came as a total surprise to us, which is even better. We weren't sitting around waiting to be nominated, and it was a complete shock. The amount of hard work and emotion that went into making the record, I feel that being recognized for our art is amazing … I'm really excited about it, and I hope it goes our way."