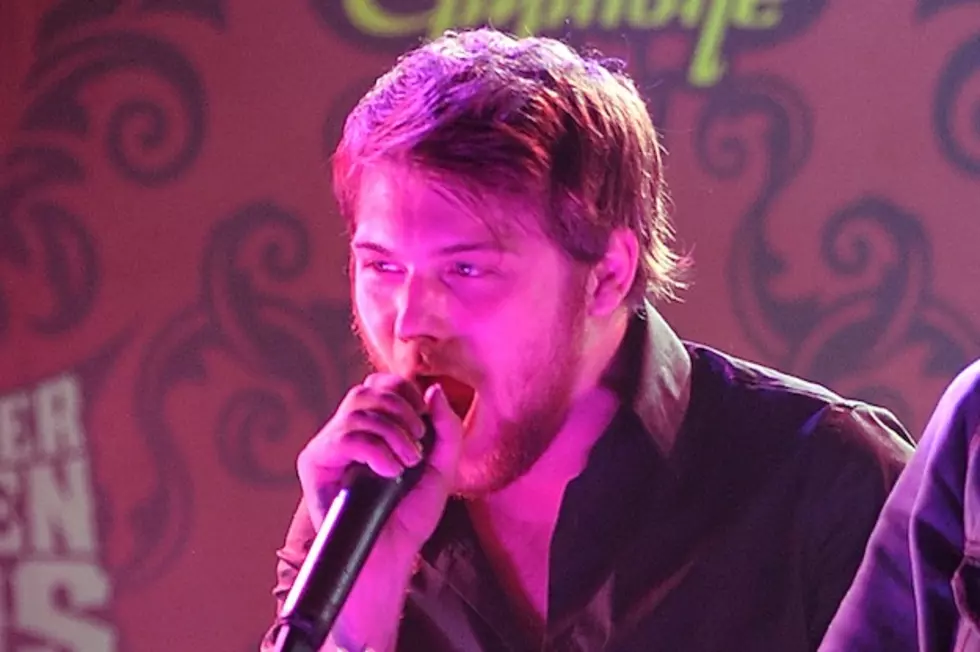 Asking Alexandria Frontman Danny Worsnop on Rock, Rebellion and Rumors
After the massive success of their debut album, 'Stand Up and Scream,' in 2009, Asking Alexandria's March 2011 release 'Reckless & Relentless' had high expectations. Leading the ranks among the years 'most anticipated albums' list for fans of metalcore, it was clear that their sophomore release would be a pivotal point in their career.
'Reckless & Relentless' showed the evolution of the band incorporating piano and synth but still maintaining an overall aggressive sound, laden with riffs and hooks abound. The overall sound is much more controlled and the band and their songwriting ability has truly emerged. Lyrically, lead singer Danny Worsnop has referred to 'Reckless & Relentless' as "The story of his complete downfall," referring to his drug and alcohol use.
With the music sometimes taking a back burner to the larger than life antics of Asking Alexandria's resident bad boy, Worsnop has made it loud and clear that his reckless abandon and rebel spirit come with the package, so love him or leave him. His unapologetic approach to his life and music has lead to his share of detractors but at the end of the day Worsnop's passion for the band and their fans shines through.
We recently caught up with the refreshingly honest Worsnop, who talked to us about the bands upcoming tour, their favorite '80s bands and perhaps their future foray on reality TV.
We recently reported on your upcoming solo album that you've been working on. For Asking Alexandria fans who may be a little worried about this solo release, this is simply just a side project correct?
Yes, this is a second thing I'm doing. I'm still very much in Asking Alexandria.
There are always going to be fans who complain when new albums don't sound exactly like the last one, but guitarist and founding member Ben Bruce has gone on record to say that he's proud of the band's evolution on 'Reckless & Relentless' and that you've just improved on your original sound. Do you feel the same way?
Nobody wants to listen to the same album twice. If they wanted us to just release 'Stand Up and Scream' again, they should just buy two copies of it. It was always going to be quite different. We're writing a new album now which again is different and shows a big progression, an evolution and a sign of maturity again. We'll see how that turns out. I wait with baited breathe for all the fans to tell me how disappointed they are.
So you're already working on a new album? How deep into that process are you?
Right now, we've got a collection of ideas and we've recorded a couple of parts but there isn't a full song written yet, it's just different parts and sections that are coming together. I'm busy stocking up my lyric book for when the time comes.
The other news that just came out is the co-headlining 'World War III' Tour you're heading out on with Hollywood Undead along with Borgore, D.R.U.G.S. and We Came As Romans.
Yes, we're heading out on the road. From the beginning, I feel like it's a very odd line up. I guess that's how it works. I have no doubt about the shows; they'll be great and will sell out. We'll see how that clash of music works when the time comes.
You posted on Twitter that you were working on your 'custom tour wardrobe' and I wondered if it included a special mask a la Hollywood Undead?
No, but I should, shouldn't I! I should get a really stupid one just to make fun of them.
Do you think by the time you head out on this new tour you'll have some new songs ready to road test?
Probably not, but you never know.
You've called 'Reckless & Relentless' "the story of your complete downfall." Can you tell us what you meant by that?
Drugs and alcohol are what I meant by that. There were a lot of them and they almost got me but I saved myself, I'm alive.
So, you're in a good place now?
I wanted to ask you about the song 'Someone, Somewhere,' sonically it's probably the most mainstream rock song the band has written and lyrically is pretty personal to you, can you tell us a little bit about that?
It is. The first verse was about my Granddad, he passed away just before we started the band. The second verse is pretty much addressing that I'm a terrible child and that I don't talk to my parents. We don't get along very well. It was just addressing that. The third verse is me and Ben (Bruce) taking over the world.
The core concept of the song is that no matter what, no matter what a s--t person you become, out there somewhere, someone is still on your side.
It sounds like you were able to experiment a lot more on this album with your vocals. We hear some raw and real moments from you; was that something you set out to do with this record?
I didn't record the vocals with the rest of the band and that was on purpose. I went to a different studio a thousand miles away to record the vocals so I had that freedom to experiment and almost find my own voice, because I hadn't been singing for very long time. I'm still learning about myself and my voice so it was a chance for me to explore my own ability. I learned a lot and it's helped me since then to discover myself even more and I've learned to do a lot more with my voice than I thought I'd ever be able to do.
The band elected to work with producer Joey Sturgis again, he seems to know the band pretty well, what does he contribute to the process for you?
He really knows how we work; we've worked with him since day one. He knows how we write and he knows what we like and what we don't like.
Do you foresee the band working with him again on the next album?
I think we'll do the music with him again but I think that the same with last time, I'll record the vocals with someone else. I just moved to California so I'll probably be working out here. I've been talking to a few different producers and I think I know who I want to work with but I can't say until I'm fully sure.
Metalcore, synthcore, breakdown band, post-hardcore, screamo, techno metal – there's a lot of different descriptions thrown around when describing Asking Alexandria, how do you describe your sound?
It's all rock 'n' roll.  We are 100 percent a rock band.
There's something about Asking Alexandria that seems to illicit either a love or hate relationship with people, what do you think it is about the band that leaves so very little middle ground?
I guess in a way it's become almost a cult. Our fans are insane, when they like us they really, really like us and they'll do anything. They're crazy. They've done some wild things. I guess maybe it's more than just another band. There are too many bands out there now that sing about whatever sounds cool and there's no real feeling involved and nothing for people to connect with. Or they pretend to be all goody goody and positive and address how crap the rest of the world is and people can't connect with that. We write real songs about real things and people understand that and can relate to it.
The past few months have seen a lot of 'firsts' for the band with a network TV performance on 'Jimmy Kimmel Live!' and your first magazine cover. Have you had the chance to sit back and enjoy these things?
I don't know even know how fast we go anymore. We never take time out. I'm on a break from touring right now but that doesn't mean we're not working. We've been going non-stop since day one and we haven't had a chance to sit back and look at what we've done and appreciate it. We got our first album plaques (for 'Stand Up and Scream') about a month ago and I still don't have it up on my wall because I've had no time. I've seen it once. I can't help it, If I stop working I don't know what will happen, I might explode.
Do you feel like the music of Asking Alexandria is sometimes overshadowed by your larger than life personality?
Very much so, I don't have a problem with it really. We are a quite an infamous band but I'm okay with that, the world needs that. Rock 'n' roll needs that.
You really seem to embrace the rock 'n' roll spirit with reckless abandon and are completely unapologetic about it, that rebel spirit seems to be missing among modern rock.
Very few people have it. I feel like a lot of bands suffer because of it. They pretend to be something they're not so they don't do well.
You recorded a few Skid Row tunes on your 'Life Gone Wild' EP and performed a few Skid Row songs live with Sebastian Bach at the Revolver Golden God Awards – how did that collaboration come together and have you always been a Skid Row fan?
I have, we're very big '80s metal fans. I always have been, that's where the passion lies. The heavy metal side of it came along later. It's just always something we were interested in doing and we were given the opportunity to do it so we jumped at it. Ever since, we've been super close friends with Sebastian and he's now living in my guest house.
When I talked to Sebastian a few weeks ago, I asked him if he had given you any advice and he said that he had told you that you shouldn't drink before you go on stage. Have you taken that advice to heart?
Yes, I don't drink before I play anymore, after that one incident (in Seattle). That was a biggie. Since then, I don't drink before I play. Afterwards is a completely different story. We're more sensible and we definitely sound better for it.
Rumors spread like wildfire on the internet and for some reason; they seem to love starting rumors about Asking Alexandria.
They love it more than anything in the world. It's so easy because we've done so much crazy shit that's true that it's hard to write a rumor that isn't believable.
Well this is a music related rumor so you can set the story straight for me. Is there any truth to the story that you're planning on recording a song with Guns N' Roses front man Axl Rose?
No, it wasn't a thing we (Asking Alexandria) were going to do; it's something I'm working on with another artist that I can't name. He's working with other people on it as well and one of those people could be Axl Rose, but I have no idea. They asked but I said I didn't know. It's just one song. I'm singing on someone's album with another couple people and he might be a part of it.
You spent most of the summer out on Warped Tour which is kind of like Summer Camp for the cool kids. With all the great bands out on that tour..
Wait, what great bands?  Who?  Oh ... Black Veil Brides.
Okay so maybe this year wasn't the best line-up for Warped Tour?
That's one way of saying it.
What did you take away from that experience?
One hell of a hangover and a s--tload of new rumors. All it was basically was the younger bands creating rumors about us and we don't know why. My friend offered the possibility that it could be because they're a--holes but it's probably because we're a--holes; looking at it that way, that's probably why.
Since we've established that you're a fan of '80s rock, who are some of your favorites from that era?
Well, Motley Crue is a definite favorite. I've heard there's a secret Def Leppard show tonight in Los Angeles so I'm going to find it and go, they're definitely another favorite. We played with them once in England but I got too drunk to actually see them. Skid Row, Twisted Sister – Dee is our good friend; he's helped us out a lot. He comes and watches us and gives us advice and support. Guns N' Roses goes without saying and even the smaller ones like the old L.A. Guns, W.A.S.P., Warrant and Winger. We have to mention Warrant due to the recent events.
I think it was a little sad that MTV didn't even make one mention of Jani Lane's passing at the recent MTV VMA Awards, considering how influential the Warrant videos were to early MTV.
I think it's probably because MTV are scumbags.
Jani was one of the best songwriters of that era and it's sad that that's now how he'll be remembered.
He was also a great performer and a great personality and will be missed.
What's going on with the band; what are you up to right now?
There's stuff that we haven't made large knowledge of. We're trying to get a TV shows in the works. It would be us on the road. There's a lot of reality shows out there right now but they're all following boring people who don't do very much so we're going to do one that documents rock 'n' roll, and we're not going to do it with MTV. So that's in the works, it's in the planning mode.
We're also shooting a new video soon so stay tuned for that. The whole album is going to be one big story in video form. I think the next one is going to be a prequel to 'To the Stage' rather than the following part because we haven't decided what's going to be next yet so we're going to tell the before story.
Do you enjoy making videos?
I love making videos. I hate performance videos because they're tiring, you have to do them 50,000 takes of the same thing but I love the action videos, they're great fun; besides waking up at 9 AM that is. Usually alcohol intake is limited when you're the singer. James [Cassells] was really drunk during the making of 'To the Stage' and when it came to the part where Ben was running up the stairs looking for me; James was so drunk by that point that he lost connection with the fact that we were shooting a video. He didn't know the difference between video and reality and he thought I was missing. He was running around Sunset Blvd. for an hour looking for me.
I wanted to ask you about your vocals, what kind of things do you have to do to take care of them?
It's actually a product I found, I'm not sure how well-known it is. I discovered it awhile back, my girlfriend actually got me into it, and it's called Jack Daniels. It's really good.
No, I don't really do anything special. I feel like I have a Kevlar voice box and I know I probably just jinxed myself in saying that but I can wake up with my mouth against an AC and dry as hell and I can drink a bottle of water and go on stage and be fine. I can lose my voice, then go on stage, sing fine, and then come off stage and still have no voice. I can sing but I can't talk. I think maybe it's some good karma, maybe.
You might be running out of that pretty soon, don't you think you need a back-up plan?
Have faith in me! Don't tell me I'm going to run out! I haven't been that naughty!
Watch the Asking Alexandria 'To the Stage' Video