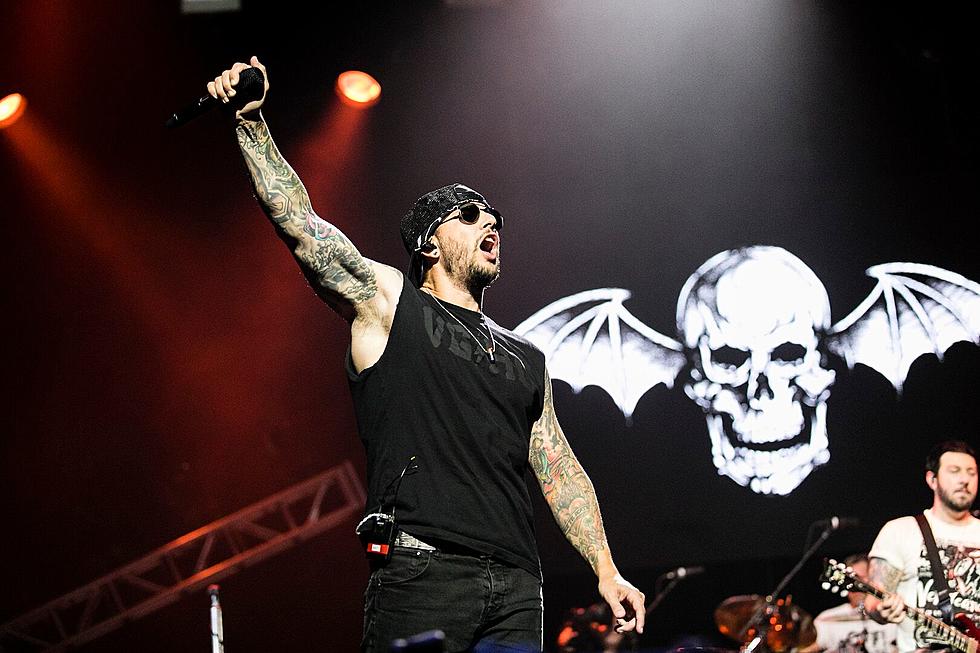 Avenged Sevenfold's M. Shadows Ready for 'Exciting and Different' Summer Tour: 'It's Going to Challenge Some People'
Matt Stasi/Loudwire
The summer concert season is nearing and one of the more intriguing bills finds Avenged Sevenfold paired up with politically minded rockers Prophets of Rage, rock radio favorites Three Days Grace and the hip-hop infused outfit Ho99o9. It's an eclectic bill for sure, and one that provides something different for Avenged's fans.
You've got a great tour coming up this summer. How much input do you have in choosing who's going on the road with you? 
We have 100% control of who we go out with. Basically, we did a list of bands. Then we just talked amongst ourselves and what we thought would be interesting. We try to make tours that are eclectic and different as possible so that it's not the same couple bands you see every summer. Prophets was just a different type of band [for us] to take out, but also it really intrigued us because not only did we love the bands that they came from and what they represent but it is just different for our audience. We felt it was really important to do something different than the same old thing we kind of do every summer.
I love the idea of Prophets on this tour. How do you think your audience will respond to Prophets of Rage?
I think their audience will just show up to the show. Our audience may kick and scream a little bit when they don't want to hear the political stuff or they want a band that they're more comfortable with that they hear on the radio stations next to Avenged Sevenfold all the time.
To us, it is about expanding everyone's horizons including ourselves. I love what Rage and Prophets of Rage stand for because they use their voices to speak what their truth is, and I love that. I think it should hopefully open some of our audience's minds listening to both sides of the spectrum. Prophets have a lot of conviction and a lot of ideas and I think it's going to be great. I'm just really excited about having such a controversial band, or polarizing band, on tour with another polarizing band, which is ourselves. I think it makes for some friction, and maybe a spark with happen and the whole thing will explode... which will be pretty fun.
You mentioned growing up in the '90s, what was your own experience with Rage Against the Machine, Public Enemy, Cypress Hill? Were you a fan? Do you have relationships with some of the guys?
Yeah. So, the first time I heard Rage Against the Machine was on KROQ, the local station out here in L.A. and the first time hearing "Killing in the Name" was just game-changing. It was unbelievable and their attitude and what they represented was just unbelievable. The album cover, every band trying to copy them after they came out and failing miserably at it -- everything about Rage at that time was unbelievable. So, we've been big fans of what they do.
They have obviously been on hiatus for a long time so you didn't hear much from them but the reality was we never met them until this week and then after meeting them, B-Real and Tom Morello, just the sweetest guys. Such nice guys. They are excited about the tour. We are excited about the tour. We got along so well that I actually can't wait to go hang out with those guys again and get to know them better on the tour. I can't say that happens a lot. They are definitely interesting personalities and very, very cool.
The other big band on this tour is Three Days Grace. I'm guessing you guys have crossed paths at some point. What's the relationship there? 
Yeah, I think it's important to round this thing out. Three Days Grace have huge songs and they are great guys. We played a festival with them a few years back and became good friends with them. We saw them out on this Breaking Benjamin tour, they came out to one of the Canada shows and we were just hanging out with them. We were like, 'Why don't we bring out Three Days Grace?' They are looking for a tour and it would be a nice complement to this.
Then also, Ho99o9 we took them out when we were out with A Day to Remember and the looks on some of our audiences faces when these guys would come out and start going crazy - it reminds me the early days of Black Flag or just some crazy underground punk rock mixed in with hip hop shit and it's just awesome to throw a wrench into everyone's expectations of what they're going to get at a rock show.
To me, these four bands together just make it very exciting and different. It's going to challenge a lot of people to sit through four different bands that are in kind of the same rock genre umbrella, but at the same time they're so different, vastly different, and I think the audiences will be very different but hopefully they come with an open mind and they leave with something a little different than what they came in with.
Being that this is the "End of the World" tour, if this was the end of the world, what would you want to include on this tour and is there anything that maybe you've been holding back for that day when it might be your final run?
Man, I don't know. I sure hope it's not our last tour [laughs]. It's not really. I don't know if we would go with standard songs or more trance songs, maybe pull out "Save Me" and "Exist," pull out some of these big epic fifteen minute songs that we've accumulated over our career. I don't know what we'd do, but hopefully that's a long, long ways off and we don't need to speculate on that. But I really hope that it's not the end of the world and it's not the last tour we play.
You can see Avenged Sevenfold on tour with Prophets of Rage, Three Days Grace and Ho99o9 at these locations. Tickets and VIP package info is available via the band's website.
Avenged Sevenfold's M. Shadows on How Streaming Culture Influenced 'The Stage'
See Avenged Sevenfold in the Top 100 Hard Rock + Metal Albums of the 21st Century