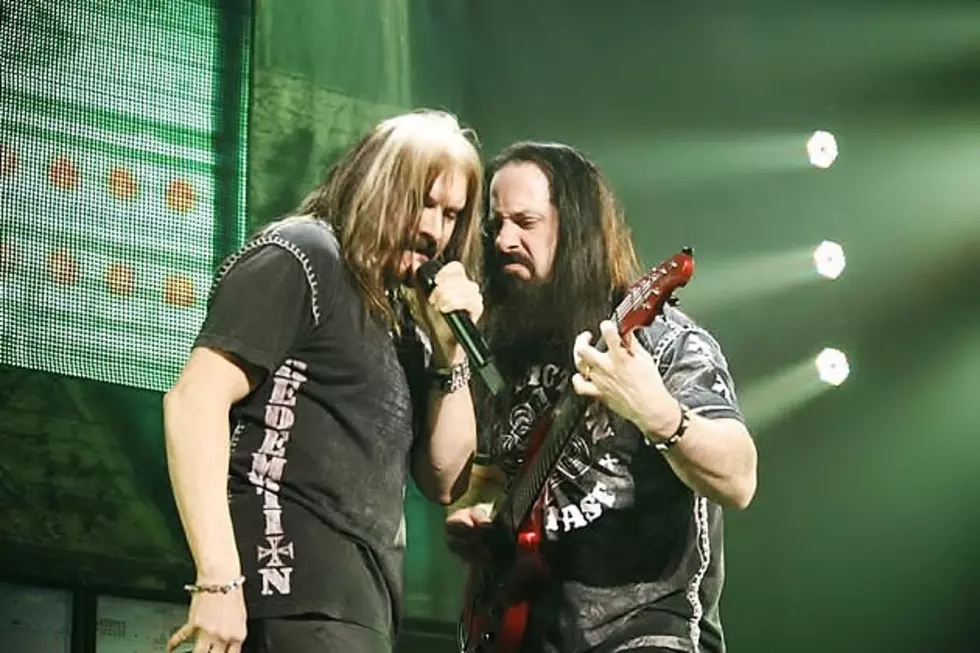 10 Best Dream Theater Songs
Liz Ramanand, Loudwire
Dream Theater have come a long way since forming at the Berklee College of Music in Boston back in 1985. The progressive metal giants have released 12 studio albums, one EP and a bevy of live CDs and DVDs that show off the band's diverse sound and true virtuosity. They are primarily known for their epic and cinematic songs that boast heavy riffs, long musical interludes, extended guitar and keyboard solos, key and time signature shifts and a variety of influences including classical and jazz, which are on display throughout their catalog. The band also shows its softer side with some ballads featuring just piano and vocals and others with the full band that give insight into the full spectrum of Dream Theater's unique sound.
It goes without saying that choosing the 10 Best Dream Theater songs is no easy task, with some excellent tracks missing the cut, but we did our best to spread the wealth in choosing a variety of songs for different reasons. Here are our choices for the 10 Best Dream Theater Songs:
10

'Take the Time'

From: 'Images and Words' (1992)

'Take the Time' is one of the most quintessential Dream Theater songs. It is as close as the band can get to a pop sound with its anthemic and memorable chorus, but conversely features the band stretching out with an amazingly intense, somewhat playful and jazzy instrumental middle section. The song also shows off James LaBrie's powerhouse vocals and a beautiful keyboard solo from Kevin Moore, as well as a sweet double lead featuring Moore and guitarist John Petrucci. The song concludes with a brilliant fist-pumping reprise that reminds us, "You can find all you need in your mind / If you take the time."

9

'Lost Not Forgotten'

From: 'A Dramatic Turn of Events' (2011)

'Lost Not Forgotten' is included on the band's 2011 album 'A Dramatic Turn of Events,' which is the first to feature drummer Mike Mangini. The epic song starts with a beautiful piano intro before launching into typical DT heaviness featuring complicated and chaotic syncopated rhythms and intense time signature changes. The John Petrucci-penned lyrics tell the story of an ancient tyrant hell bent on conquering the world and in the end gets what's coming to him. Mangini shines in the song with some stellar playing that proves he is at home behind the kit for the progressive metal titans.

8

'Peruvian Skies'

From: 'Falling Into Infinity' (1997)

'Peruvian Skies' off Dream Theater's 1997 'Falling into Infinity' is a dark and moody track that shows off a different side of the band. The song slowly builds over two versus and choruses before flowing into a graceful John Petrucci solo. The band kicks into full gear and rocks out the song's main riff before reaching a head-banging sonic peak until the song's abrupt and crushing end.

7

'As I Am'

From: 'Train of Thought' (2003)

'As I Am' features Dream Theater with a musical and lyrical chip on their collective shoulder in this stand out track from 2003's 'Train of Thought.' The dark and very heavy song kicks off the band's seventh studio album and doesn't relent taking the listener on a musical and lyrical journey about standing up for yourself and finding your own voice. John Petrucci's inspired lyrics and guitar work shine in this very memorable song.

6

'Misunderstood'

From: 'Six Degrees of Inner Turbulance' (2002)

'Misunderstood' is probably the closest Dream Theater can get to a power ballad. The nearly 10-minute song is featured on the band's 2002 album 'Six Degrees of Inner Turbulence.' It starts simply with a slow guitar intro featuring a beautiful chord progression before James LaBrie enters singing the poignant lyrics that focus on solitude and deep desolation. The moment before the full band kicks in for the second chorus, Petrucci's distorted guitar opens up and squeals before he hits the low 'D' chord in a chill-inducing moment, that surely had fans rewinding to listen over and over again.

5

'Lie'

From: 'Awake' (1994)

'Lie' off 1994's 'Awake' is the shortest song on this list, clocking in at 4:40. The track features dark heavy riffs and a blazing guitar solo from Petrucci.  It is a staple of early Dream Theater and contains the memorable Kevin Moore-penned chorus, "Don't tell me you wanted me / Don't tell me you thought of me / I won't / I swear I won't." The song is really set up well on the 'Awake' album, arriving just after the equally as heavy 'Mirror,' which ends on the same chord that 'Lie' begins. The two tracks blend seamlessly giving the audio illusion of being one longer song.

4

'Pull Me Under'

From: "Images and Words' (1992)

'Pull Me Under' is the band's signature and most recognizable song, serving as the introduction of Dream Theater to the masses. The video got a lot of play on MTV's Headbangers Ball and garnered a generous amount of radio airplay. It is the band's only song to hit the Top 10 on the rock charts. 'Pull Me Under' is the centerpiece of their 1992 album 'Images and Words' and features the band's signature heavy riffs, complex musical patterns and their true progressive and virtuosic nature.

3

'Home'

From: 'Metropolis 2: Scenes From a Memory' (1999)

While it was difficult to only pick one song off Dream Theater's 1999 'Metropolis 2: Scenes from a Memory, 'Home' is a stand out track on the effort. The longest song on the album, coming in at just over 13-minutes, starts slowly as the band builds an Eastern theme before bassist John Myung lays down the main theme of song. Frontman James LaBrie and drummer Mike Portnoy show off some sweet low-end vocal harmonies during the verses. Meanwhile, the Portnoy-penned lyrics dig deeper into the tragic love triangle at the center of the concept album. At the 8:40 mark of the track, Jordan Rudess storms in with a frenetic keyboard solo; Petrucci then follows with a tasteful harmonic minor lead before heading to full shred mode. It's worth noting that the song contains a few musical themes and riffs originally laid out in the band's 1992 song 'Metropolis, Pt. 1: The Miracle and the Sleeper.'

2

'A Change of Seasons'

From: 'A Change of Seasons' (1995)

'A Change of Seasons' is the 23-minute title track to the band's 1995 EP, which also boasts incredible covers of Deep Purple's 'Perfect Strangers,' a Led Zeppelin medley and more. The roller coaster track explores many musical themes and motifs on the journey through four seasons. It shows off all sides of the band's virtuosic playing from soft but dark acoustic guitars to some of their heaviest and deepest riffs in the band's arsenal, along with some incredible time signature shifting and speedy instrumental breaks. The song also features incredible lyrics written by drummer Mike Portnoy, which were inspired by his mother's passing. "Seize the day / I heard him say / Life will not always be this way / Look around / hear the sounds / cherish your life while you're still around." It all comes full circle at the end of the monumental song as John Petrucci revisits the song's intro riff on acoustic guitar.

1

'Metropolis, Pt. 1: The Miracle and the Sleeper'

From: 'Images and Words' (1992)

While 'Pull Me Under' may be the band's most recognizable song, 'Metropolis' -- which is also featured on the band's 1992 breakthrough album 'Images and Words -- is a true fan favorite and lays out the seeds of the a much bigger story which was tackled in 1999's 'Metropolis 2: Scenes From a Memory.' The nine-minute song defines Dream Theater's signature sound featuring incredibly heavy riffs and mind-altering time signature and tempo changes. It truly shows off each member of the band as they take a musical journey full of melodic harmonies and chaotic dissonant sounds that somehow all seamlessly work together.