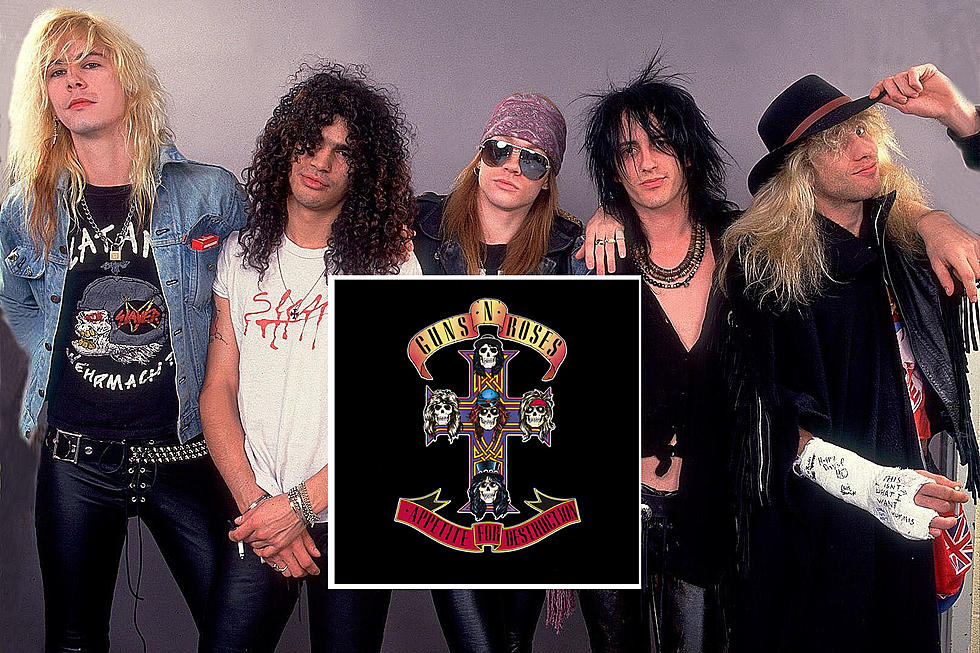 Billy White Jr., Designer of Guns N' Roses' Iconic Cross Logo, Has Died
Paul Natkin, Getty Images / Geffen
Billy White Jr., the artist who designed Guns N' Roses' iconic cross logo that appears on the cover of Appetite for Destruction, has died according to a post on Slash's social media.
The band initially used a painting by Robert Williams, also titled Appetite for Destruction, for the album cover, but many retailers across the U.S. refused to stock the album because of the graphic nature of the art. Thus, they pulled the album from stores and decided to use the cross logo on a black background for the cover instead, which had originally been illustrated by White Jr. as a tattoo for Axl Rose.
In a 2016 interview with Culture Creature, the artist recalled that Rose came up with the idea to have all of the band members' skulls on a Celtic-like cross, but that the rest of the detail was from his own vision. Robert Benedetti at Sunset Strip Tattoo in Los Angeles tattooed the cross on Rose's right arm.
"The knot work in the cross was a reference to Thin Lizzy, a band Axl and I both loved," White Jr. added.
"I got the tattoo first, I had a friend design it because I just felt that, no matter what happens with this band, where it went, what we sold or if it broke up, changed, whatever or any other members, that at that time, it was the most important thing. And it's like, I like tattoos, and I wanted something that would always remind me of what was once there, a symbol of it," Rose said in an interview in the '80s (see below), adding that Slash requested his skull have straight hair.
"Yeah, because I told Bill, I said, 'You're never gonna be able to draw curly hair right.'" the guitarist chimed in.
After the original artwork affected the album's sales, Rose phoned White Jr. to let him know they were going to use the cross logo on it instead. It was tweaked a bit by another artist named Andy Engel for the official cover, and to this day, it remains one of the band's signature icons in addition to their yellow bullet logo.
READ MORE: Why Is Guns N' Roses' 1993 Album Called 'The Spaghetti Incident?'
As reported by Slash, White Jr. recently died.
"RIP Billy White Jr. og designer of GNR cross logo. & long time friend of the band. You will be missed," Slash wrote in the caption of a photo of White Jr. on his Instagram. "Ah...shit!" bassist Duff McKagan replied in the comments.
Loudwire sends our condolences to White Jr.'s loved ones. Rest in peace.
Axl Rose + Slash Talk Appetite for Destruction Cross Tattoo
12 Stories Behind the People on Iconic Rock + Metal Album Covers