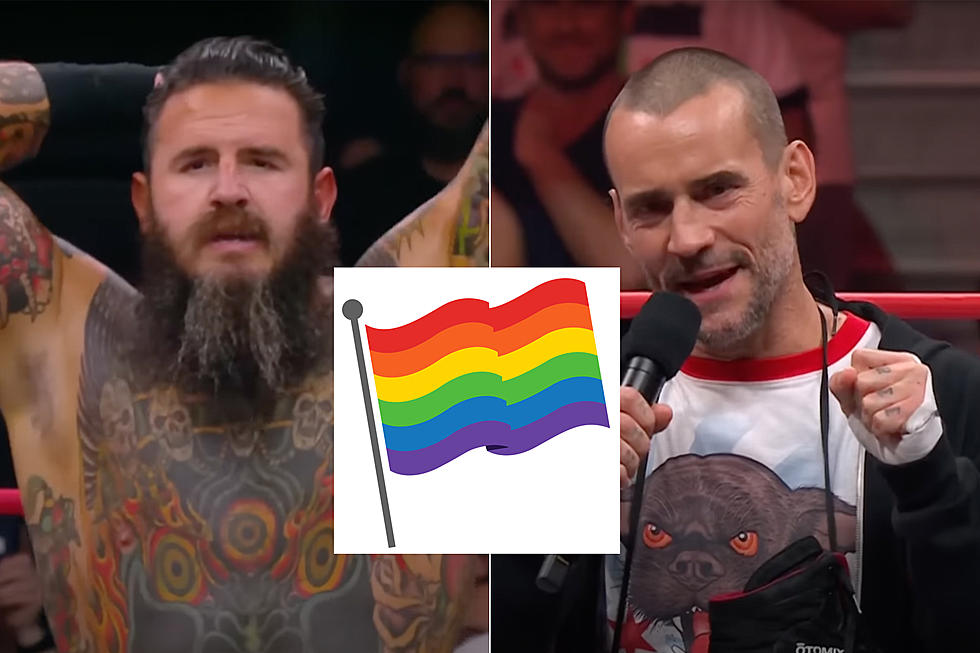 Hardcore Vocalist / Wrestler Brody King Has Perfect Response for Person Questioning CM Punk's LGBTQ Support
YouTube: AEW Wrestling (2) / Getty Images
With it being Pride month, you're seeing a lot more expressions of support for the LGBTQ+ community and with that will occasionally come some backlash against those expressions. Such was the case recently when wrestler CM Punk used the wrestling ring as a platform to share a message of support for members of the LGBTQ+ community.
Holding up a sign that he grabbed from fan that he brought into the ring, Punk's comment was a simple one - "Support LGBTQ+ Youth," which is a sentiment that has been under some public discourse of late, but one that the wrestler held high donning the poster above his head to the wrestling audience surrounding him.
On Twitter, retired wrestler Dutch Mantell took exception to the move, questioning, "Is this a wise move…involving a political issues on a wrestling show? I guess the issue that @budlight and @target have had with the LGBTQ topic has not reached @AEW." They also noted that Punk's signage did not make the AEW broadcast, but a still photo with the wrestler with the poster board sign remained available on the internet.
That led to a takedown by one of Punk's fellow AEW wrestlers, Brody King, who also serves as the frontman of the hardcore outfit God's Hate. He responded to the Twitter post noting, "You probably thought it was a political issue when Black people and women wanted equal rights too, you old bag of shit."
What CM Punk Said to the AEW Audience
After displaying the sign and welcoming the fan to the wrestling ring, Punk explained (per PinkNews), "I reposted something for Pretty Cool Ice Cream. It was an ice cream bar that some of the proceeds, if you purchased a bar, went to support trans youth."
"I got a lot of hate for reposting that message," he continued. "Somebody in particular, don't know who it is, a nameless, faceless, person on the Internet said, why do you support that trash? And I thought about replying, but you can't argue with stupid, okay? You just both look stupid. The reason I support trans kids trans, grownups, gay, straight, lesbian, whoever is because I know when I was growing up, I didn't fit in anywhere. But it was because of the clothes I wore, what my hair looked like, the music I listened to, those are all things I could rectify. I could cut my hair, I could listen to jazz. I don't know what."
"But to be somebody who's gay, lesbian, especially trans," he continued. "I don't know what it feels like to be trapped in a body that I don't feel I belong. That is why I support that. Until I found pro-wrestling and all the freaks and geeks in the locker room were just like me … Support trans kids, support for gays and lesbians. I want everybody to be themselves. Just do no harm to everybody else. Thank you. I love you."
READ MORE: Wrestling Legend The Iron Sheik Dead at 81
Recent Rock Debates Over LGBTQ+ Support + Care
Earlier this year, KISS' Paul Stanley weighed in with his thoughts on gender-affirming care for young people. In a social post the 71-year-old KISS vocalist commented, "There is a BIG difference between teaching acceptance and normalizing and even encouraging participation in a lifestyle that confuses young children into questioning their sexual identification as though some sort of game and then parents in some cases allow it."
He added, "There ARE individuals who as adults may decide reassignment is their needed choice but turning this into a game or parents normalizing it as some sort of natural alternative or believing that because a little boy likes to play dress up in his sister's clothes or a girl in her brother's, we should lead them … down a path that's far from the innocence of what they are doing."
Stanley continued, "Children who have no real sense of sexuality or sexual experiences [get] caught up in the 'fun' of using pronouns and saying what they identify, as some adults mistakenly confuse teaching acceptance with normalizing and encouraging a situation that has been a struggle for those truly affected and [has] turned it into a sad and dangerous fad."
Stanley's discussion yielded a significant number of comments, including one from Twisted Sister's Dee Snider who commented, "You know what? There was a time when I 'felt pretty' too. Glad my parents didn't jump to any rash conclusions! Well said, Paul Stanley."
That response, it turns out, led to Snider being disinvited from the 2023 San Francisco Pride festivities, where Snider was going to appear and sing the unofficial rally cry of "We're Not Gonna Take It" during the event. San Francisco Pride put out a press release, revealing they had intended to invite Snider but had discussions behind the scenes to not follow through after his response to Paul Stanley.
In turn, Snider issued his own statement in which he questioned, "I was not aware the Transgender community expects fealty and total agreement with all their beliefs and any variation or deviation is considered 'transphobic.' So, my lifetime of supporting the Transgender community's right to identify as they want and honoring whatever changes they may make in how they present themselves to the world isn't enough? Why not?"
Sharing his viewpoint, Snider explained, "I've recently stated I do not believe young children are ready to decide their gender allocation. I believe their choices should be supported and accepted by their parents, but I do not think kids have the mental capabilities to make rational, logical decisions on things of a magnitude that will affect them for the rest of their lives. I do not believe they are mentally developed enough."
After backing up his point with words coming from the director of psychology, neuropsychology and social work, and co- director of the Center for Behavioral Health at Johns Hopkins All Children's Hospital, Snider offered, "I am a proud moderate. I drive a Tesla and a Hummer. I have too many guns but strongly support intelligent gun control. I have four children yet fight for a woman's right to choose. I am a motorcycle riding environmentalist. I am a heterosexual who proudly supports LBGTQIA+ rights. To me (and I believe to many of you) none of these things are mutually exclusive. The Transgender community needs moderates who support their choices, even if we don't agree with every one of their edicts. For some Transgender people (not all) to accuse supporters, like me, of transphobia is not a good look for their cause. Don't reject people who are willing to march, sing and stand with you just because we don't perfectly see eye-to-eye. We are still your allies."
As for Stanley, he later walked back his comments to some extent. "While my thoughts were clear, my words clearly were not," stated the musician. "Most importantly and above all else, I support those struggling with their sexual identity while enduring constant hostility and those whose path leads them to reassignment surgery. It's hard to fathom the kind of conviction that one must feel to take those steps. A paragraph or two will remain far too short to fully convey my thoughts or point of view, so I will leave that for another time and place."
He also shared in early June, "Everybody has a right to be who they are. Life's too short to be anyone else." He then added, "Everybody should celebrate who they are. Be proud of who you are as long as it's something worth being proud of. … What's the criteria for being proud is being a good person, not transgender or any other gender."
If you or someone you know is struggling with mental health, help is available through the Substance Abuse and Mental Health Services Administration website. To speak to someone on the phone, dial 1-800-622-HELP (1-800-622-4357) or send a text message to 1-800-487-4889.
Punk and Metal Bands Supporting LGBTQ+ Rights
Whether queer themselves or active allies, these artists are supporting the LGBTQ+ community.