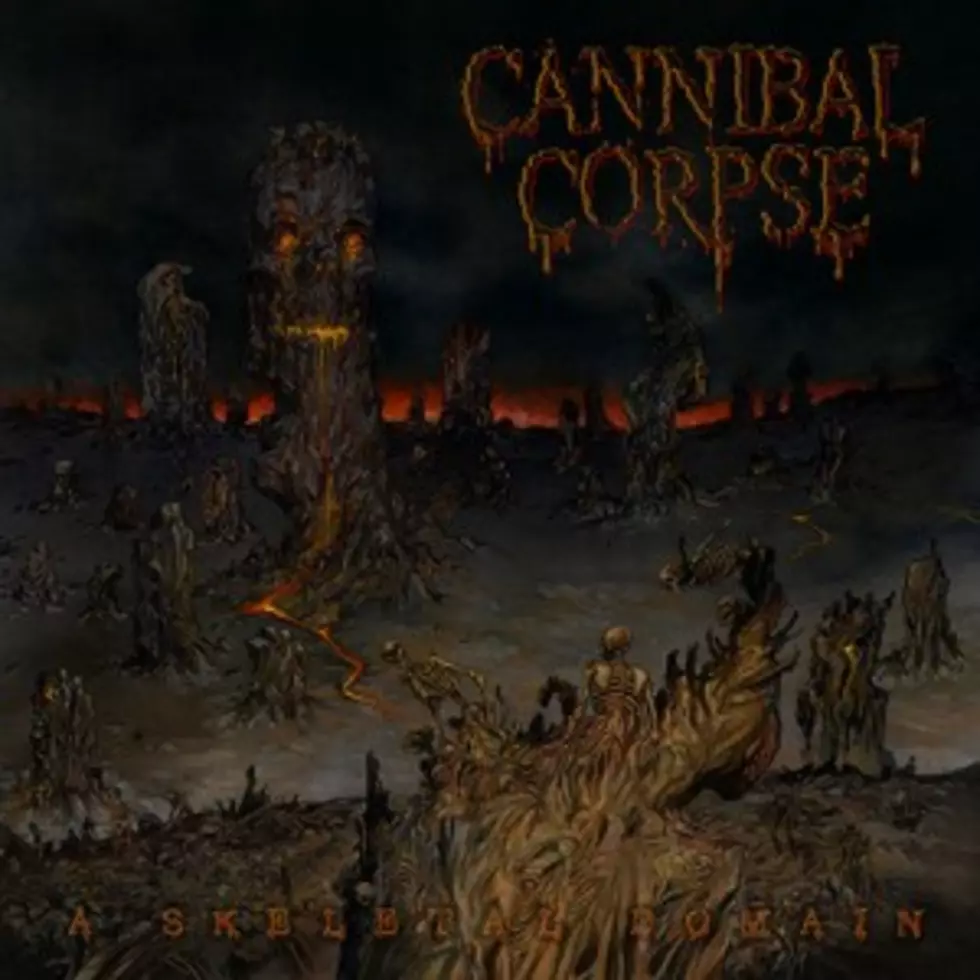 Cannibal Corpse Unveil Release Details for 'A Skeletal Domain' + New Song 'Sadistic Embodiment'
Metal Blade
Cannibal Corpse have just revealed details for lucky album No. 13. The new disc, 'A Skeletal Domain,' is scheduled to hit fans on Sept. 16.
Cannibal Corpse have a hell of a legacy, and with 12 albums under their belts, it can be difficult to remain fresh. However, Cannibal Corpse's most recent release, 'Torture,' was well-received by fans and critics alike and is widely thought to be one of the band's stronger releases.
"We've done three records, 'Kill', 'Evisceration Plague' and 'Torture,' with Erik and all three of them turned out incredible; we're so happy with the production," declares bassist Alex Webster. "But at the same time, we haven't worked with a different producer since 2003, when we worked with Neil [Kernon] on 'The Wretched Spawn.' So, really, when you're in a career for a long time, like we are, occasionally changing the people you work with, or changing the location of where you're working, can just help you feel more motivated to work, really. And we thought, 'OK, we've done these three records with Erik that were so successful, he did such a great job, but let's leave it at that for now, and maybe try working with Mark.' Since their studio is also very close to us. Both Erik and Mark's studios are down here in central Florida. So we figured, why not give it a try? Just to do something a little different; we'll see. But we would not rule out working with Erik again. He's awesome and we consider him a brother of the band, so working with Erik Rutan could certainly happen again in the future."
"I think it's turning out to be kind of a dark-sounding album," Webster adds. "Which, you know, it's a death metal album, so, of course, it should be kind of dark and eerie sounding anyway, but I think this one a little more than normal. That was kind of the direction the songwriting went in. Pat [O'Brien, guitar] actually wrote a lot on this album. This will be the first album where Pat wrote more songs than anyone else. He's really been super motivated, and he's been writing some great, great material that we're all really excited about. And some of it, it's very evil-sounding stuff. So I think our fans will be very happy. There's nothing on here that's even a million miles close to being a sellout, you know what I mean?! It's definitely full-on evil death metal. I think everyone will enjoy it."
To pre-order Cannibal Corpse's 'A Skeletal Domain,' click here.
Cannibal Corpse, 'Sadistic Embodiment'
Cannibal Corpse, 'A Skeletal Domain' Track Listing:
01. 'High Velocity Impact Spatter'
02. 'Sadistic Embodiment'
03. 'Kill Or Become'
04. 'A Skeletal Domain'
05. 'Headlong Into Carnage'
06. 'The Murderer's Pact'
07. 'Funeral Cremation'
08. 'Icepick Lobotomy'
09. 'Vector Of Cruelty'
10. 'Bloodstained Cement'
11. 'Asphyxiate To Resuscitate'
12. 'Hollowed Bodies'