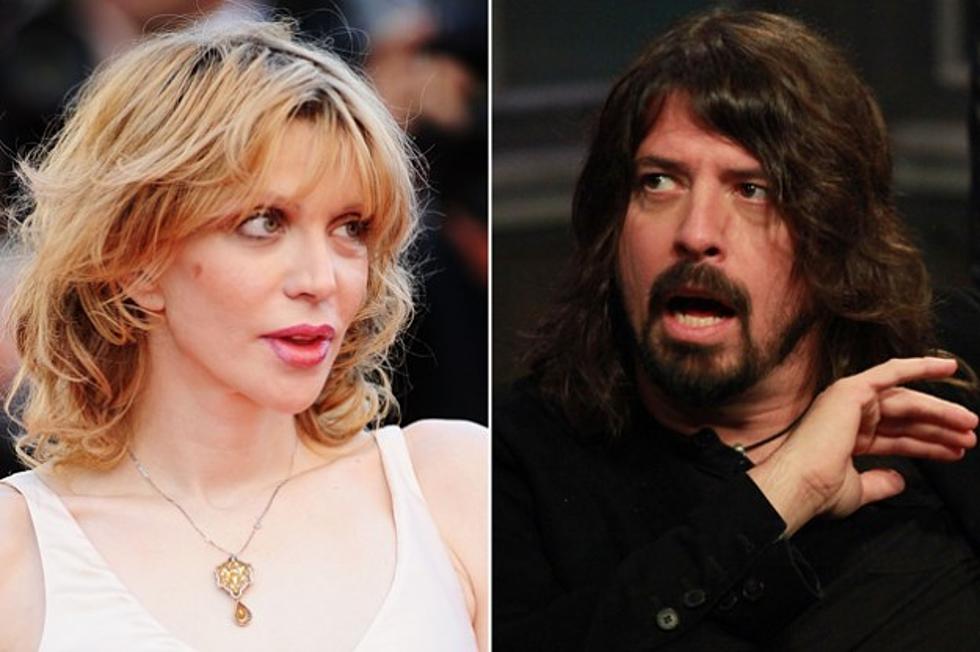 Courtney Love: Dave Grohl Is 'Obsessed With His Hatred' of Kurt Cobain
Courtney Love recently unloaded on Foo Fighters frontman Dave Grohl in a somewhat-coherent tirade, where she claimed he's a "sociopath" who's "obsessed with his hatred" of Kurt Cobain.
The Hole frontwoman once again taken her voice of displeasure to the Internet, this time under the screen-name "Rose OfSharon" on Gothamist.com. A post about the use of 'Smells Like Teen Spirit' in 'The Muppets' movie -- a topic she's previously sounded off on -- caught Love's attention, so naturally she took to the comment section to air her dirty laundry.
Translating from the lengthy, typo-filled rant -- Love alleges that she shot down use of Nirvana's music in not only 'The Muppets,' but also on 'Dancing with the Stars,' the upcoming film 'Battleship' and in Gatorade-related media. She also claims that Dave Grohl and bassist Krist Novoselic only hold a 1.2% share of the publishing rights to the song 'Smells Like Teen Spirit,' before saying that "we wrote every single note" -- referring to herself and late husband Kurt Cobain.
Love further claimed that the "lawyer-owned" website TMZ -- who claims she did sell half of her rights to the music -- aims to portray her as "crazy," before attacking Gawker, Disney and calling Dave Grohl a "sociopath" amongst other things [typos included]:
[Dave Grohl] is obsessed not so much with me with his hatred of kurt- he knew kurt never wanted to be disneyfied, i know lisa henson [daughter of Muppets creator Jim Henson] very well and as gawker you should be slightly more responsible-= and not believe every piece of expoiltative bulls--- you hear in fact this is an epic f---ing scandal
As usual, Dave Grohl has not responded to Love's statements. Ironically, Love also just retweeted and commented on a Twitter post by 'The Muppets' star and co-writer Jason Segel.