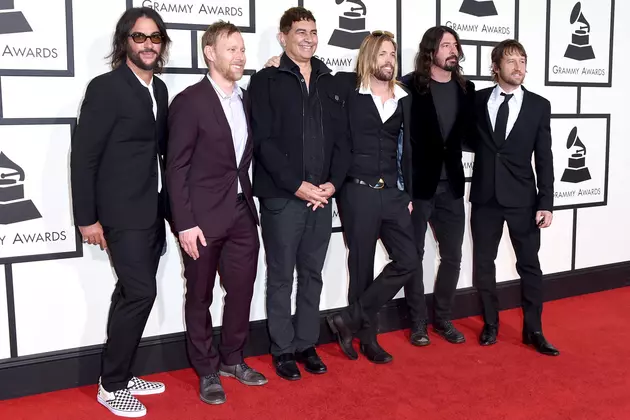 Dave Grohl Confirms Rami Jaffe as Foo Fighters Member, Talks Them Crooked Vultures Future
Jason Merritt, Getty Images
Foo Fighters surprised many with a new song and video this week, and to help hype the release of "Run," Dave Grohl appeared on several radio shows, including Zane Lowe's Beats 1 show. During the discussion, Grohl addressed several topics including the addition of a sixth member to their lineup.
Though keyboardist Rami Jaffe has performed and recorded with the band dating back to 2005's In Your Honor album, he's not been mentioned as an official member. But with the release of "Run," Jaffe was included in the band photo and Grohl made a point to mention that there were six members in the band during the interview.
"You know, it's just so easy when the five of us, six of us now, get together," stated Grohl, before Lowe interrupted, "That's official by the way?" Grohl responded, "Who, Rami? Rami's been in for 14 years or something, it's been awhile."
Grohl added, "He's such a big part of the band too. He's amazing, if you've ever hung out with him, he's the sweetest guy in the world. He's one of the most talented people I've ever met. He's amazing, but when we get together and play, it sounds the way it sounds." In addition to Foo Fighters, Jaffe has appeared on songs from numerous bands, but his best known credit prior to Foo Fighters was as a member of the Wallflowers.
During the chat, Lowe also asked Grohl about another one of his projects, the superstar trio Them Crooked Vultures, which paired Grohl with Queens of the Stone Age's Josh Homme and Led Zeppelin bass great John Paul Jones. When asked if we might ever see the trio again, Grohl lovingly reflected on the group stating, "We do talk about it. Every once in a while, you'll be up at night drinking a bottle of wine by yourself, and you'll watch some Crooked Vultures live thing on YouTube and go, 'We were so good!' and then we'll text each other saying, 'Miss you man!'"
You can hear more of Dave Grohl's chat with Zane Lowe here.
Foo Fighters Albums Ranked
10 Greatest Rock + Metal Supergroups