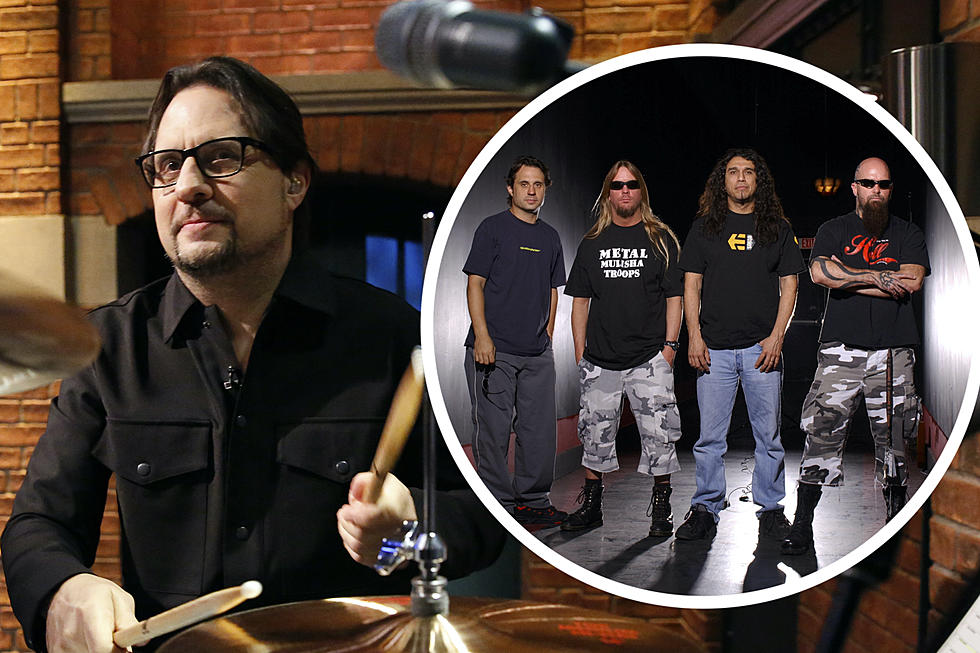 Dave Lombardo Couldn't Understand Why Slayer Were Accused of Being Nazis
Lloyd Bishop / Larry Marano, Getty Images
In a new interview, multifaceted drummer and Slayer co-founder Dave Lombardo looked back on his accomplishments, answering several questions about the early days of Slayer — including why he couldn't understand when Slayer were accused of being Nazis, an accusation the band dodged for years after their Reign in Blood song "Angel of Death."
Written by late Slayer guitarist Jeff Hanneman and subsequently a live favorite for the act, "Angel of Death" opens Slayer's 1986 album with a pioneering thrash metal sound and lyrics that detail the Auschwitz concentration camp human experiments of Nazi physician Josef Mengele.
Though some looked at the lyrical content as Nazi sympathy, to Metal Hammer this week, Lombardo reiterated what Slayer always held — that the song was not a condoning of fascism.
READ MORE: Dave Lombardo Name His Favorite Band Out of Thrash Metal's 'Big Four'
But could the drummer understand why people thought it suggested Slayer were Nazis?
Lombardo Says Slayer Weren't Nazis
"I couldn't, at all," Lombardo responds. "People just seemed to be getting it all wrong, and it didn't make sense to me. It's a song, and nowhere did it give off this idea that fascism was cool."
In the tune, "Tom [Araya] was talking about this guy who performed these horrible surgeries on innocent people — really stupid, horrific things," the drummer explains. "You shouldn't need to read the lyrics to understand we weren't condoning those things."
The accusations did little to thwart Slayer's rise in '80s thrash metal. After all, nowadays, fans look at Slayer, Anthrax, Megadeth and Metallica as thrash's "Big Four." But when asked if there was any rivalry between bands, Lombardo made clear the competition was only good-natured.
Thrash Rivalry?
It was a "friendly rivalry," he says. "We were competing, but not in a negative way. We wanted to be the best. We wanted to be the heaviest. … So our rivals were any band that'd open up for us. We'd be like, 'Let's blow 'em out the water!' I can't think of a single band we had a real negative relationship with."
In fact, it seems Lombardo might have felt more competition with the many up-and-coming death metal bands that sprung up in Slayer's wake.
"We'd watch a lot of those bands from sidestage," the drummer remembers. "I remember whispering to Hanneman, 'We're better' or 'We're faster'! [Laughs] It wasn't necessarily arrogant, but it was inspiring if we watched a band that couldn't deliver the ferocity we were because it made us feel amazing, like, 'Oops, failure!' It was a youthful approach. You want to be better than the guy before you — you want to blow everyone away, and that was our mantra."
Other Lombardo Work
Lombardo has also played drums for Mr. Bungle, Misfits, Empire State Bastard, Satanic Planet and more. His percussion-heavy solo debut, Rites of Percussion, came out in May.
Don't forget to subscribe to Loudwire's newsletter and download the Loudwire app for the latest in rock and metal news delivered to you daily.
Slayer, "Angel of Death"
The 29 Songs Slayer Have Never Played Live
With the trusty setlist.fm as our guide, we've rounded up all of the original songs (no covers included) that thrash metal legends Slayer have never played live.
Gallery Credit: Joe DiVita