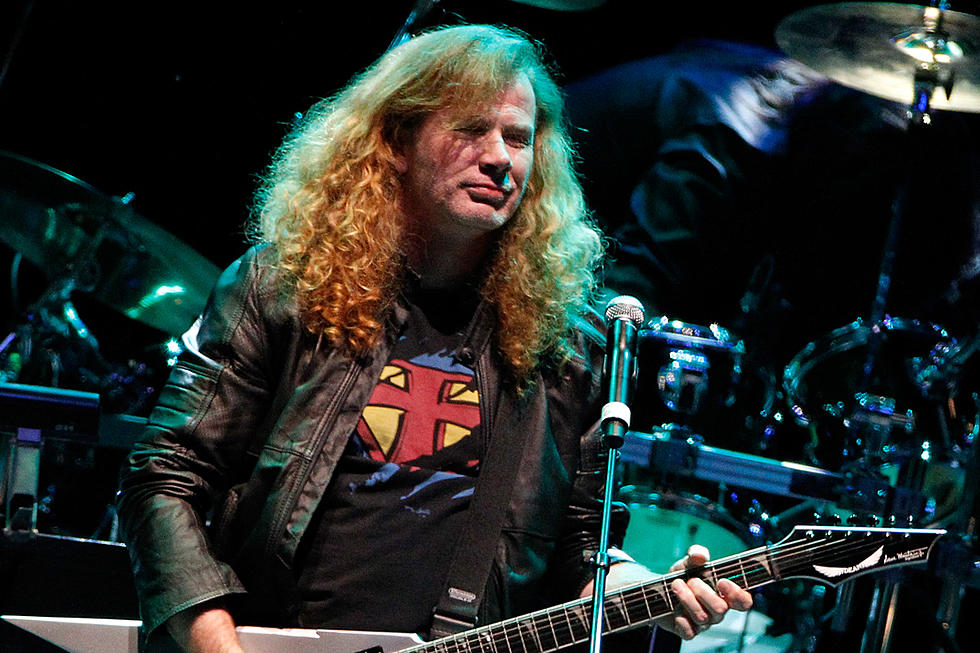 Dave Mustaine Forgives Guitar Tech He Fired, But Does Not Apologize
Terry Wyatt, Getty Images
Megadeth's Dave Mustaine released a Periscope video late last month of him explaining that he had fired his guitar tech and followed it with a scathing rant directed towards him. He called the tech in question "a total waste of skin and life" and stated that fans "deserved way better than this jerk off did tonight." The clip went viral and ultimately saw some egg land on Mustaine's face after struggling to turn off the camera. It appears things have cooled down with the vocalist forgiving his tech in a new Periscope video, which can be seen above.
Engaging in a conversation with fans while using the app, the frontman was casually relaxing in the cafeteria of his hotel with drummer Chris Adler. While easting his dessert and sipping on his drink he answers some questions fans have while some quiet classical musical plays in the background. Someone says to bring back former guitarist Marty Friedman, to which Mustaine responds, "You're an idiot." Adler jokes that Friedman would make a good guitar tech, which sparked the question of what happened that got the founder's tech fired.
Mustaine says, "What happened? The guy lied to me. He gave me a guitar that wasn't plugged in or turned on two times, and unplugged one time, and you know what? That's just not acceptable. I wish I didn't say it the way I said it, but I'm not gonna apologize."
"But you know what? I forgive him," said Mustaine. "I still like the guy. It's just one of those things. Actually, if I see him again, I'm not gonna hold a grudge and I'll probably give him a hug and thank him for trying." He later on adds, "Yeah, I totally forgive the guy, you know what? I don't hate him, I was mad, I had been drinking wine during the set and after a couple weeks of problems and stuff like that I had finally had enough."
Continuing, he even commends the tech, saying, "I forgive him and I think it was very brave and bold of him to come out and try to work with us and he did help us out with the stuff that he knew how to do. It's just a very complicated gig; we're doing all those punches and stuff like that nowadays. And the thing too, is he was a bass tech, he wasn't a guitar tech. But I'm sure he's happy, you know, it was very stressful for him."
Megadeth will be doing a stint in Russia before heading to the United Kingdom and winding down their touring as the year draws closer to an end. For a full list of tour dates, visit the band's website.
See Where Dave Mustaine Ranks Among the Top 50 Hard Rock + Metal Guitarists of All Time
You Think You Know Megadeth?