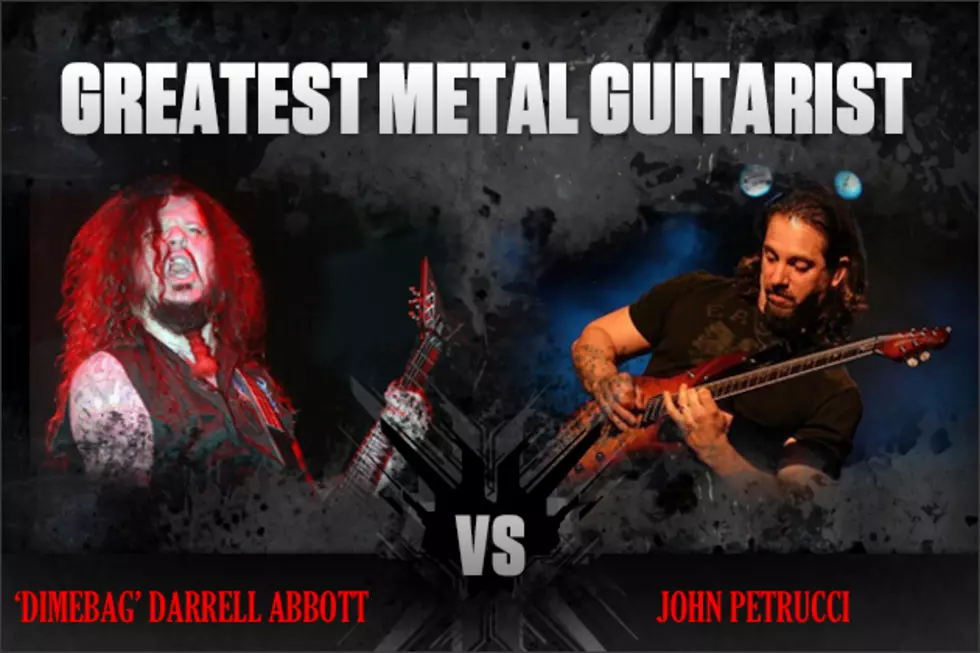 'Dimebag' Darrell Abbott vs. John Petrucci – Greatest Metal Guitarist, Semifinals
Scott Gries / Kevin Winter, Getty Images
Late Pantera guitarist 'Dimebag' Darrell Abbott claims yet another victory in our Greatest Metal Guitarist competition over one of his best friends, Zakk Wylde. Dime has been an early favorite since the beginning, defeating Dillinger Escape Plan shredder Ben Weinman and Korn's Brian 'Head' Welch before moving on against Wylde. The crunch-master moves on to the Semifinals.
Dream Theater's John Petrucci is unquestionably one of the world's finest players. However, godlike chops don't always work against a behemoth like Metallica's Kirk Hammett. Dream Theater fans, however, showed up in droves and earned Petrucci another win. With Vivian Campbell, Eddie Van Halen and Kirk Hammett disposed of, Petrucci comes face-to-face with Dimebag.
'Dimebag' Darrell Abbott or John Petrucci? Cast your vote for the Greatest Metal Guitarist in the poll below! Voting for this round closes on Thursday, Aug. 8 at 10AM ET. Fans can vote once per hour, so keep coming back to make sure that your favorite metal musician wins!