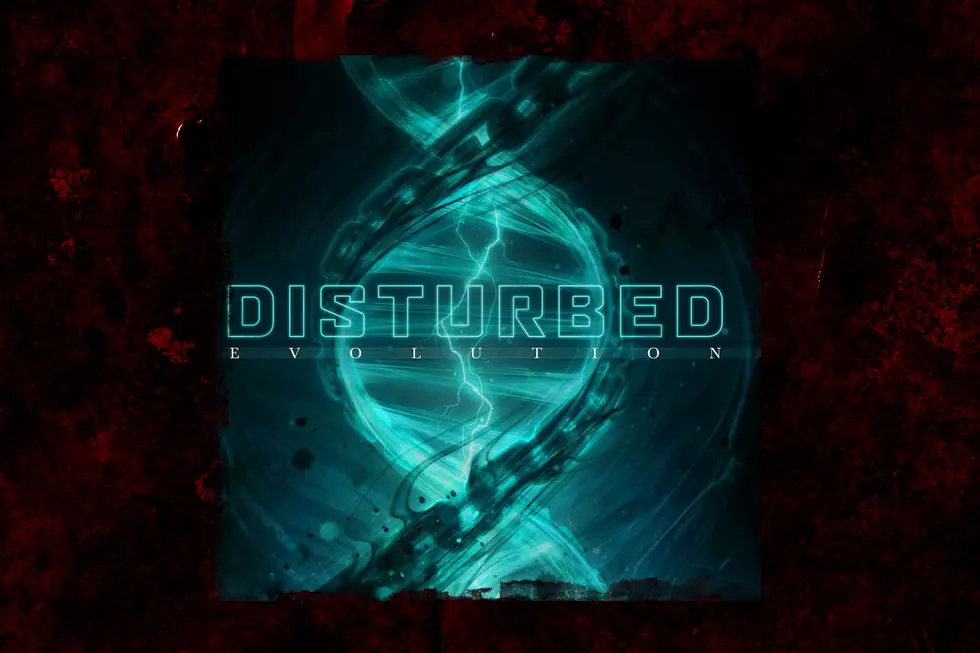 Disturbed Make Most Defined 'Evolution' of Their Career With Latest Record – Album Review
Reprise
Let's get something out of the way: while Disturbed's new album is fittingly titled Evolution, it should be noted that the group has consistently evolved over the years. The group who gave us "Stupify" has grown up, and during their journey, they have developed a social consciousness and become more resolute in delivering songs with a message. We've seen them expand their sound to include more electronic elements and even incorporate strings into the heavy rhythmic barrage that fans have become so accustomed to. Still, Evolution is a fitting title at this point: the band has arguably just made the most diverse album of their career.
It's not a departure from their sound, though: Evolution contains tracks racks that will fit in perfectly on a "Disturbed Classics" playlist. "Are You Ready?," with its pulsing electronic open and David Draiman's rhythmic ferociousness, could have been on any of their prior records, and sounds like a perfect opener for live shows. The swinging drum beat of the infinitely catchy and politically tinged "No More" doesn't stray too far from what fans might expect either, but the tonal shift begins with the album's third song.
Disturbed have been upfront about their cover of "The Sound of Silence" opening doors for them; it has certainly paved the way for them to show off their softer side. Evolution's "A Reason to Fight" will appeal to fans of their Simon & Garfunkel cover; the song starts on acoustic guitar with Draiman's voice at its most vulnerable within the track's opening lines. "I won't give up so don't give in / You've fallen down but you can rise again," he sings; it's one of the most moving vocal performances of his career. In fact, some of the more powerful material on Evolution is melodic and contemplative.
Dan Donegan does a delicate dance along the fretboard on the heartfelt "Hold On to Memories." "So now go do the best things in life / Take a bite of this world while you can," urges a clear-voiced Draiman on the track. A string section gives "Watch You Burn" an uplifting vibe, but things are less cheery on the mournful album closer, "Already Gone," a heart-wrenching song where you can feel the pain in Draiman's vocal. Each of these songs contributes to the album's diversity; Evolution is one of their most complete efforts.
But their heavier side is never far away: the aforementioned "Are You Ready?" is already a radio hit, while "Best Ones Lie," one of the disc's more aggressive tracks, seems destined for the airwaves as well.
The social commentary of "In Another Time" has never seemed more pertinent, with Draiman pondering if we could ever go back to a time "when the world was more than what we see online," sharing his fears of what the technology has done to our humanity. "Stronger On Your Own" also offers a more self-reliant message (and a pretty awesome demonic Draiman laugh), while "Savior of Nothing" is a heavier track cautioning about becoming so engulfed in a fight that you become what you supposedly are fighting against.
While Evolution does make strides in expanding what we expect from the group, it's also a culmination of how they've already broadened their horizons as a band. The disc contains some of the strongest political and social statements of their career, reflects what they've done well in the past and sweetened the pot a bit by broadening the musical spectrum.
Draiman recently told us, "From a stylistic standpoint, what record do I feel within our discography has the greatest potential to reach the largest amount of people? I feel this is the one." He may be right; Evolution may be the one to send them from arenas to stadiums. Time will tell, but for now they deserve credit for pushing the boundaries, nearly two decades after their debut, and creating an album that holds up, and possibly exceeds, their legacy.
David Draiman Discusses Disturbed's New Album
See Disturbed + More of the 50 Most Important Metal Bands in the 21st Century