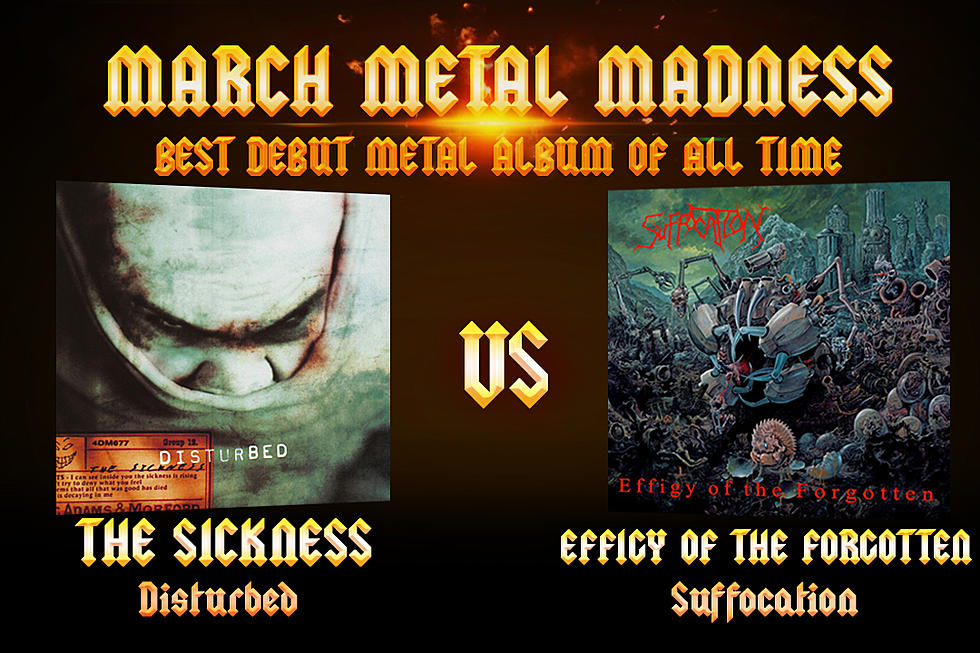 Disturbed vs. Suffocation – Metal Madness 2017, Round 1
Giant/Reprise / Roadrunner
Oooh! Wha-ah-ah-aht is this? It's a matchup between The Sickness and the sickest! Yes, we're talking about Disturbed's debut album squaring off against Suffocation's Effigy of the Forgotten in Round 1 of March Metal Madness to determine the Best Debut Metal Album of All Time!
Disturbed immediately established their stranglehold on the modern metal scene with the release of The Sickness, propelled by all-time cuts like "Down With the Sickness" and "Stupify." Their razor-edged rhythms combined with David Draiman's distinct and inimitable voice immediately helped the band distance themselves from the nu-metal phenomenon at the time.
Death metal pioneers Suffocation took the genre to new depths, utilizing serpentine arrangements, rapid tempo shifts, technical precision and crushing, muted-chugs that serve as the earliest traces of the now commonplace breakdown. Effigy of the Forgotten demonstrated a new wave of sheer brutality, especially with Frank Mullen's unforgiving low guttural establishing a since widely copied technique.
So, which album will move on to Round 2 of March Metal Madness 2017? Vote below for either Disturbed's The Sickness or Suffocation's Effigy of the Forgotten as the Best Debut Metal Album of all time in the poll below!
(Voting in Round 1 will end on Friday, March 17, at 10AM ET. Fans are able to vote once per hour, so keep coming back to make sure your favorite debut album advances to the next round!)