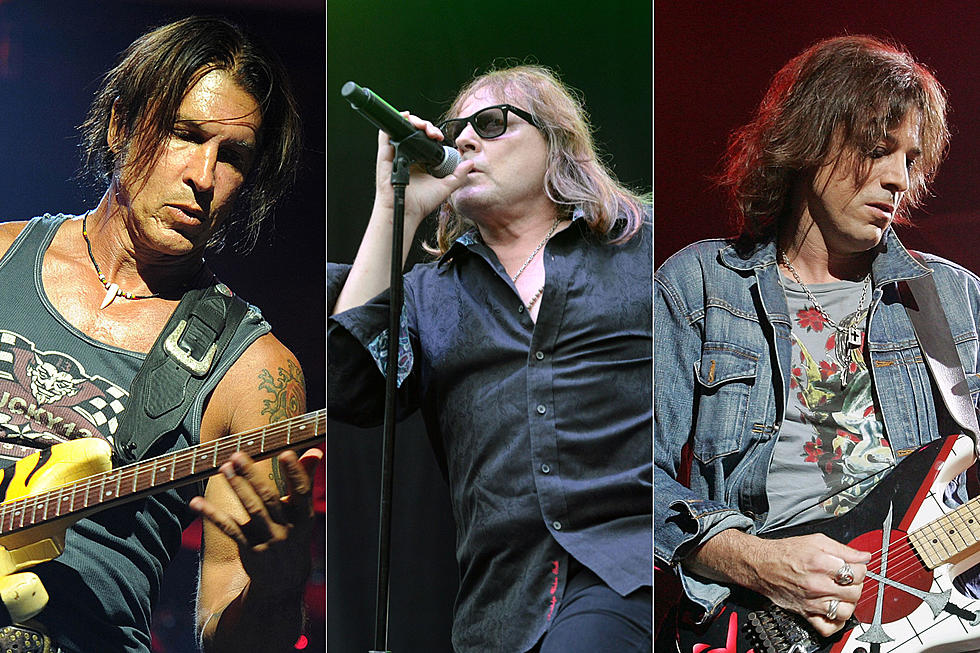 Don Dokken Thinks Dokken Would've Found Fame Sooner if They Had This Guitarist Instead of George Lynch
Larry Marano/WireImage / Scott Dudelson / Ethan Miller, Getty Images
There can be many "what ifs" over the course of a band's career, and while recently speaking with the Chuck Shute Podcast, Don Dokken theorizes that his band Dokken could have risen up the ranks quicker with a different guitarist than George Lynch, who was there during the band's ascent in the early '80s.
Dokken recalled to Shute the period around 1982 when Lynch exited the band to take a job playing with Ozzy Osbourne, and the uncertainty surrounding it.
As Dokken recalled, Lynch had left the band right as they were fighting to get a record deal. "Our last showcase we did at the Whisky, Warren DeMartini was playing guitar. Warren did a very short run. We had five record companies looking at us," said the singer.
"I remember standing at the Whisky on stage, looking at the audience, and I see George. What the hell is he doing here? I thought he was in Ozzy. 'Cause everybody said he's going to be in Ozzy. And they flew him to England. He was gonna be the guitar player," recalls Dokken. "So we're playing. I'm very happy. Warren was, like, 18 or 19. We got along great. And I'm seeing George in the audience, and I'm, like, 'What the hell is he doing here?' And he kind of pulled Warren aside, and he goes, 'You don't want to be in Dokken. Don's an asshole, man. Everybody knows it. You can't trust Don. Don's a Nazi. He's gonna control everything and take everything.' And I'm, like, 'Whatever.'"
But as Dokken stated, DeMartini's stint with Dokken was brief as he left to be with Ratt was taking off. So did bassist Juan Croucier, who Dokken says left because he couldn't play with Lynch. "I had to find Jeff [Pilson] as a bass player, get a new guitar player. We had just landed the Blue Oyster Cult tour with Aldo Nova, us opening up for 30 minutes. And that's when George came back in the band, because he had nowhere else to go. And that really is the history of Dokken."
READ MORE: Don Dokken Willing to Blame Metallica for Band's 1989 Breakup
Reflecting on that time, Dokken says, "Looking back, I have nothing against George. We get along fine, but if I could have kept Warren in the band, we probably just would have went way up a lot faster."
When asked by Shute how things might have been different with DeMartini, the singer commented, "Everything we did in the studio [with George] was a fight… Warren was easy breezy. We'd spend an hour on a solo with him and it was amazing, and we're done. [With George] we'd go in to do 'Tooth And Nail.' We have a 32-track recording console. I go in the studio at midnight, because George didn't want me in the studio while he was recording. So they'd all take off at 10 o'clock and they'd all go to the Rainbow [Bar & Grill] to find chicks and cocaine. So I had sneak in the studio with [producer] Michael Wagener, and there was, like, 14, 15 tracks of solos. I'm, like, 'Holy shit.' And I would literally have to pick pieces of solos that were coherent, and we'd cut them. 'Cause George is a freeform guitar player, I'll say — he just picks up the guitar and plays. There's no structure. There's no beginning. There's no end. There's no middle. That's just the way George plays. So I'd go in the studio, take all the tapes. 'That's a good spot. That's a good spot. That's a good spot. That's a good spot.' And we'd cut them all together. And then I'd go home at five in the morning. And I told Michael Wagener, 'Whatever you do, don't tell George I was here helping you. [Laughs] 'Cause he'd flip out."
When asked if Lynch didn't want him to have control, Dokken responded, "I don't say control; it's just input. I'm a guitar player; I'm a lead guitar player. I go, 'This solo has nothing — this one track has nothing to do with this song. That track has nothing to do with this song.' So I'd have to put it all together that it worked on the song."
He added, "George, I think it's great that he was always trying to reach out and experiment and do something different. And George is trying to expound his musical abilities, and I respect him for that. But it was a nightmare."
Don Dokken Speaks With The Chuck Shute Podcast
Top 80 Hard Rock + Metal Albums of the 1980s