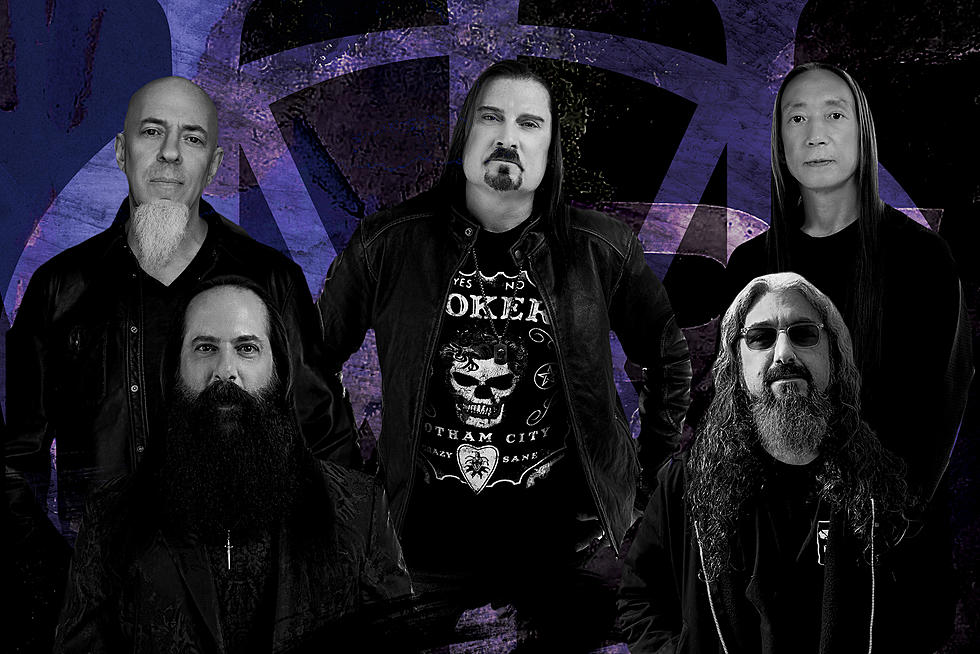 It's Official – Dream Theater Reunite With Mike Portnoy!
courtesy of Dream Theater
It's official, Dream Theater have officially reunited with their longtime and legendary drummer Mike Portnoy!
After having parted ways with the prog metal icons in 2011, Portnoy returns to the drum throne, restoring the 1999/2000s lineup that is also comprised of singer James LaBrie, guitarist John Petrucci, bassist John Myung and keyboardist Jordan Rudess. Together, this lineup recorded six albums, including the all-time prog metal triumph Metropolis Pt. 2: Scenes From a Memory.
It also means the end of Mike Mangini's time in the group. After a very public audition process, Dream Theater selected Mangini as Portnoy's successor in 2011. He quit his job at Berklee College of Music in Boston to join the band, having previously played in Annihilator and Extreme, and was also part of Steve Vai's live band as well as having played on Labrie's first solo album in 2005.
During his dozen years in Dream Theater, Mangini played on five studio albums — exactly one third of the band's studio output, leaving an impressive legacy of his own.
Portnoy, meanwhile, kept incredibly busy, putting out... so many albums... and launching new bands such as The Winery Dogs, Sons of Apollo and Adrenaline Mob. He linked back up with his Dream Theater bandmates by way of Liquid Tension Experiment's 2021 album, Liquid Tension Experiment 3 and John Petrucci's 2020 solo album Terminal Velocity.
Below, each member expresses their thoughts and feelings on saying goodbye to Mangini while welcoming Portnoy back to Dream Theater.
Mike Mangini on Mike Portnoy's Return to Dream Theater
"I understand Dream Theater's decision to get Mike Portnoy back at this time. As was said from day one, my place was not to fill all the roles that Mike held in the band. I was to play the drums in order to help the band carry on," Mangini humbly states, "My main role of keeping our live show working tightly on a nightly basis was an intense and rewarding experience."
Deeply appreciative of his time in the band, he continues, "Thankfully, I got to experience playing music with these iconic musicians, as well as some fun times laced with humor. I also really enjoyed spending lots of time with the crew. And then there's the Grammy win, which was amazingly satisfying."
Bidding farewell, he concludes, "To the fans: thank you so much for being amazing to me. I cherish the pictures I have of you all losing your minds and having fun. Finally, I really love the band, crew and management and wish them and the entire organization all the best."
John Petrucci on Mike Mangini's Tenure + Mike Portnoy's Return
"Mike Mangini's drumming is otherworldly and I'm extremely grateful for the time he spent with us in Dream Theater. I'm very proud of all the amazing music we made together that culminated in our first Grammy win last year and the countless magical moments that we've shared on stage over the past 13 years. I wish him all the best of success in his future musical endeavors," states Petrucci.
The guitarist goes on, "I'm incredibly excited to welcome Mike Portnoy back into Dream Theater! As an original founding member, longtime friend and incredibly talented and creative drummer, I know that his return will bring a renewed spirit, passion and energy into DT that all of us, including our fans, will joyfully welcome. I can't wait to roll up our sleeves and get back into the studio together!"
READ MORE: Dream Theater's John Petrucci Plays His Favorite Riffs - Watch
John Myung on Mike Mangini's Tenure + Mike Portnoy's Return
"It's great to be back true to form with our original drummer Mike Portnoy," enthuses bassist John Myung, "We started playing together as Majesty almost 40 years ago and I am excited to see what this next phase of Dream Theater creates for the future. I wish nothing but the best for Mike Mangini for all the blood, sweat and tears he put into DT during his 13-year tenure with the band."
James LaBrie on Mike Mangini's Tenure + Mike Portnoy's Return
"Having Mike Mangini with us all these years has been, quite simply, a terrific ride. He is one of the most amazing and naturally gifted drummers I have had the pleasure of working with. Thank you Mike," Labrie shares.
"Life is a very strange ride," the singer muses, "and I guess that's what makes it all the more interesting and forever engaging. Having Mike Portnoy back in the band is exactly where we and things should be. Things have a way of going full circle and in this case, it makes perfect sense."
"I am excited with the prospects of this classic DT lineup being reunited. I can say with absolute confidence this will be the final incarnation of DT with many chapters still to be written well into our future. Onward and upward guys!! Welcome back MP," LaBrie says, looking ahead.
Jordan Rudess on Mike Mangini's Tenure + Mike Portnoy's Return
"Mike Mangini is one of the most exceptional drummers on earth and I feel privileged that we got to create a whole body of work with him. I will always be grateful for the time we shared in the Dream Theater Universe," Jordan Rudess says with appreciation.
Regarding Portnoy's return, the keyboardist adds, "We are so excited to reunite the core Dream Theater family. There is a resonance of spirit and vision that is unique and goes beyond words within our relationship with Mike Portnoy. On the stage and off there is no denying the magic that happens when we are together. I'm thankful we have the opportunity to work together again as Dream Theater and am looking forward to sharing our excitement and passion with our amazing fans for a long time to come."
Mike Portnoy on Returning to Dream Theater
Glad to be back after more than a decade away, Portnoy beams, "I am overwhelmed with joy to be returning home and reuniting with my brothers! There is so much shared history between us all…so many memories, so much music…to think we're coming up on 40 years since this journey began! The idea of creating new music together is so exciting and I absolutely cannot wait to hit the road and get to play live for a whole new generation of fans that weren't ever able to see this lineup before…There's no place like home!!"
Welcome back Mike Portnoy and thank you Mike Mangini for so admirably holding it down with these prog legends for over a decade!
Top 66 Hard Rock + Metal Drummers of All Time
These are the best hard rock + metal drummers.
Gallery Credit: Loudwire Staff
Mike Portnoy Plays His Favorite Drum Intros
Mike Portnoy Plays 'Name That Tune' on Hello Kitty Drum Kit