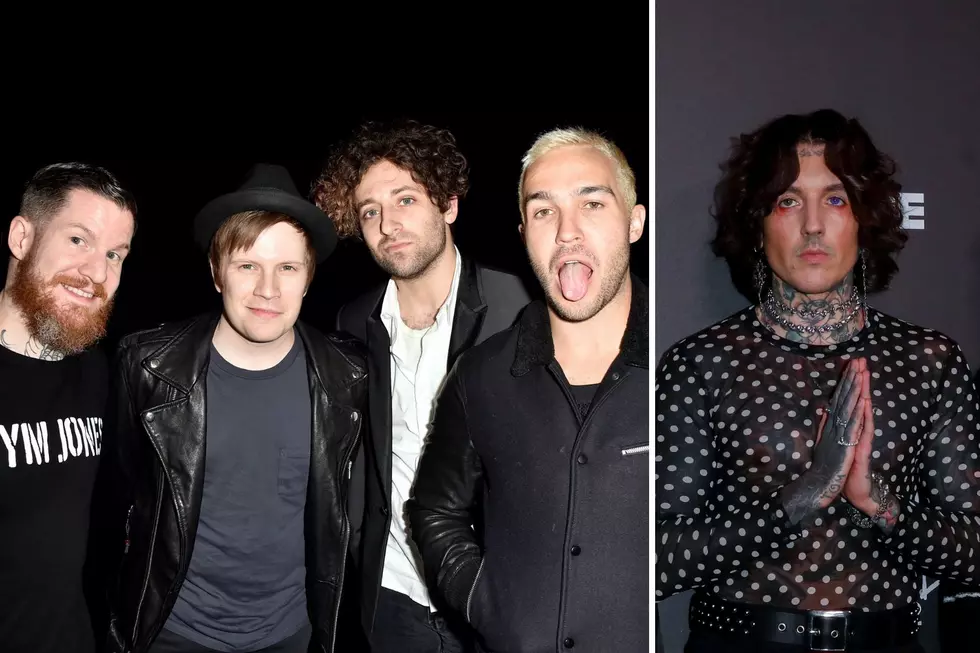 Fall Out Boy's Cryptic Teasers Keep Getting Weirder, Just Ask Oli Sykes
Frazer Harrison / Tristan Fewings, Getty Images
UPDATE: On Wednesday (Jan. 11), Fall Out Boy linked a video teaser for "Love From the Other Side," what we now know is the official title of the band's single due on Jan. 18. The group promises more soon. Read the original article and see the teaser below.
Fall Out Boy's cryptic teaser campaign for "FOB 8" — no doubt shorthand for the pop-punk act's imminent eighth studio album — continues to get stranger. This week, Bring Me the Horizon singer Oli Sykes received a custom Fall Out Boy seashell accompanied by a note that said, "Love From the Other Side."
"wtf what is this & why is it at my house," Sykes captioned a pic of the shell he shared Tuesday (Jan. 10). Reportedly, other recipients also got Fall Out Boy seashells. The note Sykes got with his, which also includes each FOB member's initials and the heading "A Homeboy's Life," shows a date of Jan. 18, 2022.
FOB launched sendingmylovefromtheotherside.com and shared a clay animation video, "A Claymation Fall Out Boy Celebration," last month. On the site, fans can sign up for the band's mailing list; some got postcards for sendingmylovefrompinkseashellbeach.com.
Last fall, a newspaper ad for "FOB 8" appeared in the Chicago Tribune. It reads, "If you build it, they will come," a variation on an iconic line from 1989's Field of Dreams. In the film, the character Ray Kinsella (Kevin Costner) hears a disembodied voice in a field say, "If you build it, he will come." Fall Out Boy often reference movies in their songs. It's been five years since M A N I A, the outfit's seventh studio album.
"Love From the Other Side" (Teaser)
Oli Sykes' Fall Out Boy Seashell
"A Claymation Fall Out Boy Celebration"
Fall Out Boy Ad in Chicago Tribune
The Most-Replayed Scenes From the 20 Most Popular Rock + Metal Videos
These are the scenes you keep watching over and over.