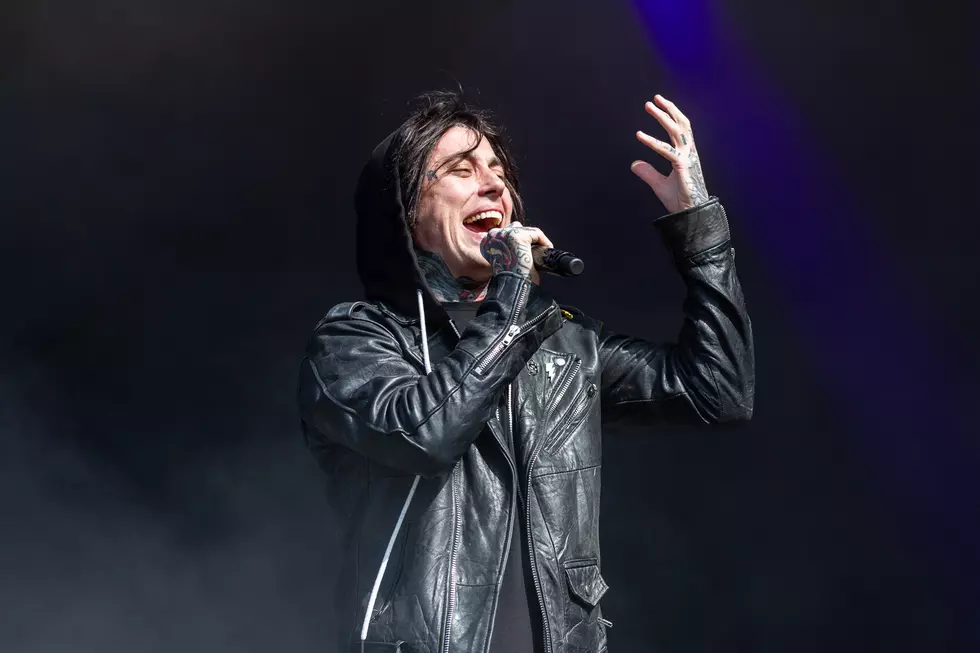 Falling in Reverse Call Off Three More Shows After Ronnie Radke Laryngitis Diagnosis
Miikka Skaffari, Getty Images
The vocal woes continue for Falling in Reverse's Ronnie Radke, who started calling off dates over a week ago. The singer revealed that a recent visit with a specialist revealed that he has laryngitis and inflammation, and he's been ordered to vocal rest to prevent any further damage to his vocal chords. As a result, three more shows have been called off.
Radke first bowed out of Orlando's Earthday Birthday on April 22 and Augustine, Florida's Planet Band Camp the following day. In an April 23 video revealing one of the cancellations, Radke noted, "I'm sorry; I'm not sick. It's just. the cold air in [some] of these venues — there's no moisture. So you can hear it in my voice. I gotta take care of my voice."
As for Radke's latest comments and cancellation info, his statement can be read below:
As many of you know, I have been having some issues with my voice over the last week. I have now seen a specialist and was diagnosed with laryngitis and inflammation, requiring me to go on further vocal rest to prevent damage to my vocal chords.

I truly hate to do this but will have to cancel our next 3 performances:

May 2 - Springfield, Mo. - The Shrine Mosque
May 4 - Milwaukee, Wis. 0 93X's Twin City Takeover
May 6 - St. Paul, Minn. @ HOG Fest

The festivals in Milwaukee and St. Paul will go on as planned, just without us performing.

For our headline show in Springfield, refunds are available at your point of purchase.

I love you all and am super thankful for your understanding and support.

I'll see you all on May 27 at Sonic Temple.
The good news for the singer is that the three shows were the last three dates of his current run, with a scheduled break already planned ahead of the band's May 27 performance at the Sonic Temple Festival. With multiple weeks off, hopefully the singer will have proper time to heal and be ready for a return to the stage at one of the spring's more highly anticipated festivals.
After Sonic Temple, Falling in Reverse will join Avenged Sevenfold for their Los Angeles and New York comeback shows June 9 and 23 before kicking off their next leg of touring on June 26 in Charleston, West Virginia. You can get your tickets to see Falling in Reverse right here.
Falling in Reverse Remaining 2023 North American Tour
May 27 – Columbus, Ohio @ Sonic Temple
June 9 – Los Angeles, Calif. @ The Forum
June 23 – New York, N.Y. @ MSG
June 26 – Charleston, W.V. @ Charleston Coliseum
June 27 – Richmond, Va. @ Va. Credit Union LIVE!
June 29 – Hershey, Pa. @ Giant Ctr
June 30 – Syracuse, N.Y. @ St. Joseph's Amp.
July 2 – Gilford, N.H. @ Bank of N.H. Pavilion
July 3 – Baltimore, Md. @ Chesapeake Empl. Arena
July 5 – Pittsburgh, Pa. @ Petersen Ctr
July 6 – Asheville, N.C. @ Asheville Arena
July 8 – Cedar Rapids, Iowa @ Alliant PowerHouse
July 9 – Peoria, Ill. @ Peoria Civic Ctr
July 11 – Morrison, Colo. @ Red Rocks
July 12 – Council Bluffs, Iowa @ Westfair Amp.
July 14 – Cadott, Wis. @ Rock Fest
July 15 – Grand Rapids, Mich. @ Upheaval
July 17 – Little Rock, Ark. @ Simmons Arena
July 18 – Oklahoma City, Okla. @ Zoo Amp.
July 21 – Las Vegas, Nev. @ The Theater
July 22 – Las Vegas, Nev. @ The Theater
July 24 – Airway Heights, Wash. @ Northern Quest
July 26 – Nampa, Id. @ Ford Idaho Ctr
July 27 – Idaho Falls, Id. @ Mountain America Ctr
July 29 – Sacramento, Calif. @ Heart Health Park
July 30 – Redding, Calif. @ Redding Civic Ctr
Sept. 16 – W. Palm Beach, Fla. @ iTHINK Amp.
Sept. 17 – Tampa, Fla. @ MIDFLORIDA Amp.
Sept. 19 – Charlotte, N.C. @ PNC Pavilion
Sept. 20 – Atlanta, Ga. @ Ameris Amp.
Sept. 22 – Nashville, Tenn. @ Bridgestone Arena
Sept. 23 – Louisville, Ky. @ Louder Than Life
Sept. 25 – St. Louis, Mo. @ Hollywood Casino
Sept. 26 – Kansas City, Mo. @ T-Mobile Ctr
Sept. 30 – Salt Lake City, Utah @ USANA Amp.
Oct. 2 – Tacoma, Wash. @ Tacoma Dome
Oct. 3 – Portland, Ore. @ Moda Ctr
Oct. 7 – Chula Vista, Calif. @ North Island Amp.
Oct. 8 – Phoenix, Ariz. @ Talking Stick
Oct. 10 – Albuquerque, N.M. @ Isleta Amp.
Oct. 12 – Woodlands, Texas @ Mitchell Pavilion
Oct. 13 – Austin, Texas @ Germania Amp.
Oct. 14 – Ft. Worth, Texas @ Dickies Arena
Your Guide to Rock + Metal Bands Touring in 2023
Check out over 200 rock and metal bands' touring schedules for 2023.