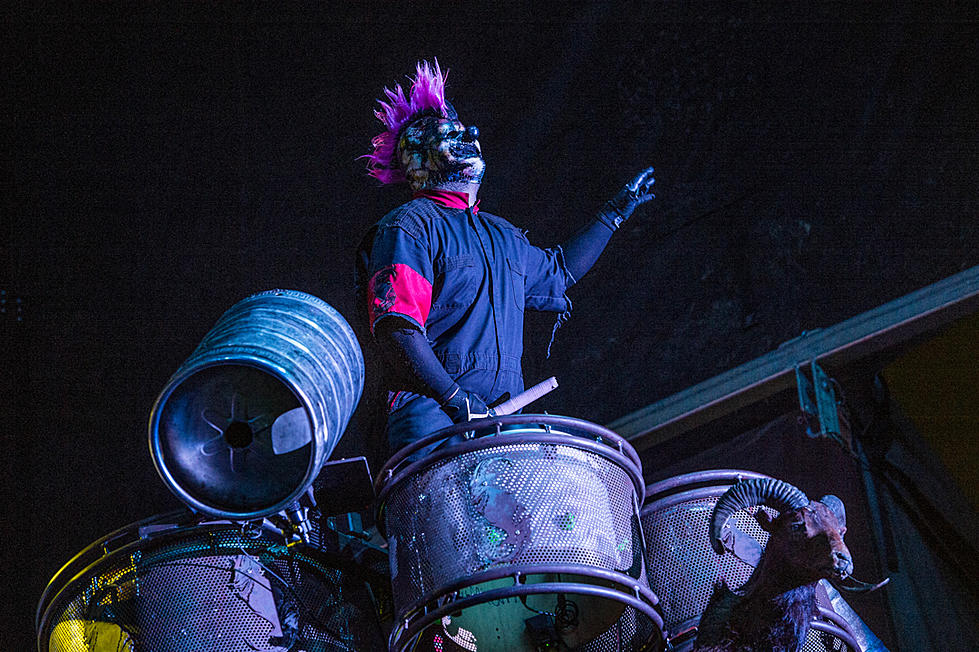 'Family Emergency' Forces Slipknot's Shawn 'Clown' Crahan to Sit Out Australian Tour
Amy Harris, TheFirst3Songs.com
When Slipknot hit the stage in Brisbane, Australia last night (Oct. 28), one of the band's nine masked members was noticeably missing. Shawn 'Clown' Crahan has been forced to sit out the band's Australian run, returning home to deal with a family emergency.
As seen in the video at the bottom of the page, frontman Corey Taylor explained to the crowd, "First things first: as you can see, we are missing one of our brothers. Unfortunately, Clown was forced to go home for a family emergency. He couldn't get out of it, but he sends his f--king love to each and every one of you. He wanted to be here more than anything, but he told us all to make sure you motherf--kers knew."
The percussionist's setup was left onstage with his signature mask and flowers resting over the hulking drums in honor of his late father-in-law.
Clown revealed the news on his Instagram page, detailing the painful loss. In the first post (seen below), he stated, "Today we lost the leader of our family. My father-in-law my other dad. I'm am so very lucky to have known him. He is one of my favorite people in this world and I learned so much from him. I love you Mr. Noyes. Life will never be the same without you."
Following this up with an additional post (seen below) and a picture of Noyes wearing a Slipknot shirt, adding, "This man supported my decision to chase music as a career three years before I started the band with Paul [Gray]. Asking him to marry his daughter was one of the highlights of my life. He loved Slipknot and had seen us all over the world. Catering was one of his favorite things when coming to a show."
Loudwire extends our condolences to the Noyes family, Clown and all those mourning over the loss of Mr. Noyes.
In other news, Clown's Officer Downe film will see a theatrical release on Nov. 18. The flick is taken from the graphic novel of the same name, which is about a police officer who consistently dies in the line of duty, only to come back to life and return to the force. Watch a trailer here.
Corey Taylor Addresses Clown's Absence
See Where Slipknot Rank Among the Top 50 Hard Rock + Metal Live Acts
Slipknot's Shawn 'Clown' Crahan Plays 'Wikipedia: Fact or Fiction?'