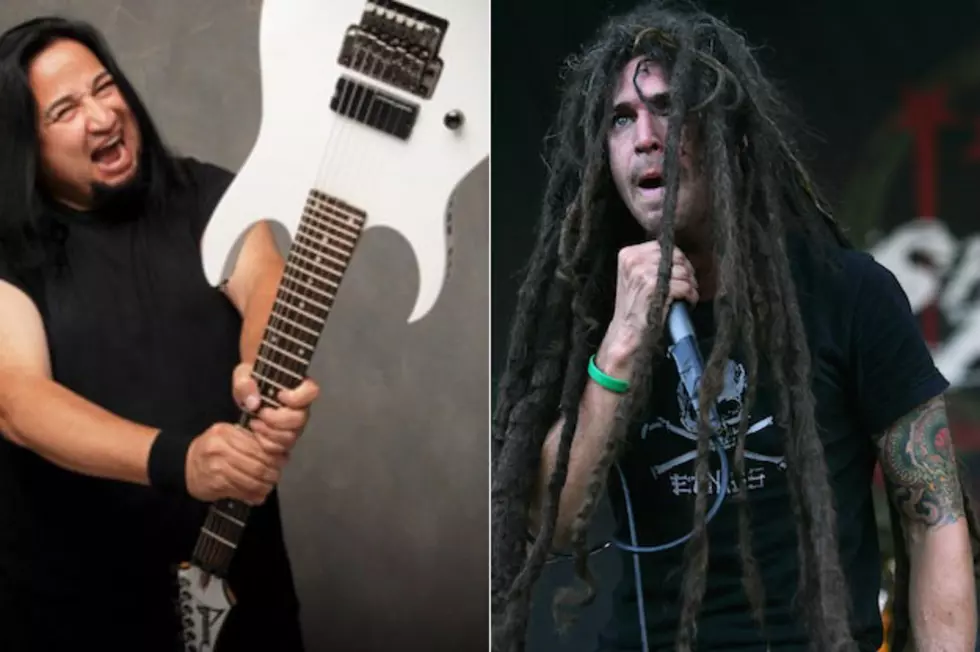 Fear Factory and Shadows Fall Team Up for 2012 U.S. Tour
Fear Factory have just announced that they'll be teaming up with Shadows Fall for a U.S. trek in May. The tour is currently slated to swing through Texas, the East Coast and the Midwest. Joining the two bands on the bill will be the Browning, the Devastated and Legacy of Disorder.

This will be Fear Factory's first tour with new bassist Matt DeVries. The new bassist shared his excitement about joining Fear Factory. "I have been asked to join one of my favorite bands," raved DeVries. "I have been a fan of Fear Factory since 1992 and I could not be more excited to be part of this incredible band."
Guitarist Dino Cazares and vocalist Burton C. Bell noted, "We are very excited to have Matt playing bass for Fear Factory. We feel he is a great addition to our touring line-up. He has been a friend for a very long time and he is a great musician who will be a perfect instrument in the FF machine."
Fear Factory will be releasing their eighth studio album, 'The Industrialist,' as early as April of 2012. Shadows Fall also plan to release a new album this year. 'Fire From the Sky' is reportedly scheduled for release on May 8.
Fear Factory and Shadows Fall 2012 Tour Dates:
05/01 - San Antonio, TX – Backstage Live
05/02 - Dallas, TX – Trees
05/03 - Houston, TX – Scout Bar
05/05 - St. Petersburg, FL – State Theatre
05/06 - Ft Lauderdale, FL – Culture Room
05/07 - Atlanta, GA – Masquerade
05/09 - Winston-Salem, NC – Ziggy's
05/10 - Philadelphia, PA – Theater Of Living Arts
05/11 - Hampton Beach, NH – Wally's Pub
05/12 - New York, NY – Gramercy Theatre
05/13 - Baltimore, MD – Sonar
05/15 - Pontiac, MI – The Crofoot Ballroom
05/16 - Dayton, OH – McGuffy's
05/17 - Chicago, IL – Bottom Lounge
05/19 - Denver, CO – Summit Music Hall
05/21 - Sacramento, CA – Ace Of Spades
05/22 - San Francisco, CA – Regency Center
05/23 - Santa Ana, CA – Yost Theater