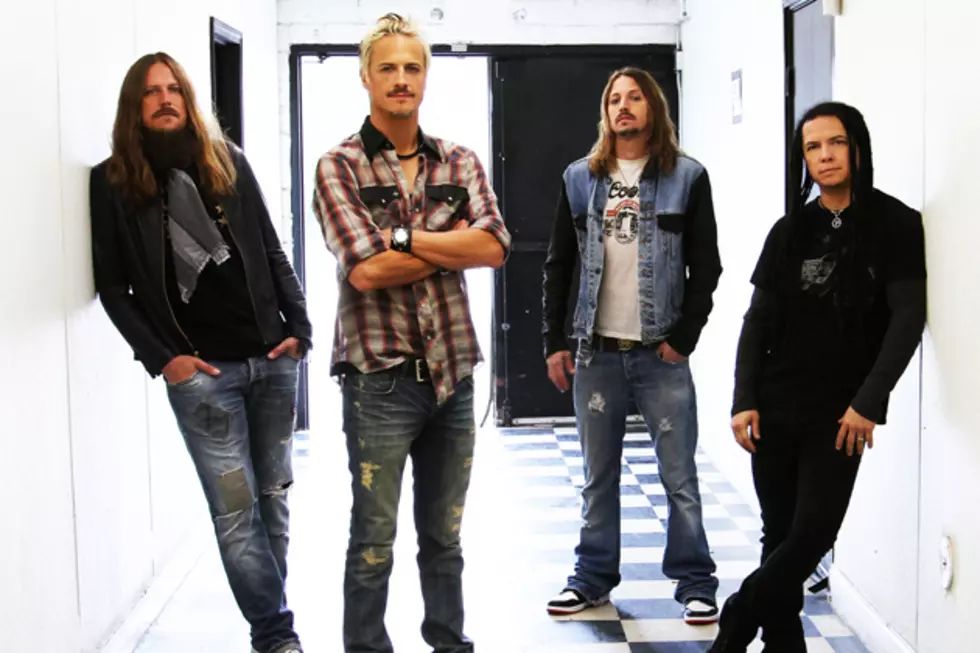 Fuel's Brett Scallions Discusses 'Puppet Strings' Album, Current Lineup + More
Courtesy of Fuel / Photo by Abby Gennet
Fuel are back! Brett Scallions, who sang on many of the band's biggest hits, rejoined the group a couple of years back and he's working with a new lineup on the band's recently released 'Puppet Strings' album.
Loudwire had a chance to meet up with Scallions during the band's recent record release show at The Viper Room in Los Angeles. The frontman spoke about his return to the band, their current lineup and putting together the 'Puppet Strings' album. He also opened up about how fans have embraced the band after his decade away and shared a few details about the creation of the 'Soul To Preach To' song and video. See our chat with Fuel's Brett Scallions below.
Brett, congrats on the record and it's great to have Fuel back. But while there are touchtones of the old band, the 'Puppet Strings' album definitely marks a new chapter for Fuel.
This is a total departure from what Fuel has been over the years. This is the first Fuel record in over 10 years. The mechanics of what was Fuel for all those years have completely changed. I'm the only original member of the band, I've got a whole new group of guys with me.
This is a total departure from what Fuel has been over the years. The mechanics of what was Fuel for all those years have completely changed.
We've written a lot of songs that are true and dear to our hearts. Some of these songs on here I wrote quite a few years ago. There's a song called 'Cold Summer,' I wrote that song over 12 years ago, probably. It finally made a record [laughs].
There are bits and pieces that I feel are indicative of what Fuel has always been. But then there's also a number of songs on the record, too, that are a complete departure and more blues based, even country. There's some punk rock, stuff like that in there. Those are all sounds that I already grew up listening to and loving.
The one thing that really stood out to me was the bluesy nature of some of the tracks. I love that vibe you get on some of these songs. Even the single 'Soul To Preach To' has a little bit of that.
Yeah, I grew up in Memphis, Tennessee, or outside it in a little town called Brownsville. Cotton fields, soybeans and blues and rock and roll. It's just in me, it's in my blood. When I first started jamming with [guitarist] Andy [Andersson] who comes all the way from Sweden, he's got so much blues in him too. We just hit it off immediately off the bat and started working on songs like 'Soul To Preach To' and 'Hey Mama.' Songs that are a lot more blues-based than previous songs that I've ever written.
You've got Andy, Brad Stewart on bass and Shannon Boone on drums. Can you tell me about this lineup you've got now?
They've worked so hard. They deserve every bit of this. We've all worked so hard for this and been through the trenches together over the past few years. When I originally started doing this, I chose to not reach out to my former bandmates because I just didn't want to -- it's like going back and asking your ex-wife, hey you want to get married again? I just didn't want to go down that road. I wanted something new and fresh.
I ran into Brad Stewart, he's playing bass for us now. I ran into him at the NAMM show a few years back and asked him what he was doing. Luckily he came over, we just started having a good time and went through a number of different guitar players until we finally fell into Andy Andersson. That felt really good to Brad and I. That's when the completion of the songs really started, when the three of us finally found ourselves and started writing together. I can't speak enough about how excited I am where we are right now.
Shannon sounded great during soundcheck.
Shannon is great. I've known him for a few years. He was playing with Puddle of Mudd for a while there and that's where he and I met. When Ken decided to bow out, he was my first thought, to go for Shannon.
We at Loudwire did a premiere of 'Soul to Preach To' when it first came out ...
…. And you mentioned that Slash loaned you a Dobro ...
When we were recording that song, something was just missing. What is it? Finally, I thought maybe a Dobro would sound great in there somewhere. We didn't have the melodies written or anything. So I called Slash and asked if I could borrow a Dobro. He was nice and humble enough to send one my way for a little while. Andy and I sat down and tried to figure out what to do with it and that's when we wrote out the melodies to the Dobro part.
That just completes that track so well.
I think so too, man. Glad you like that. Then we put the mandolin in the bridge, too, which was the cherry on top for me.
As for the 'Soul to Preach To,' can you talk about the decision to go shoot in the desert?
Terry Corso owns the production company that shot the video. He's a friend of mine because he's the guitar player in a band called Alien Ant Farm. We were out together last summer and hit it off really well. He was telling me about this production company, so, I kept that in the back of my head for when video time came. I reached out to him when we were ready to shoot the video, and kind of gave him an idea of what the song was about and where I was wanting to go with the video. Between him, myself and my manager Tom Vetorino. The three of us merged together, got a treatment done and Terry and his team over there shot a great video for us.
The lyrics -- you can tell it's coming from the heart. How great is it to now be able to share that with an audience?
I love listening to song that lyrically have a beginning, middle and an ending. You go through a story so to speak. That's what I've always loved about country music. Hank Williams Jr, Johnny Cash, they were storytellers man. They had something to say in the lyrics, it wasn't just about chicks or parties or being angry. That's one thing I get tired of, is angry songs and lyrics.
Even with a song like 'Soul To Preach To,' there's a little bit of a depressing thing going on with it, but at the same time I always try to shed a little ray of sunshine, there's hope. The song for me is about regret. Looking back on your life and reflecting on the good and the bad things that have happened to you and asking yourself, had I done something different to make this situation better? Why did I do that? The chorus is, now I'm looking out for a soul to preach to. You're basically trying to find someone, 'Hey let me show you what I did. Let me show you my mistakes so I can hopefully help you not make the same ones.'
'Cold Summer,' you mentioned that one's been in the hopper for a while. And it's definitely one of the standouts on the record.
A lot of people have been saying that. It's funny, like I was saying, I've had that song for so long and I've recorded it three or four times. I really became indifferent about it. Finally, Eddie Whall who helped produce the record with me, he was like man you've got to do this song. It has to make the record. I didn't want to do that song. But finally, everybody, the rest of the band was telling me, my wife was telling me and Eddie's wife was saying do it. Finally, I decided, "OK I've lost this battle. We might as well do the song and put it on the record." Now it's out there, everybody is hitting on it and loving it. It's funny to me. After all these years.
The band has played a few of these songs live. Talk about what that meant to you, to have the option to go out and debut these tracks pressure free.
Some of these songs we tested here and there a little bit on the road -- the past year or so, just for the sake of ourselves. Just to see how to play it. Nothing but a learning environment for us to try and get inspired on what parts to come up with. We were using the fans as guinea pigs to see what their reactions were. It's hard for fans to hear brand new songs [live] that they've never heard before, never been able to listen to on a record. It's really hard to absorb it. With that said, when you play a song that no one has ever heard before and you get what feels like a positive reaction, then it feels good. You go, "OK I think this is something we can move forward with."
With the new album, what's the song you're most interested in seeing how well it goes over live?
'Soul to Preach To' for sure has been my favorite. Being a single now, I'm curious to see how it's going to transpose in a live environment, for sure. One of my favorite songs off the record is the last song on the record. A song called 'What We Can Never Have.' That song just kind of fell out of my butt one day. I was at home, I had been listening to some Johnny Cash and 'Working Man's Hero' from John Lennon. I thought, man I need to write a song like that. That's when I started writing on 'What We Can Never Have.' I wrote the song itself, and the lyrics in one big fell swoop. I remember when I finished writing the lyrics, I was literally crying. I thought, man -- it just fell out of me. I love when that happened.
Nice touch with this tour, starting with the Viper Room in L.A., which is as intimate as a club comes and then wrapping up the touring at some big festivals. You get the whole spectrum.
We go from 160 people to 60,000 -- it's exciting. I love playing little places like this. They're fun, intimate. You can see all the faces and kind of make it a little more of a storytelling fun, hanging out moment. Then when you're in front of 60k people, it's just a sea of bodies, you really feel kind of detached from it at times. You're just running around the biggest stage you've ever been on and having fun.
It's been 10 years, or close to it, since Fuel fans had new music. How good is it going to be to reconnect?
I've been so lucky that they're have been quite a few fans that have just stood by me through thick and thin over the past few years.
I've been so lucky that they're have been quite a few fans that have just stood by me through thick and thin over the past few years. When there was no new music, when we were just going out and playing the back catalog, they were still there for us. That feels so good to me. For those who stood by me and waited patiently, sometimes patiently. But the ones that have stuck by me, man, I could not thank them enough. Then there's the ones too that kind of fell off and had maybe forgotten about us, but now they're seeing that it's coming back out and they're getting excited. It's nice to see them come out of the woodwork and want to hang with us again.
Also there's the ones that are hearing the new record and they're feeling -- I think the switch of what Fuel is now is kind of too hard for them. I can kind of understand that, too. If you hear a Guns N' Roses record and then GN'R comes back out and GN'R doesn't sound like GN'R very much any more, you'll be like - what is this? There are some out there that are doing that. Maybe they're mad or disappointed, or maybe they're confused. I think the main thing is we've written a really good record here, I'm having a lot of fun with it, I think people will understand what this is and have a great time with us.
I've never tried to take anything away from what Fuel has always been, I'm just trying to accentuate it a little bit.
What's on the horizon for Fuel?
We're going to be touring all year. We're planning to release another single for the summertime. The beauty of technology these days is you can get the record out there and see instantly what people are thinking about, which songs are boiling up to the top. That's really going to help us dictate what the next song is.
Our thanks to Fuel's Brett Scallions for the interview. The band's new album 'Puppet Strings' is available now via Amazon and iTunes. You can also catch them on the road at these locations.