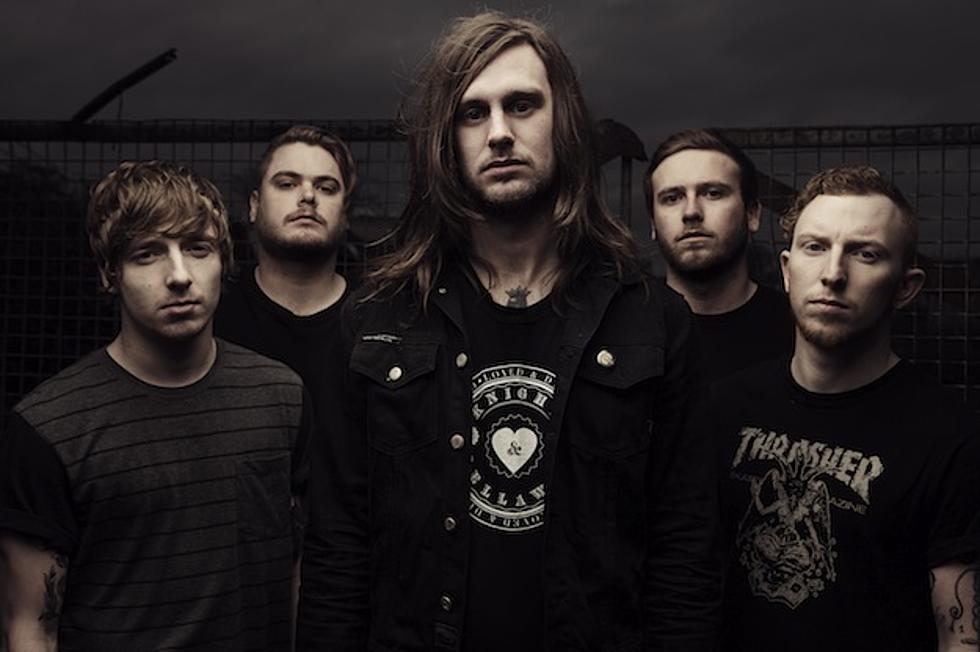 Get to Know While She Sleeps + Win a Prize Pack From The End Records
The End Records
UK act While She Sleeps are ready to break in America after winning Kerrang's Best Newcomer Award. Now, in addition to getting to know the band, you can win a signed copy of While She Sleeps' 'This Is the Six' album, as well as a bunch of other great items from the group's label, The End Records.
Included in the bundle is a Skull t-shirt, a Paradise Lost box set, a Cradle of Filth box set, two The End Records beer cozies, an AxeWound flat, an Audio Bullys bag, a "Here's the Metal" hot sauce, and, of course, the While She Sleeps 'This Is the Six' signed CD. To learn a little more about While She Sleeps, check out our interview with the band, and then enter your details in the contest box at the bottom of the story for a chance to win The End Records Bundle Contest.
We spoke with While She Sleeps guitarist Sean Long, who discussed the significance of their new album title, how they're differentiating themselves from their peers, and what it was like to win the Kerrang award at such an early stage in their career.
The title track, 'This Is the Six,' definitely has a special meaning for the band. Can you talk about where it comes from and if it was the obvious choice to be the first song heard off this record?
It's really hard to find an album title that is original and means something to you, we are really happy we landed on 'This Is the Six.' It basically means that we are the 5 and 6th member of the band is the crowd, our fans, anyone who has supported us in anyway, they are the six. So together we are part of the same this, THIS IS THE SIX!
Guitarist Mat Welsh has stated that the band wants 'This Is the Six' to be an album that people grow up on? What were the qualities that drew you to the bands you listened to growing up and do you feel this album captures that, as well?
Just music that stands out to me, I am a big fan of note selection. I believe the slightest change in note selection can change how you feel instantly so picking the right note for a certain song is very important. I really hope we have captured that because there are notes on that album that make me feel great and I get a feeling in my stomach that makes me love music.
While She Sleeps have gotten some credit for thinking outside of the box in terms of their sound. What's your take on the music scene and how do you differentiate yourself from other acts?
I guess we just try our hardest to be different inside of all the music we love. I believe that all the music we listen to, which ranges from folk to metal, is captured in our music even without us knowing.
You have a hard-rocking sound and there's definitely a punk ethic to how the band addresses lyrical content. How much do you value having the platform to discuss things like politics, patriotism, and issues affecting the youth in your songs?
I'd like to say at least we are singing about things that are real and that we are living in, things we all have experienced and about our lives as friends. The more people who like our band, the bigger voice we will have to let everyone know our opinions and join us!
What are a few of your favorite songs off the record and can you discuss why they stand out to you?
If I picked one I'd be lying to myself. I honestly love them all so much. We all really surprised ourselves with this so we listen to it like another band. Haha, but why not you know, we are very proud of it and love what we have created.
What did winning the Kerrang Best Newcomer Award mean to you this early in your career?
You have no idea. I cried for a start and I rarely cry. It just felt so amazing to know that what we are doing is real and people are actually agreeing with what we are doing. It was the best day of my life for sure!
Fans wishing to check out While She Sleeps' 'This Is The Six' album can currently pre-order the effort here. For a chance to win a signed copy of the disc, along with items from Audio Bullys, AxeWound, Paradise Lost, Cradle of Filth and more as part of The End Record contest bundle, be sure to enter your information in the box provided below:
Watch While She Sleeps' 'This Is the Six' Video