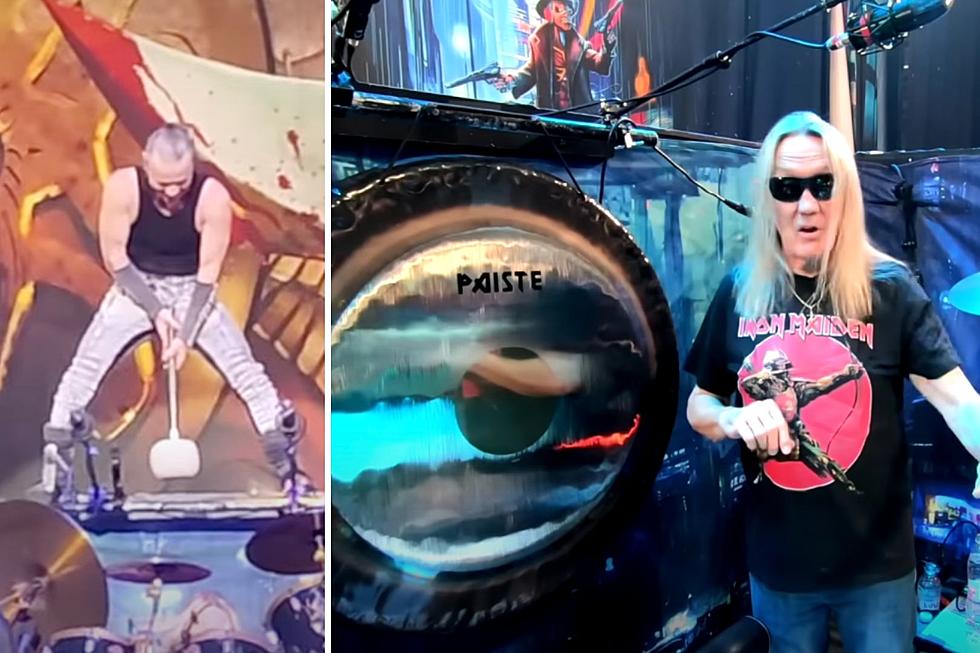 Iron Maiden's Bruce Dickinson Smashes Gong, It Falls, Hits Drummer Nicko McBrain – Watch
YouTube: Vinc enzo / YouTube: Iron Maiden
While in Dublin, Ireland as Iron Maiden's The Future Past tour continues to make its way around the world, singer Bruce Dickinson smashed a gong with a mallet during the performance of "Alexander the Great," causing it to fall and hit drummer Nicko McBrain from behind.
Fortunately, the 71-year-old drummer appears to be okay, just narrowly clipped by the falling 40-inch piece of percussion.
During the mid-section of the Somewhere In Time track, which was played live for the first time ever during the tour's kickoff earlier this year, a gong strike moves the epic song ahead from a menacing lead break into a shuffling gallop and melodic passage before the solos kick up.
Dickinson, wielding a sizable mallet, appears from behind the stage and ascends the stairs to the platform behind McBrain, hits the gong at just the right moment, catching McBrain by surprise when it comes falling from a short height.
The trooper he is (sorry, the pun is too irresistible), McBrain carries on without a misstep as Dickinson grins and laughs from above, amused by the snafu.
Watch fan-filmed video clips below.
READ MORE: Ranking the Opening Song on Every Iron Maiden Album
The incident happened on June 24 and Iron Maiden have played 10 shows since, so McBrain appears to be lucky to escape without injury. The Future Past tour is a bit of a joint celebration as Maiden have skewed the setlist to primarily feature songs from their latest album, Senjutsu, as well as their classic 1986 record Somewhere in Time.
Further below, watch a video of McBrain showing off the drum kit he's using on this tour.
Bruce Dickinson Hits Gong That Falls on Nicko McBrain During "Alexander the Great"
Nicko McBrain Shows Off His Drum Kit for Iron Maiden's The Future Past Tour
The 46 Songs Iron Maiden Have Never Played Live
There's less than a third of Iron Maiden's total catalog that has never been played live.