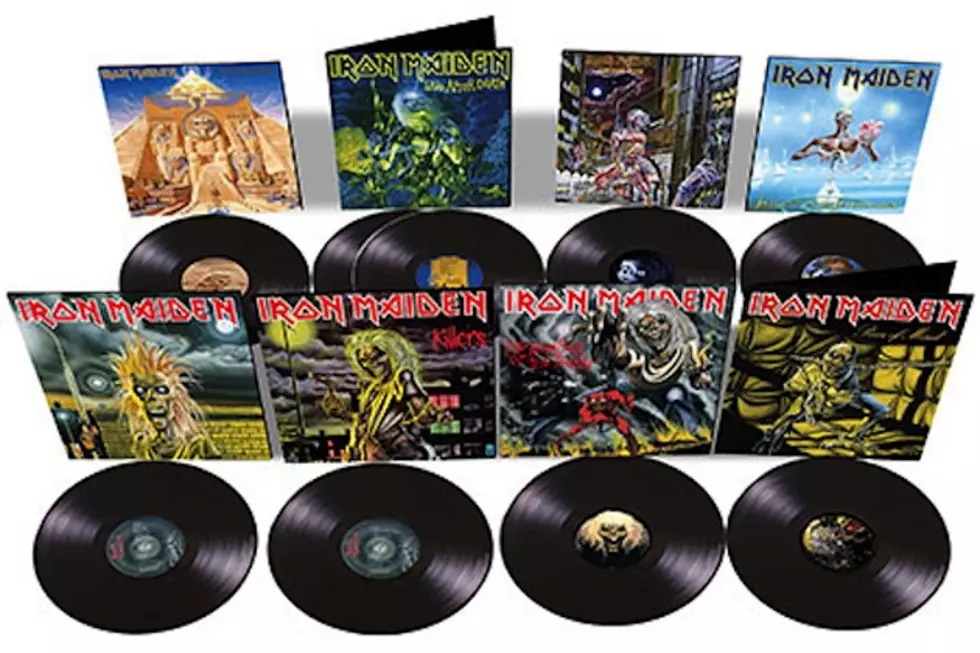 Iron Maiden Plan Vinyl Reissues of '80s Albums + Singles
IronMaiden.com
Iron Maiden are planning a massive series of reissues on vinyl. The legendary band's first seven albums and the live masterpiece 'Live After Death' will be freshly pressed on heavyweight 180g black vinyl, while a "strictly limited one-off run" of 7-inch singles from each of the eight albums will also see a re-release.
Iron Maiden fans and vinyl enthusiasts are sure to jump at these reissues, which cover 'Iron Maiden,' 'Killers,' 'The Number of the Beast,' 'Piece of Mind,' 'Powerslave,' Somewhere in Time,' 'Seventh Son of a Seventh Son' and 'Live After Death.'
For that vintage warm sound, the albums will be cut from the original analogue master tapes. The records will also be held in identical artwork to the initial '80s releases.
The albums are scheduled to be released chronologically across a two-month period beginning Oct. 13. For the full release details on each record, see below! Pre-order links will be revealed on Iron Maiden's website soon.
Oct. 13 (U.K.) / 14 (U.S.): 'Iron Maiden,' 'Killers,' 'The Number of the Beast,' plus the following singles:
'Running Free' b/w 'Burning Ambition'
'Sanctuary' b/w 'Drifter' (Live) and 'I've Got the Fire' (Live)
'Women in Uniform' b/w 'Invasion'
'Twilight Zone'
'Wrathchild'
'Purgatory' b/w 'Genghis Khan'
'Run to the Hills' b/w 'Total Eclipse'
'The Number of the Beast' b/w 'Remember Tomorrow' (Live)
Oct. 27 (U.K.) / 28 (U.S.): 'Piece of Mind,' 'Powerslave,' 'Live After Death,' plus the following singles:
'Flight of Icarus' b/w 'I've Got the Fire'
'The Trooper' b/w 'Cross-Eyed Mary'
'2 Minutes to Midnight' b/w 'Rainbow's Gold'
'Aces High' b/w 'King of Twilight'
'Running Free' (Live) b/w 'Sanctuary' (Live)
'Run to the Hills' (Live) b/w 'Phantom of the Opera' (Live)
Nov. 24 (U.K.) / 25 (U.S.): 'Somewhere in Time,' 'Seventh Son of a Seventh Son,' plus the following singles:
'Wasted Years' b/w 'Reach Out'
'Stranger in a Strange Land' b/w 'That Girl'
'Can I Play with Madness' b/w 'Black Bart Blues'
'The Evil That Men Do' b/w 'Prowler '88′
'The Clairvoyant' b/w 'The Prisoner' (Live)
'Infinite Dreams' (Live) b/w 'Killers' (Live)
Iron Maiden Vinyl 7-Inch Singles: