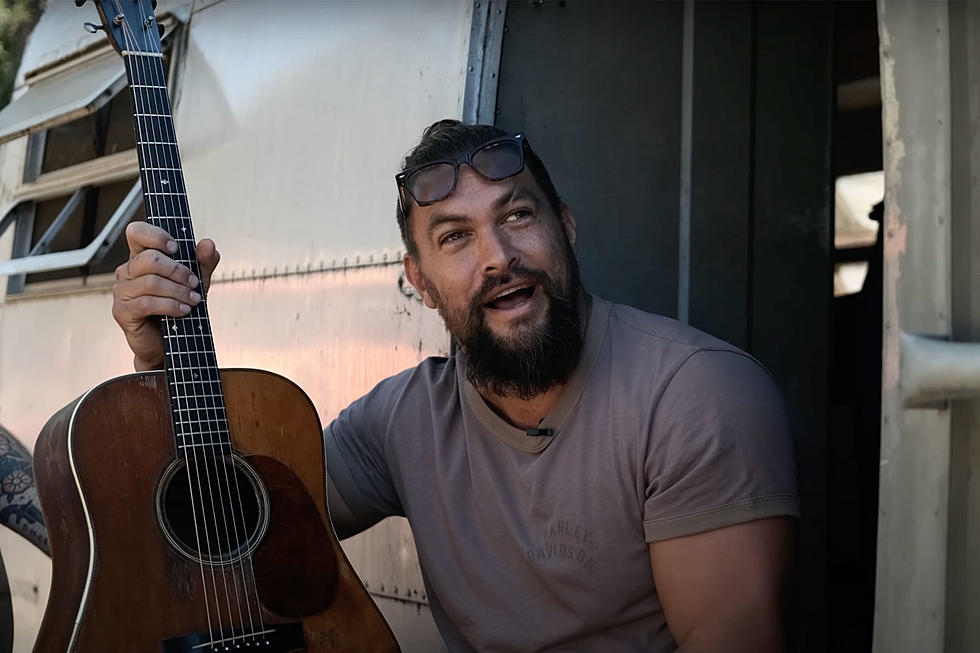 Actor Jason Momoa Adds a 1934 Original 'Holy Grail' Guitar to His Collection
YouTube: Emerald City Guitars
Aquaman actor Jason Momoa isn't just a music fan, he's an avid collector as well. And Momoa has just added a new guitar to his collection that has been dubbed a "Holy Grail" guitar, as it was the first of its kind ever created. So what did Momoa get? Per Guitar World, Momoa is now the proud owner of the very first Martin D-28 acoustic.
The instrument, created in 1934, is said to be the first D-28 ever made. The actor came upon the instrument with the help of Trevor Boone of Emerald City Guitars who facilitated the sale and documented the exchange in a YouTube video.
"We're dropping off a 1934 Martin D-28, which sounds like an early D-28 because it is: it's actually the first one ever made," says Boone in the video. "Martin sent out three 1934 [models] during this first initial batch, and this is the first one they sent. To me, it's a holy grail guitar. It's a true privilege to handle this, transact it and now deliver it."
Momoa has frequently expressed his love for music over the years, whether it be Tool and Metallica inspiring him while filming Aquaman, taking screaming lessons from a death metal vocalist or meeting up for a jam with Primus' Les Claypool.
READ MORE: Watch Jason Momoa Play Red Hot Chili Peppers on His New Bass
Speaking about Momoa's taste in musical instruments, Boone adds, "The stuff he's into is just all the best. Anything rusty, beaten, historic or has a story, and that's the stuff that I love."
"This is my first real, real, real, real, real acoustic," admits Momoa in the video. "But this is it. This is the one that I wanted to get - the Holy Grail." He then exclaims an "Oh my God" as he opens the guitar case for the first time, "I didn't think it was this good ... It's so beautiful."
According to Guitar World, the guitar has been subjected to a handful of repairs since its 1934 creation, including a new fretboard and a new top that Emerald City suspects took place between 1954 and 1957, owing to its bracing and composition.
Get a closer look at Jason Momoa receiving and playing this special instrument in the video below.
Jason Momoa Receives His Original Martin D-28 Guitar
20 Most Expensive Guitars of All Time
Here are the 20 most expensive guitars of all time ever sold at auction. Indeed, these axes are the cream of the crop when it comes to expensive rock star guitars.
Gallery Credit: Philip Trapp