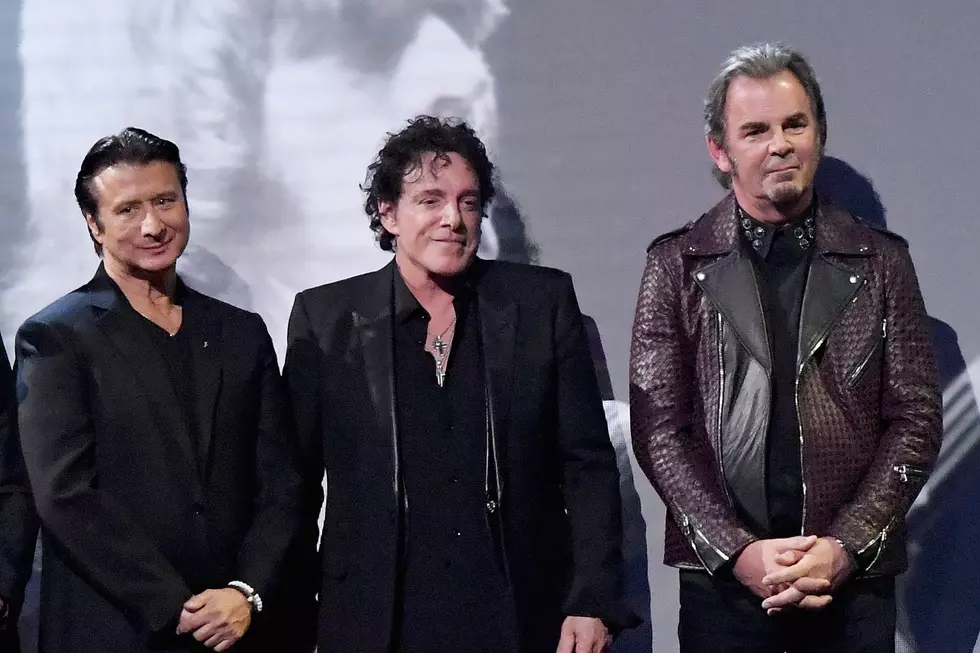 Steve Perry Drops Song Trademarks Lawsuit Against Former Journey Bandmates Schon and Cain
Mike Coppola, Getty Images
The current dispute(s) between Journey guitarist Neal Schon and keyboardist Jonathan Cain may be getting a lot of attention lately, but Steve Perry's recent case against them (regarding song trademarks) never went away. Fortunately, though, it looks like it just did, as Perry has reportedly dropped his lawsuit.
As reported by Loudwire back in September 2022, Perry "filed a petition to cancel the trademark registrations filed by [Schon and Cain] back in 2020." His assertion – Ultimate Classic Rock noted – was that the pair filed to register 20 Journey songs "through [their company] Freedom JN LLC for use on hats, T-shirts, athletic jackets and other paraphernalia" without Perry's consent. Among the targeted tracks were radio hits such as "Separate Ways (Worlds Apart)," "Anyway You Want It" and "Open Arms."
He also insisted that the registrations – which were issued by the U.S. Patent and Trademark Office between February 2022 and May 2022 – "violate an earlier agreement that stipulates decisions like these must be made with 'prior, written unanimous consent of all partners in each instance."
Shortly thereafter, Schon publicly called Perry's claim "a bunch of total crap" before offering his own in-depth breakdown of the situation via Facebook.
Yesterday morning (Jan. 7), however, Schon posted an update to Twitter. In it, he shared an image of Perry's Jan. 4 withdrawal for cancellation, commenting: "So much for JC trying to throw me under the bus as he claimed I was blatantly trying to rip off SP while collecting the checks for the very diligent work my wife and I did to protect our Merch. Time for coffee."
About an hour later, he tweeted the letter again, writing: "No more lawsuit with Steve. Time to talk."
Also, the notice itself reads:
By the Trademark Trial and Appeal Board: Petitioner, without the written consent of Respondent, filed a withdrawal of the petition for cancellation on January 4, 2023. Trademark Rule 2.114(s) provides that after an answer is filed, the petition for cancellation may not be withdrawn without prejudice except with the written consent of Respondent. In view thereof, and because the withdrawal was filed after answer, the petition for cancellation is denied with prejudice.
As Ultimate Classic Rock clarified, the phrase "with prejudice" implies that "Perry can never relaunch the petition."
Expectedly, Schon's tweets received mixed reactions from his followers. For instance, someone replied, "I'm so happy for you and him and Journey. Stay strong, on the next couple. Keep fighting the good fight." On the contrary, someone else wrote, "It will never be Journey without [Steve Perry]. The other guys airing their legal spats on social media has ruined it all anyway."
Regardless of how people feel regarding other aspects of Journey these days, there's no denying that this is a positive development.
Of course, the band will be embarking on their 50th anniversary tour later this month (with co-founding member Gregg Rolie returning for the first time since 1980). The full list of their "Freedom Tour" dates (featuring support from Toto) can be found here. You can also purchase tickets here.
12 Infamous Rock + Metal Legal Battles
Queue "Winners and Losers" by Social Distortion.