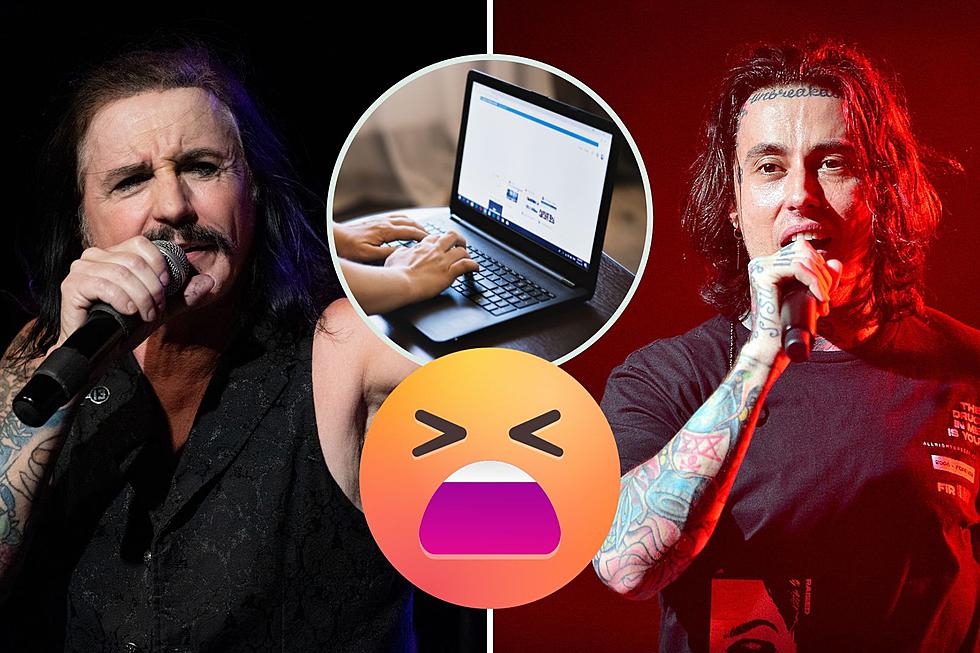 L.A. Guns Make Fun of Laptops Onstage, Get Blasted by Ronnie Radke – 'You Need Your Adult Diapers Changed'
Scott Dudelson, Getty Images / Canva / Johnny Louis, Getty Images
In what is perhaps the most overblown narrative dominating rock and metal in the 2020s, Falling In Reverse's Ronnie Radke blasted hair metal vets L.A. Guns after they mocked bands who use laptops to aid with their live performances.
The use of backing tracks and laptops (which are commonly used to run click tracks, lighting effects, backing tracks and a myriad of other things related to performance and production) has been a contentious topic ever since Falling In Reverse withdrew from a festival performance after their laptops went missing.
Many completely misunderstood why the technology is used, especially for the likes of a band such as Falling In Reverse, whose style genuinely incorporates electronic and beat-based music in addition to the rock/metal/punk amalgamation. Simply, they're not the same type of rock band Deep Purple were when they cut the legendary Live in Japan.
The use of digital assistance is a widely adopted practice by bands with decades of experience as well as those who are relative newcomers, meaning it's not just "younger" bands who do it.
And, besides, what's more uncool than complaining about how things aren't like they used to be while criticizing those younger than you? It's everything your younger self probably resented about the generation that came before you.
Anyway, L.A. Guns are now in Radke's crosshairs on X (formerly Twitter) for mocking the use of laptops at a recent show, as 66-year-old singer Phil Lewis told the crowd, "How's the sound out there, all right? I have a bit of bad news unfortunately, our digital feed and our laptop broke down in soundcheck this afternoon, so we're going to have to play the whole set completely 100 percent live. You're okay with that, right?"
Sharing a video clip of that moment, Radke writes, "Who in the fuck is this dude to say anything about relying on laptops being used when he relies on a fucking WIG and a pound of makeup and dyed eyebrows to reassure he doesn't look 75 years old, dude really thinks anyone other than the metalheads in that crowd agree."
READ MORE: Let's Talk About the Backing Tracks / Laptop Debate - Is It Really That Big of a Deal?
Not content with just that, Radke followed up, "My entire band literally destroys you in technicality, performance and pitch, the only thing your geriatric asses are better at are filling up syringes and nodding off in Motel 6s on your dive bar tour. Please refrain from speaking on things you don't understand, you need your adult diapers changed.
L.A. Guns have not said anything back in response.
Bands Who Have Admitted to Using Backing Tracks
These musicians say backing tracks help them put on the best show they can and have no shame in confessing it.
Gallery Credit: Todd Fooks
10 Ridiculous Metal Covers of Classic Songs
Here are 10 ridiculous metal cover versions of classic songs. In the list below, you can read about the original tune first, with each song entry followed by the info about its corresponding ridiculous metal cover. Are you ready? (Click on the listen links to hear any version.)
Gallery Credit: Philip Trapp