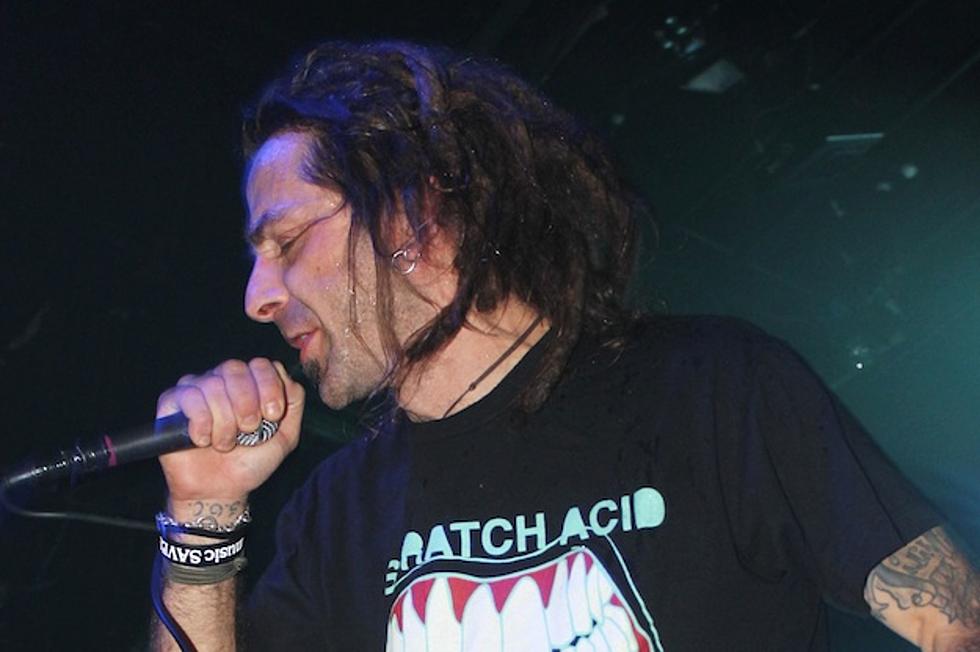 Lamb of God Frontman Randy Blythe's Arrest: Rockers React
Metalheads can always feel proud of their musical community when someone is in need of support. In this case, musicians and fans everywhere are standing behind Lamb of God vocalist Randy Blythe after his arrest this week on apparent manslaughter charges in Prague, Czech Republic.
Other than the support itself, many have pointed to the onstage shooting which took the life of "Dimebag" Darrell Abbott on Dec. 8, 2004. After the incident, many musicians reserved the right to defend themselves if a fan decides to rush the stage even once, not to mention multiple times.
Slash, Lacuna Coil's Cristina Scabbia, Sebastian Bach and Disturbed' David Draiman are just some of the rockers who have taken to Twitter in reaction to Randy Blythe's arrest. See their tweets below:
#FreeRandyBlythe Love you, brother. Feel sorry for that guy but I KNOW it WASN'T your fault.

— Cristina Scabbia(@MissScabbia) June 29, 2012
#freerandyblythe — Slash (@Slash) June 29, 2012
Everything changed on December 8, 2004.#stayoffthestage #FreeRandyBlythe

— Chris Kael (@5FDPChrisKael) June 29, 2012
Randy hope u r ok.I have been sober this whole tour.1st sober tour ever.U r an inspiration.Thx 4 your help @downloadfest #FreeRandyBlythe — Sebastian Bach (@sebastianbach) June 29, 2012
MY THOUGHTS GO OUT TO MY FRIEND RANDY BLYTHE FROM LAMB OF GOD @lambvox #freerandyblythe

— DAVID DRAIMAN (@DAVIDMDRAIMAN) June 29, 2012
"@infernoxred: @EddieTrunk can we get an RT in support of Randy Blythe from Lamb of God?#FreeRandyBlythe" gave him a ride once, good guy. — Eddie Trunk (@EddieTrunk) June 29, 2012
All power out to Randy and our boys in Lamb of God. They are our blood and we stand by them. This whole thing reeks of bullshit.

— Oderus Urungus (@TheRealOderus) June 28, 2012
Our hearts and minds go out to our brother Randy. We all pray all this ends and he comes home soon. — God Forbid (@gforbid) June 29, 2012
+++++++ FREE RANDY BLYTHE!!! +++++++We can´t believe what´s happening to our friend right now. Please stay... fb.me/1SIYLzxbc

— Caliban (@calibanofficial) June 29, 2012
Thoughts go out to my bro Randy from LOG...just hung w him a few days ago (here's a pic of him & Max) #FreeRandyBlythe twitter.com/MikePortnoy/st… — Mike Portnoy (@MikePortnoy) June 29, 2012