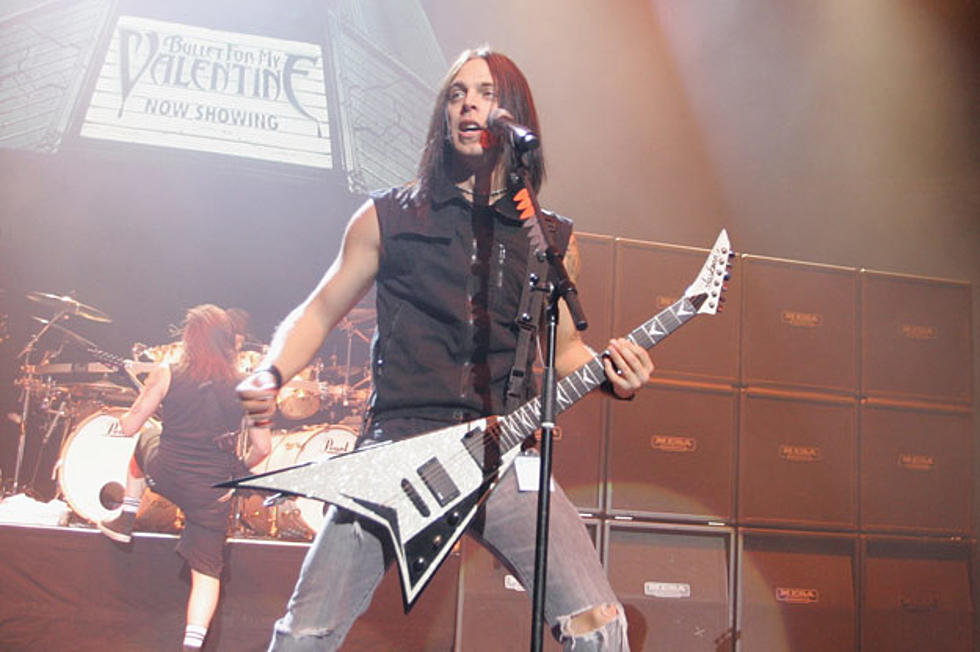 Matt Tuck Offers AxeWound + Bullet for My Valentine Album Updates
Matt Tuck is a busy man, splitting his time these days between fronting Bullet for My Valentine and playing guitar in his new project AxeWound. It's the latter project that's getting out and playing shows at the moment, but both bands have been busy behind the scenes working on new albums.
Tuck told Kerrang! about AxeWound's current album status, "The album's all done, it's all mixed, all ready to go. See we've got quite a complicated situation about schedules and stuff so it needs a bit more work to plan the release so when it comes out we can still do a bit of touring, you know. So we were hoping for a July/August release, but realistically it's going to be September now, just because it's pointless releasing it without backing it up with a little touring, you know."
The musician says he's had a blast with the band, which also includes Cancer Bats vocalist Liam Cormier. Tuck says it's taken some adjusting getting used to playing in a band where he's not the frontman. He laughs, "It's good. I'm just not used to a maniac running past every ten seconds. With us guys, I'm usually set to the stage stuck to a mic, and now I've got this crazy Canadian flying past every ten seconds. I'm just not used to that kind of craziness on the stage." However, Cormier's commitments to his other band is part of what's making the scheduling troublesome at the moment.
Meanwhile, Tuck says he's also been hard at work with Bullet for My Valentine. The group just spent some time in Thailand working on new music, and the singer reveals, "We've still got seven songs left to track vocally, but the other seven are done. So we're seven songs in, and we listened to them in the car on the way up as well cause we wanted to show a few people and see what they thought and everyone was like, 'Wow!' So it's an exciting, exciting time for everybody." Matt says those that have heard their new music say it sounds like "a very confident, focused rock band."
While Bullet for My Valentine may still have some work left to do, AxeWound has released the songs 'Cold' and 'Post Apocalyptic Party' online.
Watch Matt Tuck Give Updates on AxeWound and Bullet for My Valentine