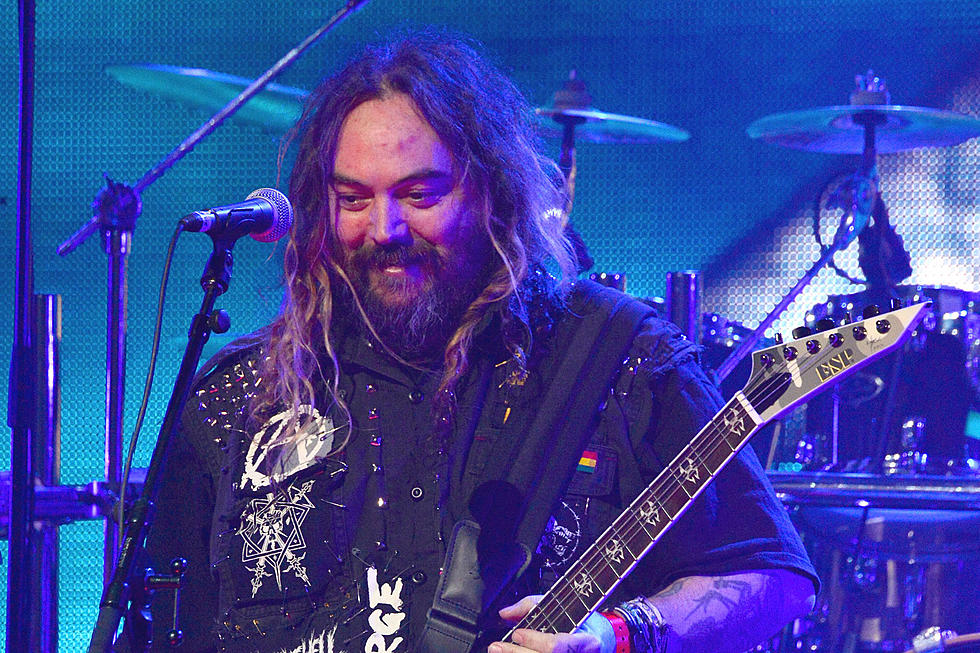 None of Max Cavalera's Three Favorite Thrash Albums Are by 'Big 4′ Bands
Frazer Harrison, Getty Images
Metal legend Max Cavalera (Soulfly, Cavalera Conspiracy, ex-Sepultura) named his three favorite thrash albums as a recent guest on the "My 3 Questions To" video series by Jonathan Montenegro.
The series regularly poses three questions, presented as text on-screen, for an artist. First, Cavalera was asked about being a musical hero to LatinX fans as well as how he manages to remain so consistent in writing and performing with such prolific output spread across several bands.
In the final question, he was tasked with selecting just three thrash albums as his all time favorites, a difficult task for any metalhead, especially for one of Cavalera's stature.
"I went a little bit old school," he prefaces (transcription via Blabbermouth) before divulging, "The first one is from Canada — Sacrifice, Forward to Termination."
It's the second album by the cult favorites, released in 1987 a year after the Torment in Fire debut and lined with standout tracks such as "Re-Animation," "Pyrokinesis" and the title track. Remarkably, the four-piece lineup that played on Sacrifice's first four albums before disbanding in 1993 is still together, also having contributed the lone reunion era record, 2009's The Ones I Condemn.
"Amazing record. I played it so much when I was a teenager in Brazil," Cavalera adds.
Sacrifice, "Re-Animation"
READ MORE: The Metallica Album Max Cavalera Shaved His Head For a Copy of As a Kid
"Also Nuclear Assault, Survive, he singles out next, citing the New York thrash group's influential second record.
"Danny Lilker [is] the man. Yes! Danny on the bass. Nuclear Assault was amazing," he continues, recollecting, "They played with us in Brazil. It was great. The singer, John Connelly, had to borrow my guitar and he played and it was full of blood. And he gave it back to me. And the whole guitar was full of blood. But I loved the show. And it was cool to have his blood on my guitar."
Released in 1988 as the followup to Nuclear Assault's first album Game Over (with the noteworthy '87 EP The Plague bridging the gap), Survive contains all-timers in "Brainwashed," "Rise From the Ashes" and "F#."
Nuclear Assault, "F#"
"And the last one is Dark Angel with Darkness Descends," he goes on. Interestingly, it's yet another sophomore effort to make Cavalera's list, this time being the 1986 full length from the California group who first issued We Have Arrived in 1985. A truly forceful, pummeling affair, the Soulfly mainman enthuses, "It's the perfect death/thrash record, but it's more on the thrash side of things. Very, very amazing drums from Gene Hoglan. And I love Dark Angel — I love the power and the brutality of the riffs."
It's the record with "The Burning of Sodom," "Perish in Flames" and other boundary-pushing tracks.
Dark Angel, "Perish in Flames"
"Those are three inspirational thrash records that helped shape all my stuff I did from that era," he concludes.
Watch the full video below.
Max Cavalera on "My 3 Questions To"
Every Thrash Metal 'Big 4' Album Ranked
An incredibly diverse collection of albums, ranked from worst to best!
Follow Loudwire's 'Early Thrash: The Beginning & The '90s' playlist
here
.
PLAYLIST: Early Thrash - The '80s & '90s