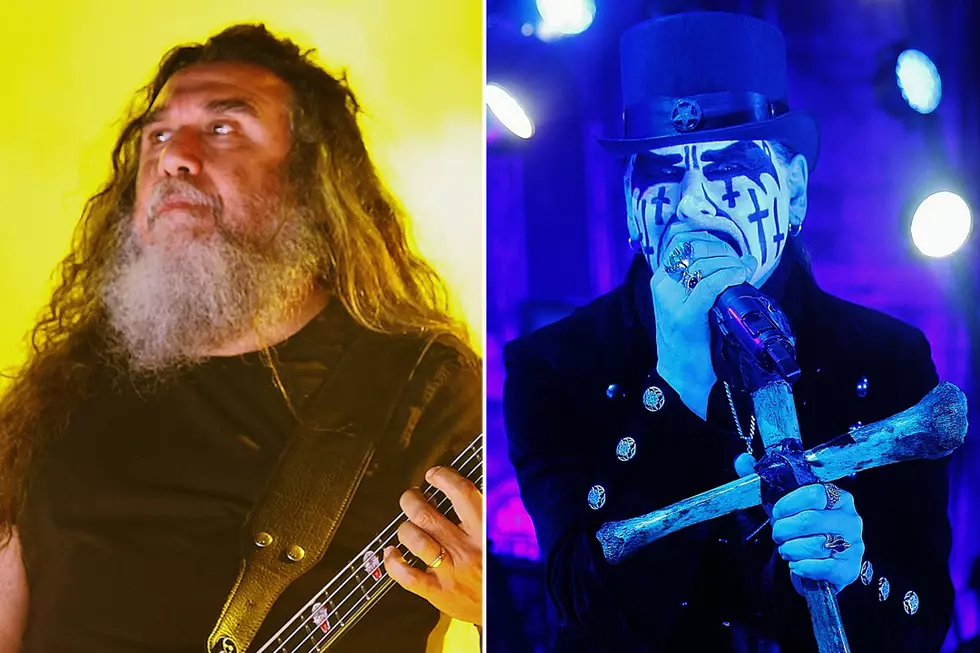 Mayhem Festival 2015 Heats Up Jones Beach With Slayer, King Diamond, Hellyeah + More
Liz Ramanand, Loudwire
There has been plenty of controversy surrounding this year's Mayhem Festival lineup, but regardless, the tour made its stop in Long Island, N.Y., at Jones Beach and fans seemed to positively embrace it.
Whether or not you agree with Kerry King's comments on this year's Mayhem Festival, Slayer did in fact give a blistering performance. They began their set with a brand new song, the title track from their forthcoming album Repentless and went on to perform another new track "When the Stillness Comes" later in the set.
Their production came complete with some very scorching pyro as they performed "Hate Woldwide" and "Jihad." Despite a decent turnout, Tom Araya joked by saying, "It's a quiet night on the beach." Slayer ended with a furious finish as they cranked out "South of Heaven," "Raining Blood" and "Angel of Death."
King Diamond took the stage beforehand and stole the show. The high pitches of King's legendary falsetto echoed throughout the venue grounds as he belted out "Sleepless Nights" and "The Family Ghost." Kerry King pulled double duty as he graced the stage during a compilation of Mercyful Fate covers that included "Digging Graves," "A Visit From the Dead" and "Evil." King Diamond also performed the very well-received "Come to the Sabbath."
Hellyeah and The Devil Wears Prada fully rocked the crowds to start the main stage activity. Hellyeah frontman Chad Gray defiantly said, "I don't care if there's two people, two thousand or two million people" before giving an intense performance in spite of the lack of attendees early on.
Over on the Victory Records Stage heavy hitters Whitechapel and Aussie metal act Thy Art Is Murder both gave crushing performances. Swedish metalers Sister Sin were certainly a treat with their forceful set and Jungle Rot were unrelenting as they awakened headbangers.
Kissing Candice and Feed Her to the Sharks got the short end of the stick as they gave energetic performances of their own but unfortunately with their time slots they had to compete with some main stage bands. Shattered Sun, Code Orange and Sworn In got the blood pumping early on as they kicked things off over on the Victory Records Stage.
Was attendance low? Yes, but the performances were solid and filled with energetic moments. Perhaps the lineup wasn't as strong as years past, but the fans that attended definitely showed their support and the musicians that performed put their hearts into it.  Check out our photo gallery above of the Mayhem Festival stop in Long Island, N.Y., above.
You Think You Know Slayer?
Top 50 Hard Rock + Metal Guitarists