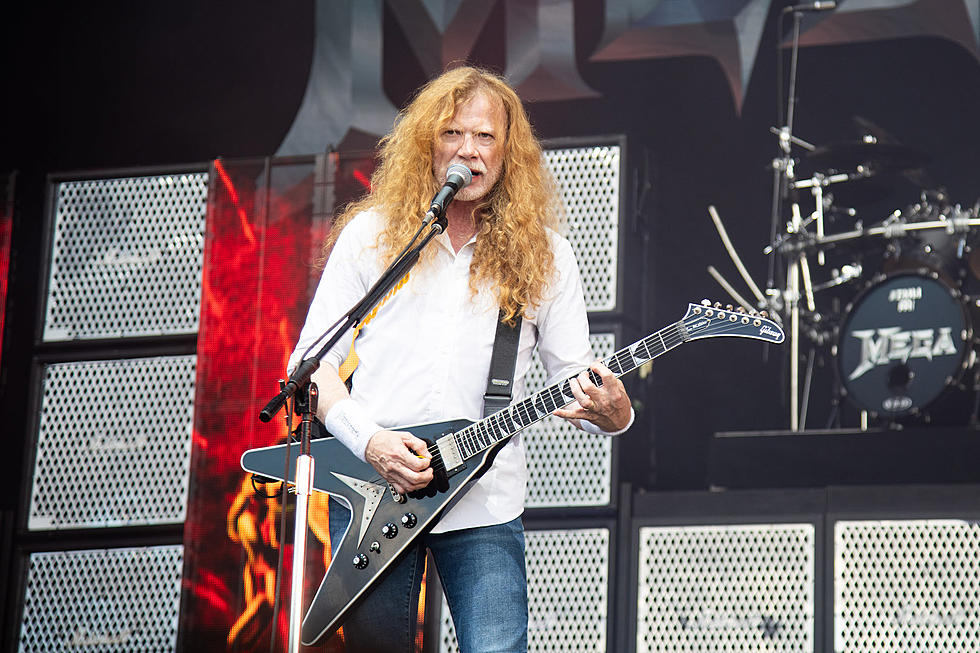 Dave Mustaine Discusses Troubling Trend of Concertgoers Throwing Objects at Musicians
Joseph Okpako, Getty Images
Megadeth's Dave Mustaine has weighed in on the disturbingly growing trend of audience members throwing things at an artist onstage.
The troubling practice seems to have reached a fever pitch this summer, with outlets from Rolling Stone to Today giving reports on the unsafe trend.
Mustaine has had his fair share of angry crowds, as longtime Megadeth fans know. After all, he wrote Megadeth's classic 1990 "Holy Wars... The Punishment Due" after having to flee an angry audience in Northern Ireland when he unwittingly offended them during a 1988 show.
Surviving fracas like that is maybe why the Megadeth mastermind seems somewhat sympathetic to the situation from the audience side — though he stopped short of condoning violence in an interview with Sweden's SVT when the topic came up.
READ MORE: Pop Star Bebe Rexha Hit by Audience Member's Phone During Concert
"If people don't like you, they're gonna throw shit," Mustaine bluntly said during the chat, according to a translation from Blabbermouth.
"Maybe it's graduated from rotten tomatoes to dildos," the rocker added. "I don't know."
The Megadeth bandleader also relayed, "If you're giving them a great show, they [won't] do that. So don't get up there acting like a spoiled fucking brat and telling them not to throw stuff."
For those doing so at Megadeth gigs, though, the 61-year-old Mustaine said, "I don't have to worry about it. Plus, my eyesight is that bad — I probably won't see anything flying through the air until it's too late."
Meanwhile, some artists are physically revolting against those who throw things at them. Last week, hip-hop star Cardi B threw her mic at a concertgoer who tossed water at her onstage.
Megadeth are now touring behind The Sick, the Dying… and the Dead!, their 2022 LP.
Get Loudwire's newsletter and Loudwire's app.
Megadeth, "Holy Wars… The Punishment Due" (Original Mix)
Legendary Artists With 20 or More Studio Albums
Some of the biggest discographies in the business!
IMPORTANT: We did our best to exclude covers albums and live albums from the total counts. The focus here is on original studio material. There are some exceptions because some of these catalogs are a little unorthodox.