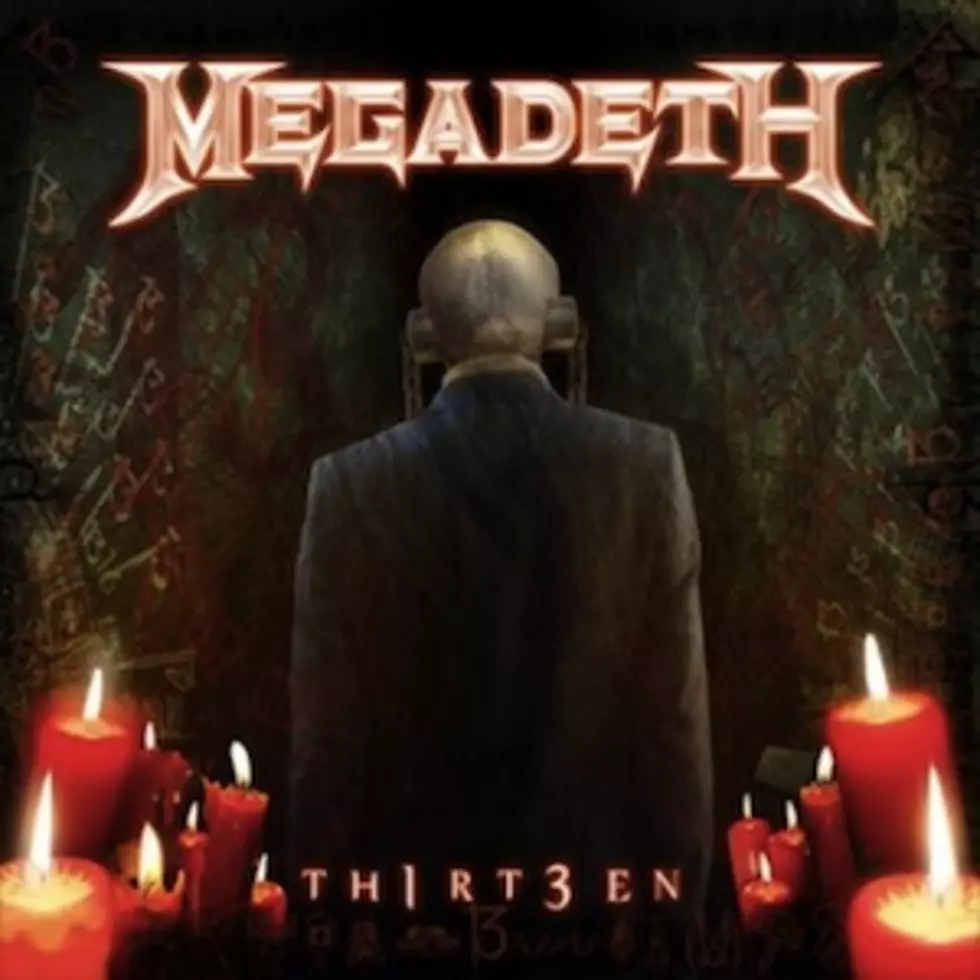 Megadeth, 'TH1RT3EN' – Album Review
Dave Mustaine and Megadeth stand tall among a small handful of genre-defining bands and as a result, a new Megadeth album is always (for better or worse) going to be compared to the rest of their catalog upon release. So, let's get that out of the way.
Coming on the heels of the monumental 'Big 4' shows, the last album in Megadeth's contract with Roadrunner and first to feature returning co-founder David Ellefson in a decade arrives with high expectations from the fans. To be certain, 'TH1RT3EN' isn't as electrifyingly great as its predecessor, 'Endgame,' but much of it is nevertheless on par with the stronger elements of records like 'Countdown to Extinction' combined with hot flashes of the fierce brilliance of their classically thrashtastic albums. There's some of that 'Peace Sells…' feel peppered throughout, with a bit of the hooky hard rock of 'Youthanasia' and 'Cryptic Writings' (minus any of the experimentation of 'Risk,' naturally).
The two Daves, along with ex-Nevermore guitarist Chris Broderick and longtime drummer Shawn Drover arguably comprise the best Megadeth lineup since the 'Rust in Peace' era. Broderick's chops are formidable. How else to explain his flawless interpretation of the work of Chris Poland, Marty Friedman, Jeff Young et al combined with his own personal accents and showmanship? Drover seems to be something of a backbone for Megadeth in more than the drum department. One thing that struck me about the 'Big 4' shows was how well he stacked up against the founding drummers for Slayer, Anthrax and Metallica. After repeated listening to the 'Big 4' live releases and YouTube videos, I now regard him as the most consistent of the incredibly talented and iconic bunch.
The shredding is as profound and challenging as one would expect from Megadeth, who are rightly regarded as the most technically proficient of the Big 4 by most fans. Mustaine's sneer is as prevalent as ever, attacking political and social issues with a bite and bile that has only been sharpened and refined by the experience of adulthood, family life and his well publicized spiritual faith. Megadeth revisits the past on 'TH1RT3EN' in ways that defy nostalgia, mining gold from dusty rehearsal tapes. Ellefson has said that the main riff from 'Deadly Nightshade' has been around since the mid-90s. For the most part, this willingness to embrace their legacy serves them extremely well.
This is a more than worthy addition to the Megadeth canon and one that reveals itself further upon repeated listening. However, it's hard to shake the feeling that the whole affair could have been ratcheted up a notch higher. Tracks like 'Sudden Death' and 'Never Dead' leave nothing to be desired, but not every song on 'TH1RT3EN' is as fully realized.
For whatever reason, the band committed to a short timetable in which to write and it seems to have created two large problems for the album.
The first problem is with the production. 'Endgame' producer Andy Sneap wasn't available and his absence is noticeable. He helped wrangle tracks like 'Sleepwalker' and 'Never Walk Alone… A Call to Arms' out of the band on 'United Abominations' and his collaboration with them proved unstoppable with 'Endgame,' which is easily one of Megadeth's finest albums. Hard rock producer Johnny K (Disturbed, 3 Doors Down, Trapt) lacks Sneap's deep connection with thrash metal, at least on any sort of level that's audible here. 'TH1RT3EN' certainly doesn't sound bad, but it lacks the aggressive immediacy and high-energy attack of Sneap's work with the band to be certain.
The second problem is with the percentage of new material. Nearly half of the songs on 'TH1RT3EN' have been previously released! 'Sudden Death' was originally recorded for 'Guitar Hero.' 'Black Swan' appeared as a bonus track on certain editions of 'United Abominations.' 'Millennium of the Dead' and 'New World Order' were demoed in the early '90s and turned up a bonus tracks on the remastered 'Youthanasia.' 'Never Dead' was written for the video game of the same name. The band started playing 'Public Enemy No. 1' live earlier this year, which meant that by the time the record became available worldwide, the most hardcore of Megadeth fans already knew seven out of 13 songs.
Megadeth certainly have earned every right to repeat themselves in any fashion they deem acceptable. But why should they? Why should management, record label, touring or other outside obligations and decision making hamper their creative process? This type of thing happens regularly with younger bands who have a massive support tour to do or some other momentum to capitalize on. But Megadeth are a veteran band led by a charismatic visionary and his enthusiastic best friend, who now have the strength of a highly intelligent fan-turned-bandmate and a mind-blowingly talented lead guitarist to rely upon who could've spent more time crafting a perfect album.
As a result, 'TH1RT3EN' isn't perfect (which by all rights it could have been) but that doesn't mean it isn't great. The goodwill engendered by the last album, by the return of Ellefson and subsequent touring (as well as the live DVD / album from the 'Rust in Peace' anniversary tour and the 'Big 4' release) and the superior tracks on the band's 13th studio album ('Sudden Death,' 'Never Dead,' 'Wrecker,' 'New World Order…') should hopefully provide the shot in the arm to keep Mustaine away from that retirement he's sometimes threatened and thrashing along for a couple more decades. The best bits of 'TH1RT3EN' make the prospect of a brand new batch of songs that are carefully constructed with Sneap or a comparable producer by this lineup over the right amount of time all that more exciting.