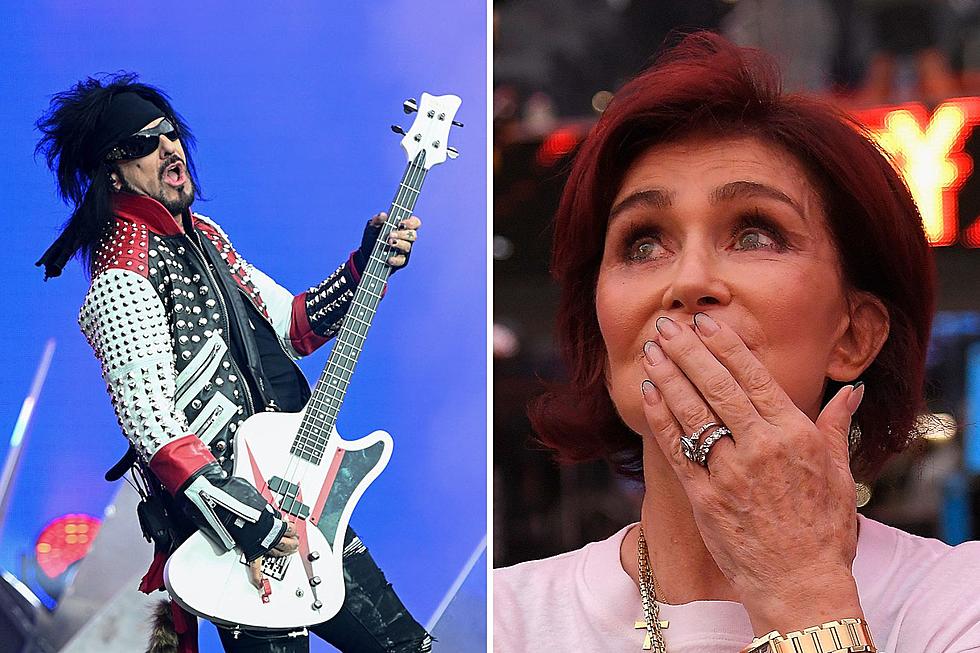 Nikki Sixx Amplifies Problematic Insults After Sharon Osbourne Calls Him an 'A–hole'
Anthony Devlin, Getty Images for Live Nation UK / Kevork Djansezian, Getty Images
On the newest episode of The Osbournes podcast, Sharon Osbourne addresses two main gripes she has with Motley Crue's movie The Dirt. Amid these complaints, she calls Nikki Sixx an "asshole," drawing a hypocritical response from the Motley Crue bassist who, in return, uses a transphobic insult in reference to Sharon's physical appearance.
Ozzy Osbourne, meanwhile, pleads during the podcast to move on from this topic while Sixx reaffirms he and Motley Crue still love Ozzy.
Sharon Osbourne Complaints About Motley Crue's The Dirt Movie
Motley Crue's biopic The Dirt is based off the band's tell-all book, which recollects their wild career in vivid, dramatic detail. One particular scene recalls an alleged incident amid Ozzy Osbourne and Motley Crue's joint tour, which, at one point amid a gross-out contest, Osbourne snorted a line of ants.
Additionally, at least one of the film's promotional images on streaming services features a photo from the scene in The Dirt, which is just the actor portraying Ozzy (Tony Cavalero) snorting the ants.
These are two points of contention for Sharon, who, on the podcast featuring her family members, calls out Motley Crue for piggybacking off of Ozzy's name and likeness.
"I was not there," she says of the alleged ant-snorting incident, "thank God. I used to try and stay away from Motley when they were with Ozzy. And I don't know. I honestly don't know. All I know is that I think it made their movie. And I want to know why, now  [that] we're on the subject [of The Dirt], of why, when they advertise their movie on Netflix, it's a picture of a guy imitating Ozzy. Why isn't the ad campaign a picture of Motley Crue?," she wonders, turning to her son Jack Osbourne, "Why is it a picture of your father?"
"Well, I know, I know the answer to that. Because Ozzy Osbourne's bigger than Motley Crue," Jack assesses.
The Dirt — Ozzy Osbourne Scene
Wanting to stay completely out of this building drama, Ozzy butts in, "No. No. No. Stop. Stop. Stop. Let's move on."
Sharon goes on, "The thing is I just think it's an invasion" and calls Sixx an "asshole."
"No, he's not," Ozzy insists, while Sharon refutes, "Yes, he fucking is."
Jack adds that he doesn't believe the ant-snorting story is true, while Ozzy again pushes back, arguing he did indeed do it — "I was there. I did it. [In] my nostril... I was drunk and I did it."
The Osbournes Podcast (Oct. 17, 2023)
Nikki Sixx Responds to Sharon Osbourne's Comments
As is the nature of the internet, people will inevitably choose sides in any dispute, leading to some hurling an array of insults toward Sharon after calling Sixx an "asshole."
Sixx has reshared one of these posts, which crassly mentions Sharon's cosmetic surgeries, likening her visage (a photo of her was attached to this post) to that of a "baseball mitt."
The Crue bassist adds a message of his own in reposting this insult, stating, "We had a lot of love and respect for Sharon," using past tense language while opting for the present tense in reaffirming, "We love Ozzy."
Claiming he's seen others insulting Sharon, Sixx says, "We when people comment on stuff calling her a plastic granny tranny I have it deleted. Not sure what she's upset about now but let's not perpetuated [sic] her comments by posting negativity about her."
There is an apparent hypocrisy in this statement as Sixx calls for others not to post anything negative about Sharon, while he himself amplifies one particular insult (the "baseball mitt" remark) and chooses to highlight a derogatory slur for transgender individuals in describing an instance of negativity.
He says he deletes negative comments, yet shares this pair of insults with his 920,000-plus followers rather than, perhaps, issuing a standalone response to Sharon's recent comments without also perpetuating other negative sentiments.
It is also clear that Sharon is upset by two things regarding The Dirt: the dramatization of a story she believes is false and the use of Ozzy's likeness as a key promotional driver in a movie about an artist that isn't Ozzy Osbourne.
READ MORE: Amazon Mistakenly Uses Steel Panther Photo for Motley Crue Documentary
Sharon Osbourne's Alleged Past Use of Other Slurs
It's worth noting Sharon herself has been accused of using slurs in recent years, most notably amid her controversial 2021 exit as one of the panelists on the CBS talk show The Talk.
Co-hosts past and present had alleged Sharon used racial and homophobic slurs while bullying them on set, spurring a personnel change on the network program. Sharon, meanwhile, maintains these are fabrications.
Who Else Has Disputed The Ant-Snorting Tale?
Jake E. Lee, who was Ozzy's guitarist at the time of the Osbourne and Motley Crue tour told Tone-Talk in 2019, "I was there, and I never saw ants. I was right there. He snorted a little spider. There was a not a trail of fucking ants there. Tommy [Lee] says it, Nikki says it, Ozzy says it — they were fucked up. I was not. I was just trying to get a fucking sun tan. That's all I was doing. They were getting fucked up. Ozzy snorted a little tiny stupid spider that was crawling across. There was no ants — there was no fucking ants. I don't care what the other guys say — there was no ants."
30 LGBTQIA+ Icons in Rock + Metal
These are some of the LGBTQIA+ icons of the rock and metal world.
Gallery Credit: Lauryn Schaffner
True or False: Which of These 18 Legendary Rock + Metal Stories Actually Happened?
Rock and metal music is full of legendary stories about certain artists that may or may not have happened, in all actuality. Can you guess which ones are true and which ones are false? Sometimes it's hard to tell, but we all definitely heard these stories out in the schoolyard at some point. Keep scrolling for the legendary rock tales and their corresponding answers, and see how many you get correct.
Gallery Credit: Philip Trapp